Integrated Design: The Power of "Doing More with Less" Pt. 2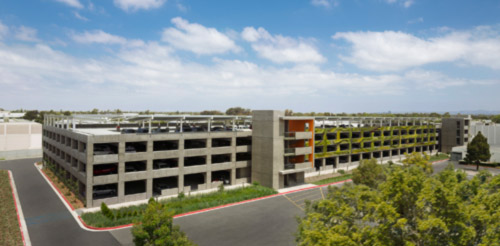 In last week's post, we introduced one of our latest examples of integrated design. Coastline Community College's Newport Beach Campus is a LEED Gold designed learning space that is shaped entirely by a sustainable integrated process. The college campus project is remarkably different from this week's example, Edwards Lifesciences parking structure. While they have their differences, both demonstrate how an integrated sustainable process creates buildings that "do more with less."
Edwards Lifesciences Parking Structure
LPA Services: Architecture, Structural Engineering, MEP, Civil Engineering, Landscape Architecture and Energy Services
While a parking structure is certainly a unique example for a sustainable integrated approach, it demonstrates how integration can benefit a range of projects. In fact, having limited options and opportunities—whether they be in program, scale or budget—is exactly the type of project that can most benefit from an integrated approach, and the Edwards Lifesciences parking structure is just such an example.

The four-story, 1,200-car parking structure at Edwards Lifesciences in Irvine, Calif., along with a campus landscape program, are the first and second phases of a three-phased campus enrichment project that will transform this existing corporate space. The integrated design team of architects, engineers and landscape architects had two goals for the structure—to reinforce the future landscape amenity and to demonstrate that sustainable design makes business sense even with a parking structure.
Edwards Lifesciences corporate campus expands across more than 28 acres, and the parking structure alone takes up just over two acres. Like the lobby of a hotel or the entryway in a home, this parking structure is often the first point of contact for Edwards Lifesciences employees, clients and guests. It also receives a great deal of foot traffic and serves as a meeting ground that leads to the corporate facilities. Therefore, it was important to the design team and clients to implement an aesthetically pleasing and highly functional design for this campus focal point.
A very impressive component to the design is a four-story, 4,000-square-foot living wall placed between the structure circulation towers. This large living wall becomes a green backdrop to the campus' open space, but its breathtaking design is not just for aesthetics. The living wall serves functional purposes, including screening the cars and giving the users a hint of the future landscape development. On the top deck of the parking structure, a photovoltaic, or PV, canopy overhangs the living wall, announcing the structure's sustainability intentions with a 556-kilowatt system. This PV canopy provides covered parking for the top deck of the structure, and the incentives and tax credits available—as identified by LPA's energy services—helped make the system meet Edwards Lifesciences' financial requirements.
With the completion of the parking structure, the existing surface parking lot will be replaced with a new six-acre landscape amenity. This new pedestrian space will tie the entire existing campus together with a series of recreation spaces and outdoor meeting and gathering spaces. In today's corporate environment, spaces like this are necessary to promote collaboration and a healthy work space.
The landscape design, led by landscape architect Gus Puertas, is a model of sustainability that uses a combination native and drought tolerant plant palette throughout the site. In addition, our Civil Engineering team, led by Kathereen Shinkai, developed a series of bioretention planters and one of the first rainwater harvesting system in Southern California, meeting the new regional stormwater management requirements.
The parking structure features the latest in energy efficient strategies and works within the budget, and this is success can be attributed to an integrated approach, one in which architects, engineers and landscape architects work collaboratively.
Both projects, Coastline Community College's Newport Beach Campus and Edwards Lifesciences, are powerful illustrations of the remarkable results that can occur when all disciplines come together and work collaboratively. Our integrated design process is not concerned with disciplines or the boundaries they can create but focuses on sustainable results that can be measured and benefit our clients. With these principles as a foundation, it quickly becomes evident that design can "do more with less"—more results, solutions and savings with less energy, water and construction dollars.
Dan Heinfeld, FAIA, LEED AP BD+C and President of LPA Inc., leads the design direction of the firm and has done so for more than 30 years. As a pioneer in the sustainable building movement Heinfeld is passionate about sustainability and its importance in the process of informed design. More than 500 major design awards attest to LPA's commitment to design excellence. LPA provides services in architecture, sustainability, planning, interior design, landscape architecture, engineering, and graphics.