1 Columbia Place: 6 Solutions to Reposition Underperforming Buildings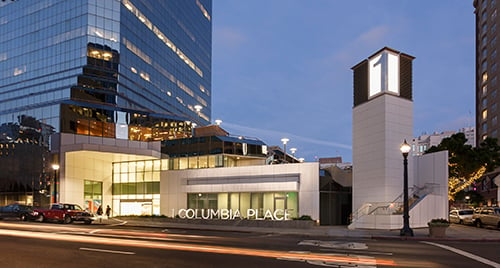 By Guest Blogger Dan Ringler
Out with the old and in with the new… or so the saying goes. When it comes to sustainable urban design, LPA has a secret formula. Instead of throwing out an entire building, we enjoy the challenge of discovering how materials and elements can be recycled.
The ultimate goal of building repositioning is to either prepare it for resale, get it fully leased, or both, as efficiently as possible. Today's buyers, brokers and owners are increasingly versed in the language of design, so this requires more than just "putting lipstick on a pig." Repositioning projects need to be comprehensive and cost-effective to get the results desired, as budget control is everything.
To stay on track, you must feel comfortable with what you can't fix in order to maximize the impact of what you can fix. Even before a design is considered, there is due diligence and research to be done on the building, demographics to be considered and owners and brokers to be interviewed. There is also an advantage in keeping things connected. LPA's integrated design team provides architecture, landscape, commercial interior design, signage and graphics and engineering services all in-house. This helps to maintain a consistent design language and message throughout the entire project.
(Click "Play" to view the grand opening of 1 Columbia Place.)
1 Columbia Place is a result of this process where design is focused on impactful areas but still maintains a consistent aesthetic throughout. LPA was commissioned by Emmes Realty Services to not only work out the challenges of the exterior of the building and lobby, but of all aspects of the building including developing sustainable building standards for common areas and tenant improvements.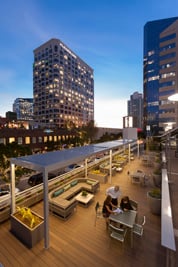 Here are six significant problems we faced and how to strategically solve them:

Problem: The building had no identity. The address is 401 West A Street, which lacks name recognition, prestige and power.
Solution: Rebrand the property to a name that is easily spoken and identified. 1 Columbia Place, a place to want to work and be seen. Sometimes, it is succinctly referred to as "1CP."


Problem: There was no prominent pedestrian entry point. There were five ways to enter the building from the street and there is no clear front door. In fact, what may be considered the main entry is angled facing away from one-way traffic.
Solution: Completely reorient the entry to be parallel with Columbia Street. Create an entry statement at eye level that pulls your vision in, through contrast and light. Add a bold signage statement at the entry to let people know who you are.

Problem: What is that unsightly tower? A large exhaust tower from the parking garage looks like a square smokestack.
Solution: Make a statement out of an eyesore and create another corporate branding strategy while you're at it. Transform the tower into a beacon of light which proudly shows off its new address with a No. 1.

Problem: The three sets of elevator banks and four points of entry made this building a maze to navigate.
Solution: Through the strategic use of light and wayfinding queues, visitors are guided to elevators that help them find their way to their destination quickly.

Problem: How do you make a large building lobby interesting every day to tenants and visitors?
Solution: Invest in audio visual equipment and light sculptures that provide exciting, ever-changing content, or bring in a revolving artwork program.

Problem: Tenants want places to eat, workout, grab a coffee, or just get out of the office for a minute.
Solution: Provide a full palette of amenities on-site. 1 Columbia Place has a new dining experience, incredibly furnished and comfortable outdoor terraces, with plans for a new fitness center and an Italian-inspired espresso bar, not to mention plenty of sitting areas to take a break.

Dan Ringler, project director at LPA Inc., is responsible for the overall project administration and design direction of interiors projects at LPA's San Diego office. With 20 years of experience in the interior design field, he leads the design team in all aspects of projects. Ringler's professional work includes experience in all areas of commercial and hospitality interiors including corporate facilities, tenant improvements, hotel and restaurant interior design.