Zero Net Energy and Efficient Buildings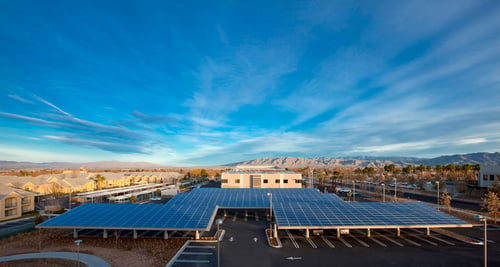 A Zero Net Energy (ZNE) building is an energy-efficient building where the annual energy use is equal to on-site renewable energy production. Achieving ZNE buildings require both a commitment to energy efficient design and operations and significant on-site renewable energy systems—typically photovoltaic (PV) power systems—to offset the reduced energy requirements.
In 2007, the California Public Utilities Commission (CPUC) adopted aspirational goals that all new residential construction in California be zero net energy by 2020, and all new commercial construction in California be zero net energy by 2030. Over the last decade, the CPUC and California Energy Commission have advanced this goal through a variety of public policy initiatives including enhancements to the California Building Energy Efficiency Standards (Title 24, Part 6) and the Green Building Standards Code (Title 24, Part 11). The California ZNE buildings goal remains aspirational and not (yet) a mandate, with many projects in California being built as "ZNE ready" or "near ZNE," but very few achieving zero net energy.
For more than a decade, LPA has designed energy-efficient buildings with significant on-site renewable energy systems that approach or achieve ZNE status, including:
Toyota Motor Sales USA South Campus – a 625,000-square-foot LEED Gold office complex in Torrance, California. When the project opened in 2003, the nearly 500-kiloWatt (kW) rooftop PV array was the largest private PV system in California and offsets approximately 25 percent of the facility energy use;
California State University, East Bay, Faculty Support Center – a five-story, 67,000-square-foot academic office building in Hayward that is designed at 35 percent more efficient that Title-24 and includes a 100-kW rooftop PV system that offsets approximately 25 percent of building energy use;
Palomar College Humanities Building – a three-story, 90,000-square-foot classroom and faculty office building in San Marcos that includes a 163-kW rooftop PV system, which offsets approximately 30 percent of the building energy use;
Ernest S. McBride, Sr. High School – A 150,000-square-foot high school in Long Beach, California. LPA designed the architecture to accommodate a 277-kW of thin-film rooftop PV system integrated with the standing seam metal roof to offset more than 50 percent of the energy use.
High Desert Government Center – a 66,000-square-foot, two-story LEED Gold office building in Hesperia, California, includes a 300-kiloWatt PV system located primarily on parking canopies. The PV system offsets 100 percent of the original building program as a general office facility. Given the efficiency of the project and the large PV array, the county added a 911 call center to the buildings program. Even with this new energy intensive use, the PV array provides 50 percent of the facility energy use.
The Environmental Nature Center – a very low-energy, passively conditioned 9,000-square-foot LEED Platinum educational center in Newport Beach, California. The ENC has been net zero energy since it opened in 2008. Every month, a 42-kW rooftop PV array produces more energy than the building requires.
West Hollywood Parking Structure – recently completed, this five-story, 200-vehicle automated parking structure includes a rooftop PV array that offsets all of the energy used by the structure and contributes to offsetting the energy use of the adjacent West Hollywood City Hall.
LPA is signatory to the AIA 2030 Commitment, striving to design energy-efficient projects and deliver ZNE, carbon-neutral buildings. We look forward to building on our past success and leveraging improvements in available energy technologies to deliver ZNE buildings for LPA clients—creating spaces and places that enrich the lives of those who use them.
A version of this story appeared in LPA Studies: West Hollywood Parking Garage.
Erik Ring is a Principal and Mechanical Engineer at LPA. Ring ensures that all LPA projects exceed California's Title 24 requirements by at least 15 percent. He's a LEED Fellow and he's consulted for and designed more than 50 LEED certified projects.