What K-12 and Collegiate Athletic Facilities Can Learn from the Pros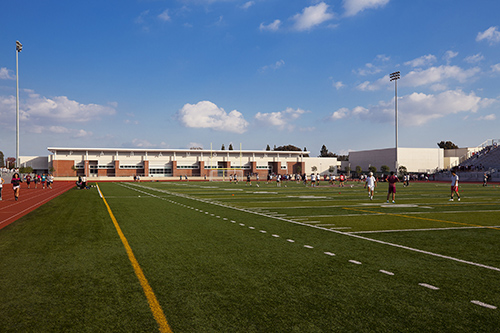 The LPA San Jose office recently attended the inaugural football game at Levi's Stadium, the new home of the San Francisco 49ers. Even in the world of billion dollar stadiums — the official count for the stadium stands at $1.3 billion — Levi's stadium continues to push the envelope on athletic facilities and certainly gives the other billion dollar stadium a run for its money. Regardless of how much money is spent, problems can arise. Many have seen the new natural grass at Levi's Stadium torn out and replaced three times at last count. Was this a problem with the design, using the field too early or simply expectations that exceeded what a living breathing product could do? The obvious question is: "Should they have installed a natural or synthetic field?"
This question arises frequently with our clients, and it's certainly no simple, cookie-cutter response. Careful product selection is probably more important for athletic facilities than any other type of facility, and understanding the performance characteristics of those products is paramount to success.
How materials affect the players, fans and facilities teams must be considered in context to the intended use. Our clients count on us to have the technical knowledge and expertise to assist them in the selection process. For this reason, our Sport and Recreation team regularly visits factories — to fully understand the merits and design aspects of each product — and research credible medical data to substantiate decisions.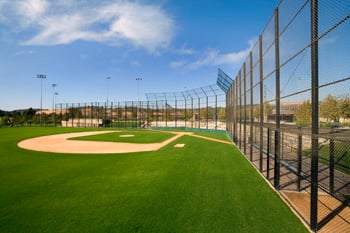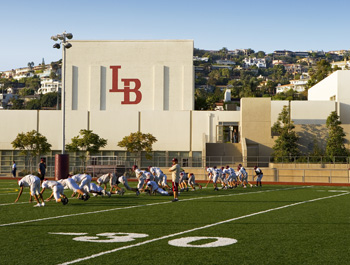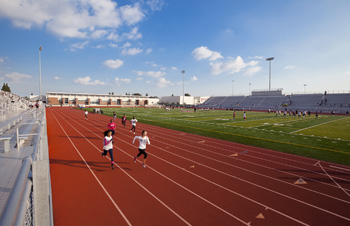 Synthetic turf has consistently improved over the years and has become a reliable and easily obtainable product. It allows for increased play due to less down time for mowing and maintenance, reduced water use for care and has no green waste. The same surfacing used at Lucas Oil Stadium in Indianapolis is the same synthetic turf used at LPA-designed projects, such as the 6,000-seat stadium at Paramount High School, the intermural field at California State University, Northridge and the Football Field at Mahany Park in the City of Roseville. A newer version of this same turf is being installed at the 8,500-seat stadium and practice field at El Camino College.
Natural turf is much more specific and dependent on variables such as budget, climate and maintenance capability. Some benefits of using a natural turf include a permeable surface, which reduces stormwater runoff, and reduced construction costs. Levi's Stadium uses a hybrid Bermuda grass installed on a spec sand base with a full subdrainage system. This is very similar to the system designed by LPA at the athletic facilities for San Marcos High School. The design achieved the same goals at a fraction of the cost of the professional stadium. At San Marcos, we developed a more cost-effective version of a USGA sand base for the turf and used the same hybrid Bermuda turf, called Tiffway II. While Levi's Stadium has had to replace their entire field multiple times, the fields at San Marcos are thriving.
Whether implementing natural grass was the right choice for Levi's Stadium or not, the stadium is achieving exactly what a facility should. It has unified a community, elevated a brand and put its city, the City of Santa Clara on an NFL fan's must-see list. While colleges and high schools don't need to spend a billion dollars, the benefits of investing in their athletic facilities are the same. We've seen first-hand how the transformation of a high school or college athletic facility unifies their community, promotes team spirit and creates an immersive experience for students, families, faculty and fans.
A version of this story originally appeared in LPA Studies: Student Recreation Centers. Arash Izadi, a LEED accredited landscape architect, has been with California-based LPA Inc. for 20 years. Izadi's passion for eco-friendly, sustainable sports facilities can be seen in more than 35 sport and recreation projects across the state. His breadth of experience includes water-efficient landscapes for 20 school districts, as well as urban design and streetscapes in commercial, institutional and residential projects.