What Does a Landscape Architect Do?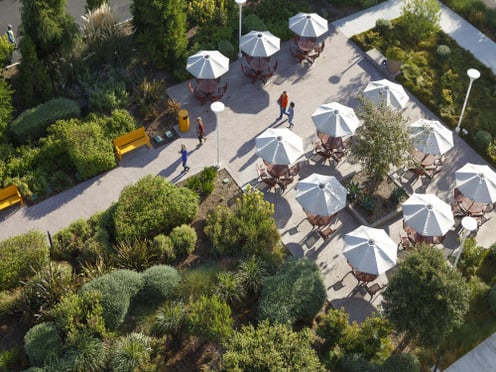 I am often asked this question. Through the years, I've distilled my response down to something like: we design the outdoor built environment— public and private. However, that doesn't quite tell the whole story. There is also habitat restoration, bio-remediation, and environmental studies that are all aspects of the profession that don't necessarily involve "building" something. Now I have an easier answer: World Landscape Architecture Month (#WLAM2015).
Throughout April, the American Society of Landscape Architects (ASLA) is partnering with International Federation of Landscape Architects (IFLA) to take Landscape Architecture Month global. The two organizations will be focusing on celebrating the profession of landscape architecture and its contributions to the fabric of our communities. The cornerstone of this celebration, launched by ASLA, is a social media campaign aimed at engaging the public and professionals in recognizing the design of both public and private outdoor spaces from all over the globe.
The concept is simple: take a photo of your favorite landscape space while holding a card reading "Designed by a Landscape Architect" and post it to your preferred social media channel using the hashtag #WLAM2015. ASLA is urging anyone who uses outdoor spaces—public or private—and uses social media to participate in this celebration. Already, there are posts coming in from all over the world.
An example of some of the work landscape architects do can be experienced in the quad at San Marcos High School in San Marcos, California. The original layout provided outdoor spaces which lacked a connection to each other, was tough for teachers and administrators to monitor and separated the students during breaks. The landscape architects worked closely with the architects to analyze the best layout for the new campus that would emphasize community, provide for future expansion, if needed, and create a variety of spaces for students to gather in groups or individuals.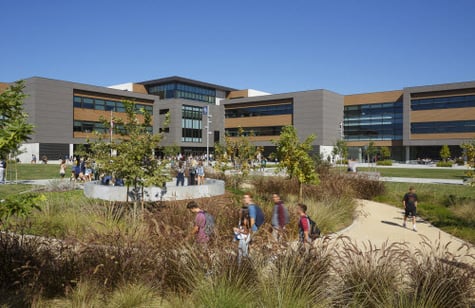 The result is a vibrant central quad boasting an amphitheater, a turf berm where students can sit, outdoor classroom clusters and drought-tolerant native plantings which treat stormwater run-off. These spaces, and more on the campus, were all designed by LPA's landscape architects.
LPA landscape architects also designed a healing garden at a hospital in Orange County, California. Studies show that having access to nature, the outdoors, or plants improve the speed at which we recover from illness. Being able to sit near or interact with plants is best, but even having a view of trees and plants helps reduce stress, relax the body, and allow our bodies to focus on healing. The healing garden at the hospital provides a space for employees and patients to take a break outdoors and have a moment to relax in a more natural environment. There are a variety of spaces which accommodate small, intimate groups to have close conversations or a friendly meal together.
The old adage that a picture can speak a thousand words is already clearly evident in the #WLAM2015 postings being shared all over the world. This month we encourage you to take a lunch break, a walk after work or a weekend trip to your favorite outdoor space, snap a picture of it and post it using the hashtag #WLAM2015. Maybe it's the park your kid plays little league in. Maybe it's the shaded path you walk your dog along every evening. Or perhaps that outdoor dining patio you take your lunch to every day. Either way, it's likely designed by a landscape architect.
Print your own orange card here and start sharing! You can see your post as well as posts from all around the world on ASLA's tagboard for the event. To follow our #WLAM2015 posts this month, follow us on Instagram.
Happy World Landscape Architecture Month!
Andrew Wickham, ASLA is a Landscape Designer at LPA Inc. He is a LEED accredited professional who specializes in K-12 School design.