Understanding STEM Education Environments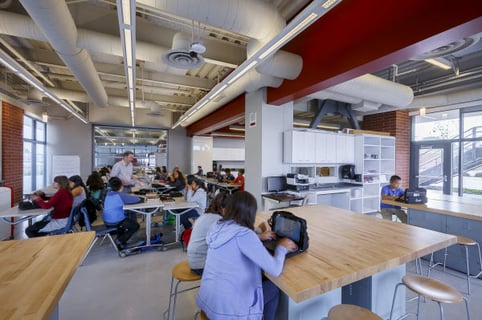 As renowned author Roger Lewin said, "Too often we give children answers to remember rather than problems to solve." Today's children will face many high-tech problems—from environmental to interstellar—to solve in their futures and as designers and educators, we owe it to them to support their growth and education. Connections between Science, Technology, Engineering and Math (STEM) create educational opportunities that reflect realities for 21st century schools.
A STEM Student
Defining the learner profile is one of the first steps in programming and designing a STEM environment. By responding to the prompt, "We want our students to…" we can create space that supports those behaviors, actions and feelings. Students are individuals with unique passions, while perseverance, effective communication and collaboration skills can be learned and practiced. The arrangement and quality of space can encourage the learner profile's actions and feelings. STEM learners must be inquisitive problem solvers and purposeful in their contribution to the community.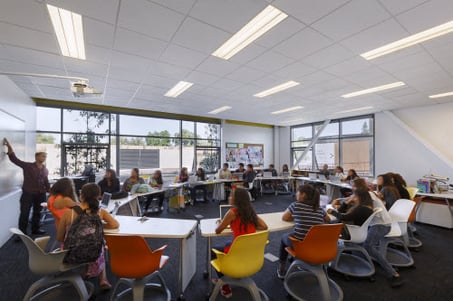 Fail and Fail Better
One of the challenges students will face in college and their career is failure. Too many students are used to over-achieving; when faced with stress, pressure and no guarantees, some experience severe anxiety. The ability to use the scientific method to prove or disprove hypotheses, as well as the practice of design-thinking and prototyping helps students see that there are lessons, insights and ultimately successes to be gained from failure, improving resilience in attitude and spirit.
Mentoring Relationships
STEM programs are opportunities to create strong relationships with local industry partners. By giving students an introduction into the working world of STEM education careers, students become better prepared to enter the workforce, while companies gain local prospects who are productive members of the local economy.
Creating a Collaborative Culture
Great STEM teachers empower students with knowledge and technology, guide the self-learner, promote multiple modalities of learning and understanding and are excited to explore and collaborate across disciplines. Teaching STEM concepts requires an interdisciplinary approach, understanding subject matter not just in isolation, but how they are interconnected and build upon each other.
Unique program adjacencies in STEM often include the Arts, allowing students to realize that creativity is part of problem-solving and project-based learning. The integration of the Arts into hands-on engineering and makerspaces is a direct response of research that shows practice of fine arts increase deeper understanding of all academic subjects and promotes innovative, creative thinking at student-centered schools.
Emily Koch is an Interior Designer and Project Coordinator for integrated sustainable firm LPA Inc. A LEED Accredited Professional, Koch works in educational design and has transformed outdated schools into leading-edge K-12 schools across California. She received a Bachelor of Science in Interior Design from the University of Texas, Austin School of Architecture.