Two K-12 School Designs Take Away Awards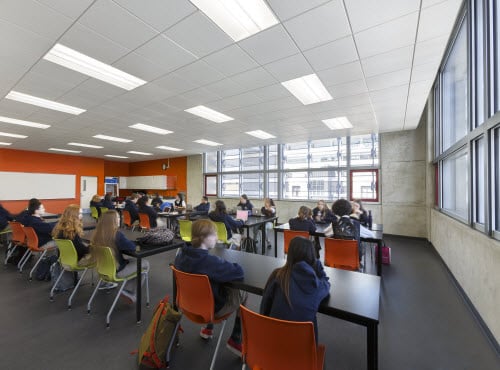 The Coalition for Adequate School Housing (CASH) and the American Institute of Architects California Council (AIACC) recently announced LPA-designed
e3 Civic High School
and
San Marcos High School
has the distinction of receiving honor awards.
The awards were announced at a ceremony during the 2015 CASH/AIACC Leroy F. Greene Design and Planning Awards Program in Sacramento, California last week.
Thought to be the first school in the nation to be located in a public library, San Diego's LEED Gold e3 Civic High School was recognized in the Specialized Facility category. The school combines a sustainable and creative learning environment for ninth to 12th grade charter school students. The jury commented on the design solution, "This project creates an excellent, and beautifully executed, example of changing the way we think about school design. We can understand why students would think this is a cool school to attend."
"The recognition of e3 Civic High by a jury of both educators and architects celebrates the collaborative design effort necessary to rethink how students could engage in learning in an exciting and vibrant environment," said LPA Principal Wendy Rogers, FAIA. "The school exemplifies what's possible through innovation and that where we learn matters."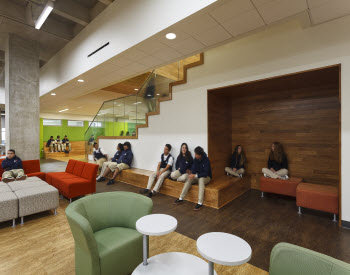 Occupying the sixth and seventh floors of the library and embracing a flexible school day, internship opportunities and project-based learning, the design for e3 Civic High—which stands for Engage, Educate and Empower—demonstrates the value of creating personalized learning spaces.
The school is intentionally set within the urban environment. Currently more than 50 percent of the students in downtown San Diego commute to other high schools in surrounding areas. E3 Civic High, which is open to all, creates a sustainable environment that is walkable for future students.
Through a relationship between the City of San Diego, San Diego Unified School District (SDUSD) and the San Diego Public Library Foundation, e3 Civic High School successfully ties education into the urban culture. According to Jed Wallace, president and CEO of the California Charter School Association, "[e3 Civic High] will become a national model because of its innovative approach, stockholder collaboration and flexibility to meet student needs."
Also in San Diego County, the transformation of San Marcos High School was recognized in the New Built category. Jurors said, "The architecture is a statement of how simple and straight-forward design can lead to extraordinary results. The building design creates an inviting campus setting similar to a college campus concept and raises the bar for educational design. The project is well conceived as a 21st Century learning center that integrates quality education opportunities with sustainable design."
Funded by a successful November 2010 Local Bond election, LPA was charged with bringing the oldest high school in the San Marcos Unified School District (SMUSD) into the 21st century with new learning facilities for the students, staff and community. "The design team dedicated more than five years of passion to bring this project to fruition," said Rogers. "The result of this project incorporates exciting aspects of modern education and illustrates the promise of what can be achieved when an integrated design team works with an innovative client."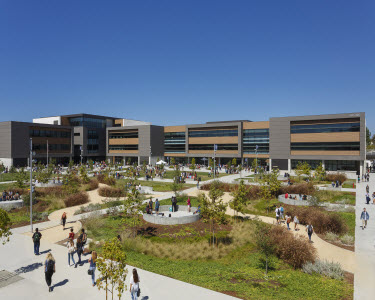 The planning phase of the reconstruction of the 422,000-square-foot, 3,000-student enrollment San Marcos High School was a highly inclusive process involving multiple groups in meetings that varied in format from large presentations to informal workshops, charrettes and work sessions.
The idea of a multi-story campus around a central quad, to maintain the strong sense of community and maximize the available site area for school programs and amenities, was a direct result of this collaborative process. The campus consists of four major buildings. The "L" shaped academic building is a combination of three and four stories and contains a majority of the classroom space. The single-story "Academy" building includes shop studios, computer labs and laboratory space for the agricultural program. The Athletic Center has a three-court gym and multi-purpose weight room, dedicated dance/fitness studios and support space for athletics and PE. Lastly, the Performing Arts Center includes a 400-seat theatre, black box theatre and support as well as teaching stations for the visual arts, media arts, band and choral.
Additionally, SMHS displays a wide variety of sustainable strategies aimed at providing healthy, efficient and productive environments for students and staff.
(Click play below for more about the transformation of San Marcos High School.)