Top Trends Shaping Student-Centered Design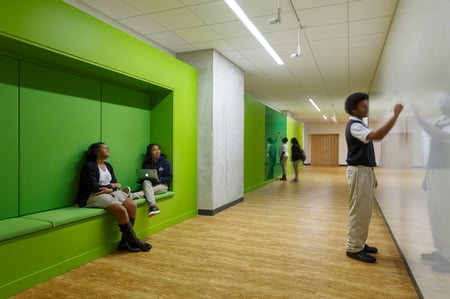 The only constant in educational design is change. To innovate, we must explore and imagine a future that engages students and empowers development of a culture for lifelong learning. Having an understanding and awareness of how students work and learn best as individuals encourages a deeper look at the design of an environment. Here are six concepts to promote student-centered design in the classroom:
Students Have a Variety of Learning Styles
Learning styles are the way in which we understand, retain and process new information. Four learning styles include audio, visual, tactile and kinesthetic. In addition, there is increased awareness in how we learn as individuals, including environmental, emotional, sociological, physiological and psychological.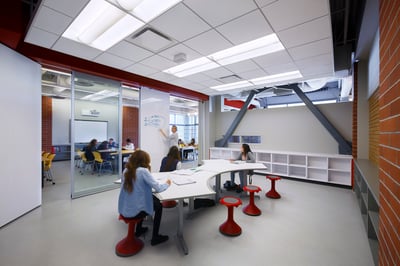 Spaces Must Include a Variety of Scale and Function
To support different of learning styles, it is important to provide a variety of spaces, allowing students to experience multiple modes of learning. With alignment between space, pedagogy and technology—a variety of scale and function will ultimately be most successful. Provide spaces that support both focus and diffuse thinking, giving students the ability to adjust to their current needs.
When it Comes to Space, A "C" is a Good Thing
Collaborative, Creative, Connected, Choice-oriented, and Convenient are all important C's to learning space design. Student-centered design demands an environment which is focused on the student, not the teacher. Furniture and technology contribute to creating a successful student-centered space.
Classrooms are Student Owned
Shifting the ownership to student-centered rather than teacher-driven gives students power in their educational career. Students feel more engaged when given the opportunity to create their own learning environments. Consider a reset layout for each space, so the beginning of the learning session starts with students creating the learning setting.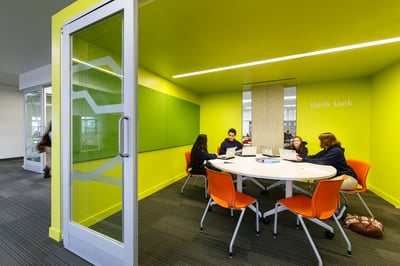 Social Capital
We're better together. Connect students to each other, build trust and support an engaged learning community. Create more spontaneous, intentional collisions between staff and students, between student and student and between school and community. Student unions and "hubs" spaces create a campus community space, having a positive impact on student success.
The Re-Branding of the Library
The library has always been a rich source of inspiration and information for students. With an emphasis on innovation, libraries in 21st century schools must become not only spaces to access content, but to also create content. Whether the library includes a makerspace or a digital film studio, consider what opportunities will enrich student lives and relate to their learner profile.
Ultimately, schools and classrooms must support multiple learning modalities. By designing for the individual and promoting a student-centered approach, we have the opportunity to improve student outcomes and achievements.
Kate Mraw is an Associate at LPA Inc. Her design for K-12 schools encourage collaboration, experimentation, and innovation. Mraw is a LEED Accredited Professional and received her Bachelor of Science in Interior Design from the University of Texas, Austin School of Architecture.