The Value of Social Spaces in Higher Education Environments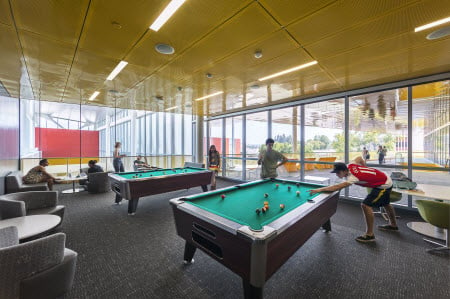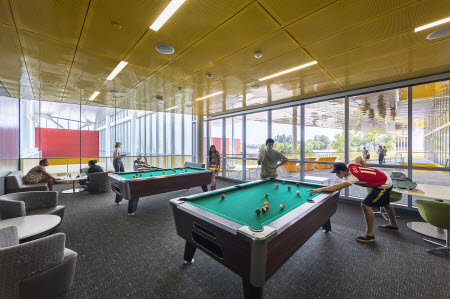 The social and cultural opportunities available to students on campus are key factors to their overall higher education experience, inducing a sense of belonging and collegiate pride that promotes their well-being and, ultimately, reflects on their academic performance.
One of the greatest challenges that higher education administrators face today is the ability to recruit and retain students on campus. Many campuses, particularly in the community college system, have become purely "commuter schools", lacking amenities, services and spaces that support social interaction and non-regulated activities, forcing students to leave campus to find these types of spaces. Even worse, where local parking and traffic are real issues, students are often dining and napping in their cars between classes. In such one-dimensional environments, it is nearly impossible for students to receive a fulfilling experience.
As designers of educational environments, it has become part of our role to educate administrations on the value of planned interior social spaces both at a campus and at a project level. Traditionally, most campus plans have included exterior social spaces as part of the overall campus design. However, interior social spaces typically have been considered "residual space." Unfortunately, that means that these type of spaces rarely make it into the completed version of the project or, even if they do, they may lack adequate size, proportion, orientation, equipment, furnishings, technology or other basic characteristics for them to be effective.
Seeking a better model, at LPA, we have implemented an alternative. Rather than considering social spaces part of the building load factor (typically an afterthought), we track them as part of the assignable square footage. In other words, we make these spaces programmatic components with the same standing and relevance as any classroom, lab or faculty office. The design and client team can then account for their appropriate development, budgeting and funding. The approach leads to a successful outcome empowering our clients to make an informed decision based on value rather than cost. We have seen administrators advocate for social spaces even at the expense of larger administrative offices.
This approach is a natural fit given the fact that the boundaries between instructional and social spaces are quickly blurring. Taking cues from the trends in current working environments, the traditional lecture classroom is evolving into a flexible collaborative space that can adapt to various configurations and teaching methodologies. The social spaces, in turn, are becoming informal learning environments themselves, where students access faculty, where ideas area exchanged, multidisciplinary synergies emerge, and everything is made possible by the latest technology.
A social space can be a quiet place to study within a larger learning resource center—or a small learning resource center in and of itself—a powered, plugged and connected outdoor environment to relax between classes, or it can be a quiet room with sleeping pods designed for students to catch up with much needed sleep. Social spaces are non-intimidating, welcoming environments that suggest rather than dictate a particular use.
The Monarch Student Center at Los Angeles Valley College demonstrates how social spaces can become the catalysts for positive change. Since its opening, the facility has created a much-needed home for the local student population, helping shape and define its identity and giving students a renewed sense of pride. Unlike any other building type, the student center offers a large variety of social spaces for interacting, socializing, playing, dining and lounging both indoors and outdoors.
Although often underfunded and overlooked, social spaces are the glue that holds a campus together.
Franco Brown, AIA, LEED AP BD+C is an Associate at LPA and has 18 years of experience as an architect both in the U.S. and abroad. For the last 12 years, he has specialized in the design and planning of educational projects. A version of this article was published in LPA Studies: Los Angeles Valley College's Monarch Student Center.