The Talent Revolution and Demand for Creative Workspaces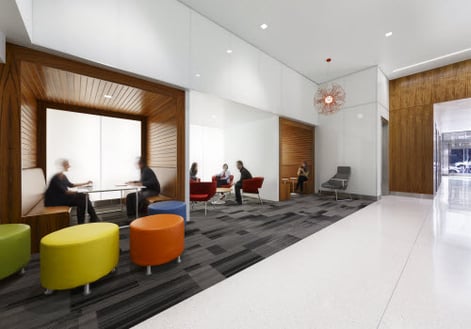 Attract & Retain
No matter the business, corporate leaders and commerce visionaries share a similar challenge: the ability to attract and maintain top talent. Thought leaders and industry pioneers are looking at creative workspaces as a physical expression of their business ethos and a vital tool in the pursuit of meaningful talent. Crafting a space that supports the mind shift of the progressive workforce, requires a transformation in the way corporate facilities support people and the organizational process.
Process on Display
Innovation used to be a company's best-kept secret, isolated in a back research and development suite, away from prying eyes. LPA Principal Associate Patrick McClintock, IIDA, LEED AP BD+C explains, "Today's inspired studio environments put people and the process on display." The days of high-paneled cubicles and perimeter offices have given way to expansive spaces, drenched in natural light and clad in views to the outdoors. The concern for the acoustically neutral workplace has been replaced with the ambient buzz of individuals and progress. Open table work areas promote the organic nature of how people create and the need to allow for inter-disciplinary collaboration with colleagues.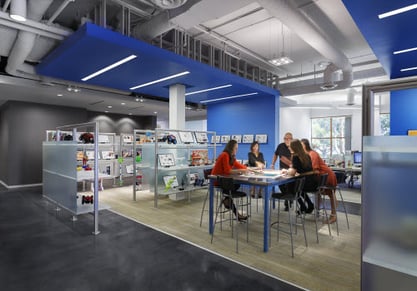 Changeability
Projects, teams and tasks change, so your office space should promote change. The creative office allows individuals to work according to their daily needs. Private rooms can be dedicated to acoustically sensitive tasks, big rooms to support team collective sessions and mobility pods for sensitive communications. We are seeing an average collaboration space ratio of 10 to one—with a focus room for every 20 employees and a conference room for every 50 staff members. While some say this drives up total square footage requirements, according to McClintock, "companies are increasing spatial efficiencies by reducing individual workspace size in order to provide flexible amenitized work zones." On average, density has decreased from 230 to 176 usable square feet per person.
Wellness Culture
Wellness used to mean your company qualified for a discount at the local gym. Nothing exhibits long-term investment in people better than devoting spaces and places that support individual health and well-being. McClintock continues, "People like to gather, socialize and enjoy break times with one another." More now than ever, we are developing highly programmatic use of indoor and outdoor space as an extension of the workplace. Fitness programs, activity spaces, common tables, company events and exterior conferencing all help to reinforce the organizational culture and the importance of work-life balance and people as your most important resource.
A version of this article originally appeared in LPA Studies: ASICS North America Headquarters.
Karen Thomas, CID / LEED AP BD+C, has more than 20 years of experience in all areas of commercial interiors, which include corporate headquarters, tenant improvements, tech companies, firms and financial institutions. She maintains an impressive roster of corporate clients, including AST, Bank of America, Aetna Health Plans, First American Financial, Pacific Life, Union Bank and Western Digital Corporation.