The Connection Between Education and Workplace Environments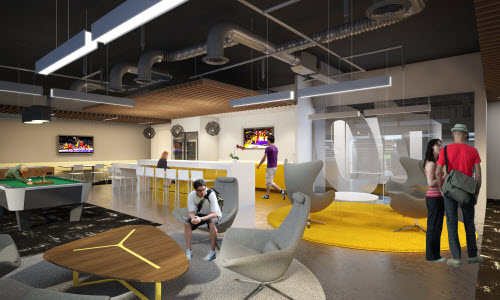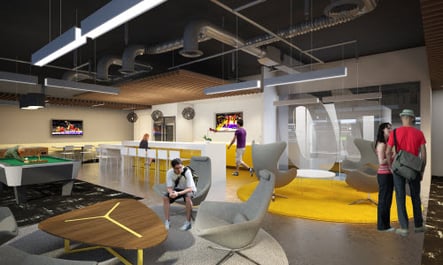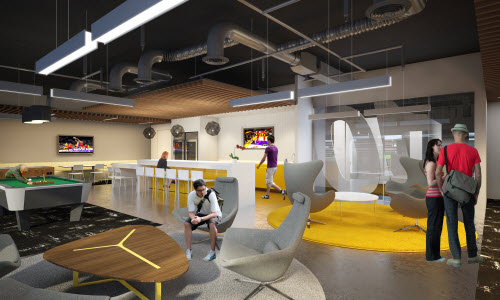 As designers of education facilities, higher education environments, creative office facilities and senior living spaces, LPA designers have the unique opportunity to touch multiple aspects of human life through design. We have found that there are many places where these diverse project types connect. One of the most distinct connections is where we learn and where we work. Although lately it may be considered a trend, it is actually a timeless concept—it'sall about people and purpose.
Two recent progressive office reimaging projects that are both under construction, Ten Almaden and Towers @ 2nd (both seen in our edition of LPA Studies: The Next 50), are great examples of the connection that are being created between education and work environments. Both projects create unique social environments that bring campus concepts to the workplace. These spaces take inspiration from a college student union with spaces that you can socialize, play games, grab a bite to eat, listen to live music and more.
At a workplace setting these spaces are used for connecting with co-workers, sharing ideas that recharge the batteries, fostering innovation and stimulating collaborative creativity. With spaces for small gatherings to larger conference rooms with flexible furniture options, both indoor and outdoor settings provide a common ground for people to engage. These days there is more emphasis than ever on the concept that all work is social and these two projects give the work environment a truly collaborative social place that enriches the work environment.
Much like the workplace environments taking inspiration from campuses, education environments are taking a cue from creative office designs settings as well. The Professional Studies Building renovation at West Valley College is taking inspiration from workplace office design. The building is an open and collaborative space that welcomes and encourages collaboration between students, faculty and the professional community. The newly-configured space is designed to put the learning process on display with glass walls and rollup doors that utilize the entire campus as the classroom. The feature space known as the entrepreneurial lab challenges convention and connects the college and business community in an open environment that promotes collaboration and creativity, similar to the spaces that we are creating for our corporate clients.
We are very fortunate at LPA to be working on these diverse projects which all have one thing in common: enriching lives through design. This requires us to understand individual lifestyles, inspiration, team behaviors and the challenges of communication and collaboration. A truly integrated process where all aspects of a design are working together is where places and spaces are created that make the connection between people, place and community.