Taking the Sustainability Spotlight in the Solar Decathlon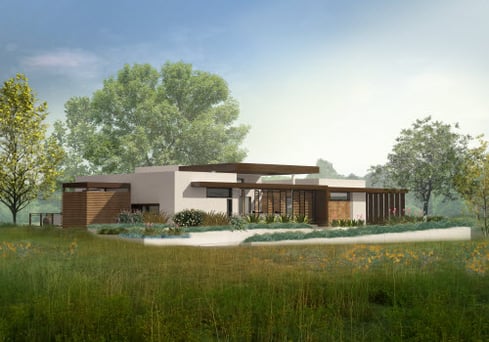 When LPA architect Lindsey Engels agreed to go to a design critique at Irvine Valley College back in July of 2014, she thought she'd be there for a few hours and that would be the end of it. As an adjunct professor at California State University, Fullerton, she should have known better. Her natural knack for teaching landed her quite the role as the managing advisor for Team OC, the first home team for the Solar Decathlon since it moved to the Orange County Great Park in 2013. This is also the first time any Orange County school has participated in the Solar Decathlon.
Perhaps in an effort to make up for a lack of participation in previous years, Team OC is comprised of four educational institutions: University of California, Irvine (UCI), Irvine Valley College, Saddleback College and Chapman University. This is the largest number of schools on a single team in the history of the competition, as well as a first with community college participation.
Heading into the competition with a lot of firsts and getting four schools and approximately 100 students to work together seamlessly is a challenge, but the students are passionate and very committed to the project's success. There are 16 teams competing and a number of the schools have prior experience with the Solar Decathlon including top architecture and engineering school, Cal Poly, San Luis Obispo, Lindsey's alma mater.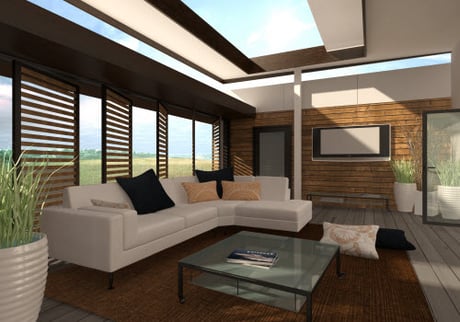 Team Orange County's competition entry, Casa Del Sol, is an innovative, net zero energy home, that draws inspiration from the California State flower; the golden poppy. This flower opens and closes as it adjusts to the light of the sun, a method emulated by Casa Del Sol in order to promote the indoor-outdoor California lifestyle. Thanks to this flexibility in design, the walls can also adjust in order to change room size or quantity, thus allowing for multigenerational living or a possible rental. Team Orange County's home addresses ecological concerns, and helps meet the need for affordable housing in Southern California. This house makes a sustainable future feel like home.
The Orange County business community seems to agree. It has been very supportive of Team OC. Sponsors backing the project include the City of Irvine, Southern California Edison, Five Point Communities and Irvine Company, just to name a few.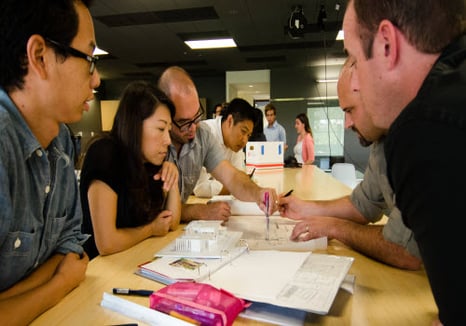 Given LPA's focus on sustainable design, it was only natural that LPA would become a pivotal mentor and sponsor of Team OC's entry into the Solar Decathlon. Besides Lindsey's support, LPA structural engineer Kirk Snell has devoted countless hours mentoring the structural team from UCI. Designers Ti Than and Ozzie Tapia have helped the students with the design of the project with teaming session conducted at LPA's CoLAB space in Irvine. Solar Decathlon alumnus and LPA employee, Tyler Zalmanzig (USC's fluxHome in 2013) has been more than happy to field questions about his previous competition experience. The experience has been a great win-win collaboration where two student "decathletes" have joined the LPA team, and include Josie Truong (Saddleback College, architecture and design team) and Francisco Magallon (UCI, structural team).
Besides LPA's mentorship support on the design, construction administration and structural side of the project, the students are also tremendously grateful for the support donated by their mentors at OMB Electrical Engineers, McParlane and Associates, Nuvis, American Society of Landscape Architects (ASLA), Southern California Chapter, Gensler and Shimahara Illustration. Dan Riley, Principal at Made Possible, has been the common thread stitching the project together from the beginning, mentoring the students through their design process that started back when he was an Adjunct Professor at Saddleback College in 2014.
It truly takes a village. Go Team OC!
A version of this article originally appeared in LPA Studies: Cal Poly BRIC.
Dan Heinfeld, FAIA, LEED AP BD+C and President of LPA Inc., leads the design direction of the firm and has done so for more than 30 years. As a pioneer in the sustainable building movement Heinfeld is passionate about sustainability and its importance in the process of informed design. More than 600 major design awards attest to the firms's commitment to design excellence. LPA provides services in architecture, sustainability, planning, interior design, landscape architecture, engineering and graphics