Standing Out with Repositioning and Adaptive Reuse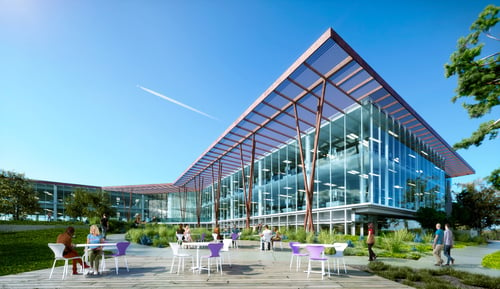 Much like the foodie frenzy, with a heightened awareness of great food, quality ingredients and farm-to-table concepts, developers and owners of existing office spaces are feeling the demand for an increased variety of options and amenities to attract tenants. With repositioning and adaptive reuse projects, LPA's designers and clients collaboratively find creative ways to update corporate campuses and buildings to meet today's trends and competitive tenant expectations.
As designers, our challenge is to work within the budget constraints that are typical for building repositioning projects while creating an exciting environment that gives a new image and brand to the project. San Diego's La Jolla and Downtown districts, and companies like The Irvine Company and Alexandria Real Estate, are recognizing how critical the first impression is.
In La Jolla, adaptive reuse projects are highly sought after. In the life sciences industry especially, owners are seeing a high level of value in reusing and repurposing existing buildings. Lobbies are an important area of focus because they are an instant opportunity to wow tenants as they walk in the front door. With updated finishes and programming, such as breakout spaces for quick, informal meetings, food and coffee venues and a variety of seating areas, activity and life are cultivated within the lobby.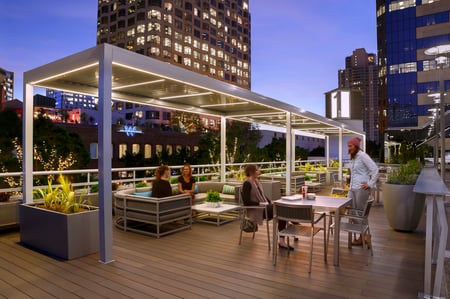 Downtown San Diego's first impression starts further out. With a highly competitive, urban region, tenants must be attracted to the building from the street. With a facelift to the exterior, through signage and graphics, drought-tolerant landscapes and updated facades, a building is positioned as a new product and alludes to an amenity-laden experience inside. Ground floors have fitness centers, restaurants and meeting areas. In addition, rooftop amenities, like the popular space at 1 Columbia Place, are becoming so well known in the scenic San Diego region, they increasingly feel like a requirement.
In summary, it is a much more cost-effective and sustainable solution to provide modern amenities to an existing site, rather than tear down and rebuild on the site or build new somewhere. By focusing on high-traffic entry spaces and amenity-rich programming, a newly branded environment helps owners stand out from the competition.
Dan Ringler, project director at LPA Inc., is responsible for the overall project administration and design direction of interiors projects at LPA's San Diego office. With 20 years of experience in the interior design field, he leads the design team in all aspects of projects. Ringler's professional work includes experience in all areas of commercial and hospitality interiors including corporate facilities, tenant improvements, hotel and restaurant interior design.