Service Spotlight: Landscape Architecture with Rich Bienvenu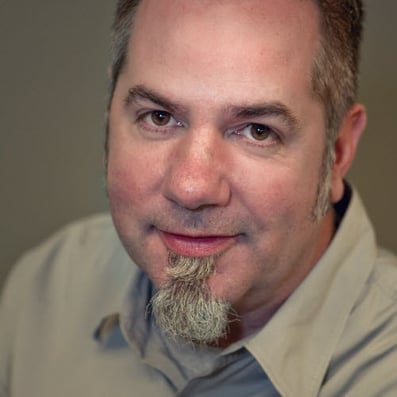 As part of a continuing series on this blog, we'll take a look at members from each of our services to highlight LPA's integrated design process and showcase our commitment to sustainable design.
This month, we sat down with landscape architect, Rich Bienvenu, to discuss the impact of landscape sites in the overall design process and his most interesting project:
Q: Why do you think it is valuable to work at an integrated design firm?
A: It is valuable and rewarding to be integral to the process, and not be brought in at the end of the project to "shrub it up." When we can work with and influence the site's development, building placement, interaction with interior materials to create an overarching design or "brand," if you will, for the project I find that those are the best results and the most informed landscapes, because they reflect the client's desires, the end-user's needs and the sustainable design quotients for the life of the projects.
Q: How does sustainable landscape architecture impact the overall design solution?
A: As a profession, landscape architects have a unique sustainable slant in that we deal with living elements, and our designs are constantly evolving; we strive to orchestrate overtime the complex and unpredictable processes of nature. Most of what we authorize is careful planning and an informed, well thought out, selection of elements which can take root, grow and develop into something resembling the original design concept over the life of the project. A landscape is never complete or finished, at least in the same instance as architecture or interiors. It is in the holistic nature of LPA where landscape architects are included and involved with the overall concept of a project that we can contribute to the sustainable impact.
Q: What does a day in the life of Rich Bienvenu look like?
A: Alarm clock goes off, get up, shower, dress, feed the dog and koi, kiss the wife and kid goodbye, and start my morning commute. Once I get to work every day is unique, but usually involves a balance of meetings on specific projects, design and drawing time, and interaction with the talented group of individuals at LPA.
Q: What's the most interesting project you've worked on? What did it entail?
A: All of my projects have been interesting, but the latest one that comes to mind is CSU Northridge's Oasis Wellness Center. It is a very unique higher education undertaking where the campus sought to repurpose an existing building and an under-utilized site to create a space that deals with the top health impediments negatively impacting students' academic performance: stress and sleep deprivation. The wellness center was designed for a more intimate experience where students could go to access such amenities as peer counseling, massage therapy, and general nutrition and wellness advice. The project transformed 10,000 square feet of under-utilized landscape into a variety of outdoor rooms encompassing gathering and meditation spaces, generic lounging areas for naps, an amphitheater with outdoor fireplace and spaces for introspection such as a Zen garden, a labyrinth, and a yoga patio.
Q: How does landscape architecture impact the built environment?
A: It is well documented that the physical characteristics of the built environments such as lighting, noise levels, air quality and thermal comfort in a building all impact learning and employee satisfaction but, what appeals to me, are the evolving boom in studies demonstrating the health benefits of spending time in nature, or even just looking at nature. The early results show that exposure and connection to nature contribute to significantly less stress, an increased ability to focus, and increased satisfaction in mood and energy levels. With primary indications such as these, exposure to nature is at the forefront of landscape architect's goals for every project.
Q: How do you see role of landscape architecture changing in the next five years?
A: Traditionally, landscape architects were (and often still are) called in after the major design decisions have been made and asked to make an existing design more attractive by adding hardscape and plant material. I have seen the profession starting to leverage the discipline's traditional connection to ecology and environment, repositioning landscape architecture's role in coordinating various fields whose inputs are needed to work effectively on complex, large-scale, sometimes even distressed sites including: architecture, infrastructure, biology, ecology, hydrology, horticulture and civil engineering. Some of the more impressive examples of landscape architecture in a "leading role" being large scale public parks i.e. Orange County Great Park, industrial reclamation such as the High Line in New York City, and on a smaller scale in creation of creative office environments with interior/exterior relationship.
Q: What advice would you give someone thinking about becoming a landscape architect?
A: I now know that a landscape architect has to be able to collaborate and work as part of a team, the iconic image of a lone design genius who can dictate a singular vision is outdated. To collaborate you need to enjoy when the ideas, the solutions, and the process is all part of a shared experience with insights and input from across the whole team, all the way through to ultimate construction. I would also advise them that design talent is important, but other traits that go a long way are enthusiasm and attitude—these are what keeps you going to get things done and get projects built.