Service Spotlight: Interior Design with Winston Bao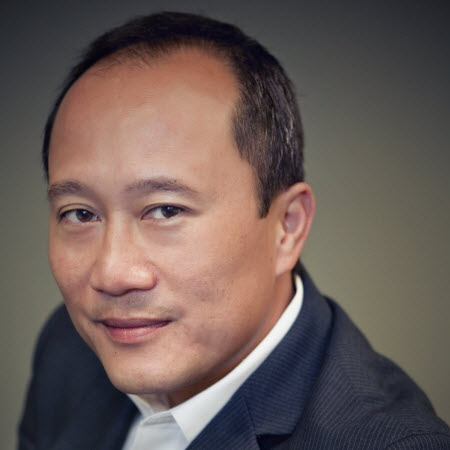 As part of a continuing series on this blog, we'll take a look at members from each of our services to highlight LPA's integrated design process and showcase our commitment to sustainable design.
This month, we sat down with interior designer, Winston Bao, to discuss the importance of interiors elements in the overall design process and the value it brings to an integrated process.
Q: How long have you worked at LPA?
A: After graduating from California State University, Long Beach and joining LPA in 1995, I have been a part of this amazing organization for 21 years.
Q: How do sustainable interiors impact the overall design solution?
A: A sustainable interior design approach is a response that needs to be intrinsic to the solution. This holistic approach allows the interior spaces to proudly showcase sustainable features—from the materials to the building systems such as lighting strategies, ventilation and efficient structural systems. With sustainability as a design partner, we provide our clients the ability to make informed decisions that rewards smart and thoughtful planning.
So whether you are considering optimized daylight and high-performance glazing, or the recycled content of furnishings, understanding the relationship of interior spaces to the architecture, building systems and even the outdoor environment is key to creating a built ecosystem that is cohesive and purposeful.
Q: Why do you think it is valuable to work at an integrated design firm?
A: The opportunity to work alongside very talented people with diverse experiences and perspectives broadens my ability to look at problem solving differently. From the onset of any project, we collectively engage the client to understand their needs from each of our unique disciplines. This collaborative design philosophy proves that a balanced approach focuses on responsive and appropriate solutions that ensure the delivery of innovative designs that offer enduring benefits. And in times where budgets and schedules continue to be more and more challenging, it changes the conversation from added cost to added value.
Q: What does a day in the life of Winston Bao look like?
A: Diverse, which always keeps it interesting. I would say the most consistent activity of my day is communication. Having the ability to leverage technology to collaborate with our other offices has been an amazing evolution in our process. Real-time interaction where we can share screens, mark-up drawings, instant message, present projects and host learning events has truly made us more integrated in every aspect. And the emphasis of all this connection, whether virtual or in person, is the exchange of ideas. Meetings and charrettes with my project teams or clients tend to occupy the majority of my time and the results, the discovery and development of solutions that are tailored for each unique client. It doesn't get any better than that.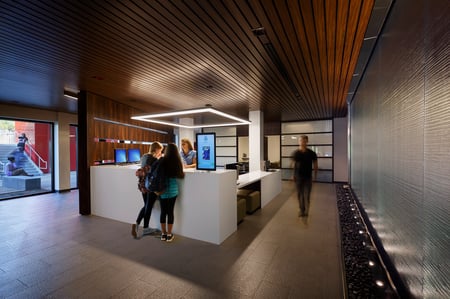 Q: What's the most interesting project you've worked on? What did it entail?
A: That's tough—it's like picking your favorite child. However, I will say that projects which focus on student life, health and wellness are endearing to me. One particular project that comes to mind is the Oasis Wellness Center at California State University, Northridge (CSUN) that we completed last year. It was created to contribute to student success and retention, while enhancing the student life experience. It serves to complement the Student Recreation Center (which LPA completed in 2012) in fulfilling the needs of fitness, health and wellness as part of the higher education experience for the entire campus community.
The design approach was simply bridging the relationship between mind and body. So whether the tangible benefits help student succeed academically or provide diverse experiences that encourage a healthy lifestyle beyond their formal education, the goal of this project demonstrated the need to promote lifelong wellness and learning as it reaches out to help students balance their hectic and multi-task intensive lives. Working alongside the university and students to shape experiences that will affect generations to come truly proves that design really does matter.
Q: How does interior design impact the built environment?
A: What we do has profound impacts and changes lives. As a Design Director of our Interior Design Team in the Education Studio, I have focused my career on how design can influence experiences and ultimately shape the quality of life. Along the way I had the opportunity to not only work with tremendously talented designers at our firm, but also design projects that are as diverse as our clients. This includes high-performance learning environments for all ages, to corporate organizations seeking to reinforce their global brand. And somewhere in between are renovations and small intervention projects that have just as much creativity; I embrace any opportunity to transform our clients' needs into inspired places. Through our collaborative and integrated design approach, I work with our team of designers and engineers to create these tailored solutions that not only delivers engaged learning environments, but balances the academic experience with physical and emotional well-being as part of lifelong learning.
Winston Bao is an Associate and Interior Designer at California-based LPA Inc. He is a LEED Accredited Professional who has made sustainable design the focus of his career.