Service Spotlight: Facilities Master Planning with Jim Kisel
As part of a continuing series on this blog, we'll take a look at members from each of our services to highlight LPA's integrated design process and showcase our commitment to sustainable design.
This month, we sat down with principal Jim Kisel to discuss the process of K-12 facilities master planning, the details behind his most challenging project and what he is most passionate about.
Q: How long have you worked at LPA?
A: Joining the firm in 1994, I've worked at LPA for 22 years. I was recruited to begin the firm's educational market sector, specifically with a focus on K-12 schools.
Q: How does master planning for K-12 schools create value?
LPA takes a unique approach. To give some background, in the 1990s, Prop 39 was passed which allowed for 55 percent local bond elections as opposed to the previous two-thirds super majority. With this lower threshold, it became more feasible to be successful with the campaign. The projects then implemented from this first wave of bonds were mostly about deferred maintenance and modernization and all the things that hadn't been fixed at school sites since Proposition 13 passed in the 1970s. At that point, there had been decades without adequate funding for schools to repair their campuses.
Now that sc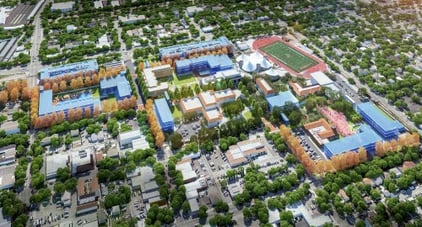 hool districts have had ongoing improvement programs for more than a decade, it's be
come more about the fun stuff. How are teachers going to teach? How are students going to learn in the future? And what kind of educational environments are needed to support these needs along with the goal to promote increased student outcomes and achievement? Therefore, when LPA is doing a facilities master plan, we're not only looking at what needs to be fixed and what's broken. We're trying to think about what is the educational program vision of the district. And overlaying that onto the school facilities to make sure that it's in alignment with where they see education going in the future.

Q: What is involved in the master planning process?
LPA's role in the facilities master plan process is to be a trusted advisor to the school district. We help them to strategize an appropriate process to meet their individual needs through our initial "plan and the plan" meeting with district leadership. Our role in that group is to bring the best ideas to them and craft a process that is unique to their district and local community. Now that we've done more than 50 facilities masterplans, I can't think of any two districts where the end result and the process was the same. Every district is unique and we want to make sure we design a process that is unique to each district. One of the first questions we always ask them is "what kind of masterplan do you want and how do you define success?" Master planning is the district's opportunity to educate, not advocate, to their community at large regarding what needs to be improved at their schools.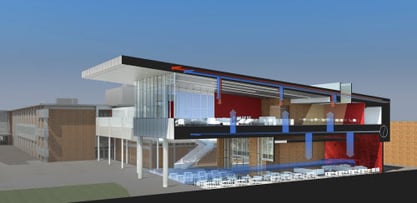 Q: Why do you think it is valuable to work at an integrated design firm?
With the concept of every space could and should be a learning space—including interior and exterior environments—working with an integrated firm that is going to have interior design and landscape in-house to move those dollars where they best reflect the needs of the district and goals of the community, as well as educational program requirements, is important. LPA's been an integrative firm with architecture, interiors and landscape for more than 20 years now. The reason we added engineering—and the advantage to the school districts—is because LPA thought that in order to do sustainable design right you had to change the process of design. It's not just about applying photovoltaics or some other sustainable system to a building. It's about how that building is designed in its entirety to respond to the environment. What is the proper orientation? How does the building breathe in terms of operable windows and natural ventilation? How does it sit within its community context? All those need to be integrated and discussed up front in the design process.
It's ultimately about accuracy and making sure that what we're projecting within our master plans, and when we phase that total need to match the dollars available through prioritization with the active participation of district stakeholders. Our goal for the planning process is not a binder that sits on the shelf, but a living document that functions as an implementable road map to the future improvement of the district facilities infrastructure to match their educational vision.
Q: What does a day in the life of Jim Kisel look like?
I love what I do. My passion is to design school facilities having done that for more than 30 years. Students universally recognize the quality of an educational environment and I think it's hugely important that we engage them so that's why schools became a passion of mine. I'm married to a teacher so education is in our family. I'm also an ambassador committee member for Orangewood Children's Foundation and engaged with the Human Rights Campaign as a Federal Club Member. I try to stay active in things that I really believe benefit our community.
Q: What's the most interesting master planned project you've worked on? What did it entail?
There is one that comes to mind that is the most interesting and the most challenging. It is for a district in Northern California that's the poster child for growth in the state. There used to be three funding legs to school facilities in California: the state School Facilities Program, developer fees and local revenue sources. Two of the three legs have gone away now and so here was a district that is growing rapidly almost doubling the size at the high school level and how are they going to fund school facilities?
Our outreach processes were different than ever before. We had an active social media participation and the entire master planning process was web-based in order to increase transparency and participation of the local community. We had more than 1,000 questions submitted by community members that were answered through the website. It really helped bring the community together and increase trust between the community and the district with regard to what needed to happen as they move forward. This process resulting in increased support for the district program recommendations and they were successful with their bond in June 2016.