LPA University: A Case Study in Seismic Retrofitting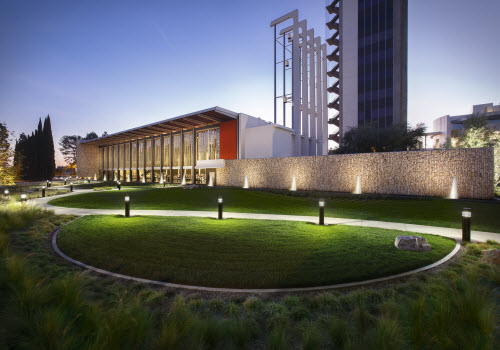 Did you know more than 1,000 concrete buildings in Los Angeles alone are at risk of suffering major damage or collapsing in a big earthquake? Could your building be at risk?
The City of Los Angeles recently announced a sweeping seismic resiliency plan that includes mandates to seismically retrofit hundreds of high-risk, non-ductile concrete buildings. To commemorate LPA's 50th anniversary this year, we have taken our education program, LPA+U, to the public with a live webinar series.
This month, go behind the scenes of the renovation of Richard Neutra's iconic Tower of Hope and learn how you can seismically strengthen your building. This project is an example of a non-ductile concrete building that has recently been seismically strengthened using 21st century technology while preserving the historic mid-20th century Modernist aesthetic. Join Architect and LPA Principal Jim Wirick, AIA, and Structural Engineering Director and Associate Bryan Seamer, SE, deliver their expertise and experience on this one-of-a-kind project.
Richard Neutra's iconic Tower of Hope on the Christ Cathedral (formerly "Crystal Cathedral") campus in Garden Grove has been an important Orange County landmark since it was built in 1968. The thirteen-story tower—the tallest building in Orange County when it was built—is supported by seismically vulnerable non-ductile concrete frames. LPA's integrated seismic design team worked closely with the Catholic Diocese of Orange County to preserve, revitalize and extend the life of the Tower of Hope while meeting an aggressive schedule in the critical path of the ongoing campus-wide renovation program. The completed seismic and architectural rehabilitation preserves the original mid-century modernist design aesthetic, maximizes the amount of functional interior space, and dramatically increases the seismic resiliency of the Tower.
What you'll learn at LPA+U:
How to identify non-ductile concrete buildings and understand why they may collapse during an earthquake.
Understand 21st century seismic retrofit technology.
What Performance-Based Design (PBD) is and how it can save you money by using PBD instead of following the building code.
Construction challenges inherent in renovation of concrete structures and some methods to overcome those challenges.
The webinar will be held on Tuesday, Feb. 24, 2015 at 12 PM Pacific. AIA members can also receive continuing education units (your AIA member number is required.) Sign up now to reserve your spot.
(For more on the Neutra-designed architectural icon in Orange County click 'play' below.)