Line to Color: A Weekend of Architectural Sketching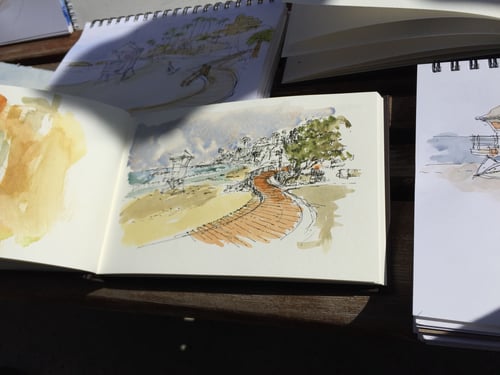 In an age where CAD drawings, Revit models and Photoshop renderings dominate our daily experience in the practice of architecture, it's refreshing to put down the mouse and pick up a good old-fashioned pen and sketchbook. Sketching reconnects us to the reason why many of us, including myself, became enamored with the idea of pursuing a design profession. There is something innately fulfilling about the simple act of sitting in front of a compelling scene and putting pen or brush to paper to preserve the moment. That's exactly what two of us at LPA—Damon Dusterhoft and I—did last spring.
A workshop hosted by the AIA Orange County chapter brought famed architectural illustrators Francis D.K. Ching, author of Building Construction Illustrated and Architectural Graphics, and Gail Wong, coordinator of the Seattle Urban Sketchers, for three days of sketching, painting, critiquing and learning. Participants came from a mix of backgrounds, from beginning hobbyists to architects with decades of experience.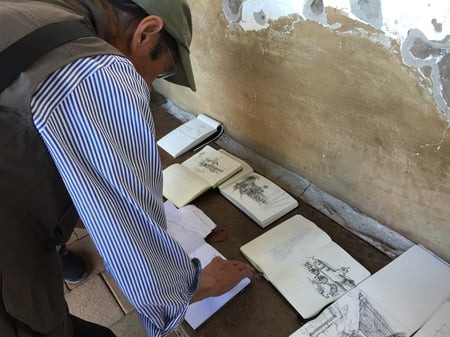 On Saturday, we spent the day at the Mission San Juan Capistrano. Frank, a hero for generations of aspiring architects, kicked off the morning session by giving us 15 minutes to sketch one of the courtyards at the mission. It was challenging. Most of us got bogged down trying to get one corner of our drawing right and ran out of time. Thus, our first lesson about the importance of setting up a 'skeleton' for your sketch before starting anything else. With one eye closed, using his thumb as a measuring tool and a few quick lines, he was able to capture the major planes, proportions and composition of the scene. Then we were asked to try again, using what we had just learned. Much better.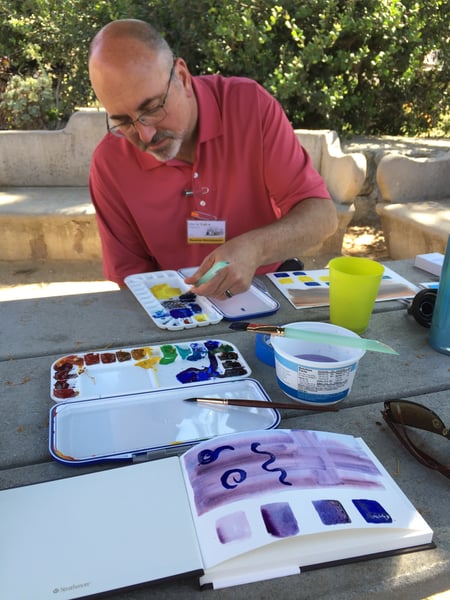 The afternoon session was a watercolor lesson taught by Gail. For those of us who had last touched watercolors with a Crayola palette, this was a bit intimidating. However, Gail was confident in her ability to break the techniques down into simple concepts, one step at a time. She began by helping us explore the range of possible consistencies achieved using varying ratios of water to paint: tea being the thinnest and most translucent, then coffee, milk, and finally working up to cream being the richest and opaquest. The key to watercolor is to work from areas of light to dark, breaking down the composition of a scene into abstract shapes representing areas of light and shadow. It is a layered process that starts with runny washes, and finishes with the application of crisp details. At the end of the first day, we began to try our hand at blending different hues.
We returned Sunday morning, refreshed and ready to tackle the next challenge: putting it all together. In only a few short hours the previous day, we had been introduced to the art of line drawing and watercolor. But how would we blend the techniques to create a cohesive composition? Our two fearless mentors were ready to help us blaze an artistic trail through the picturesque town of Laguna Beach. Armed with sketchpads, brushes, fountain pens and plenty of sunscreen, we set out to capture views of a calm early morning by the water and lush mid-day foliage at the cliffs overlooking the beach.

The final project culminating our weekend was a completely self-directed project, a sketcher's dream. I chose a quiet corner facing a shaded street in front of a church. As I worked, passersby occasionally stopped to watch. With a sense of awe, I realized that each of us had somehow become part of the street life of this town, artists in a town renowned for art. It was humbling and exhilarating all at the same time. And it all happened in a mere 48 hours. Perhaps we all could use a little break to sketch and paint more often.
Melody Tang, AIA / LEED AP BD+C, is a project architect at LPA. She is a licensed architect and avid learner who enjoys the challenge of being actively involved in all parts of a project, from schematic design to design development, construction documents and construction administration.