LEED at 100: 10 Sustainable Design Secrets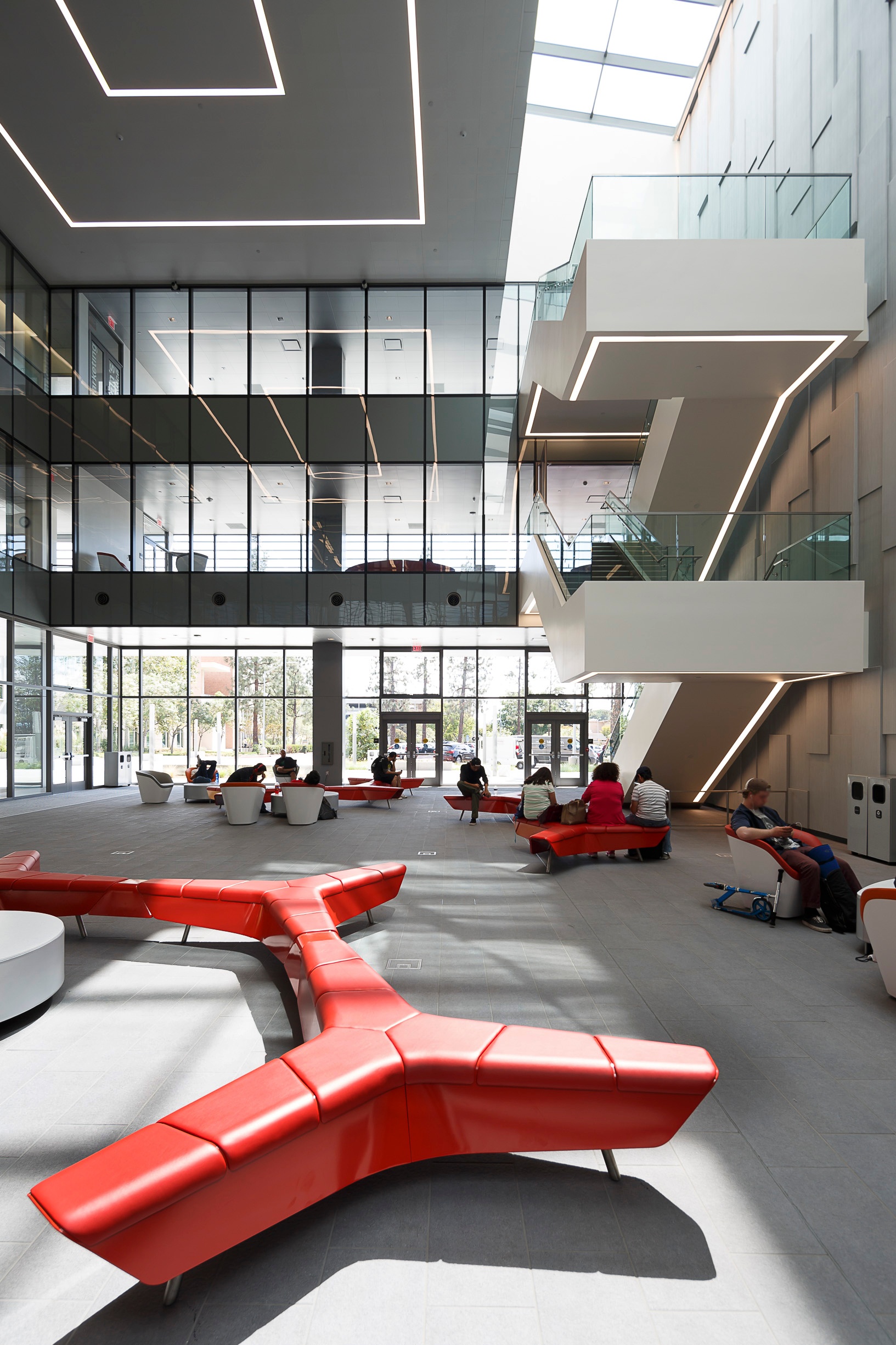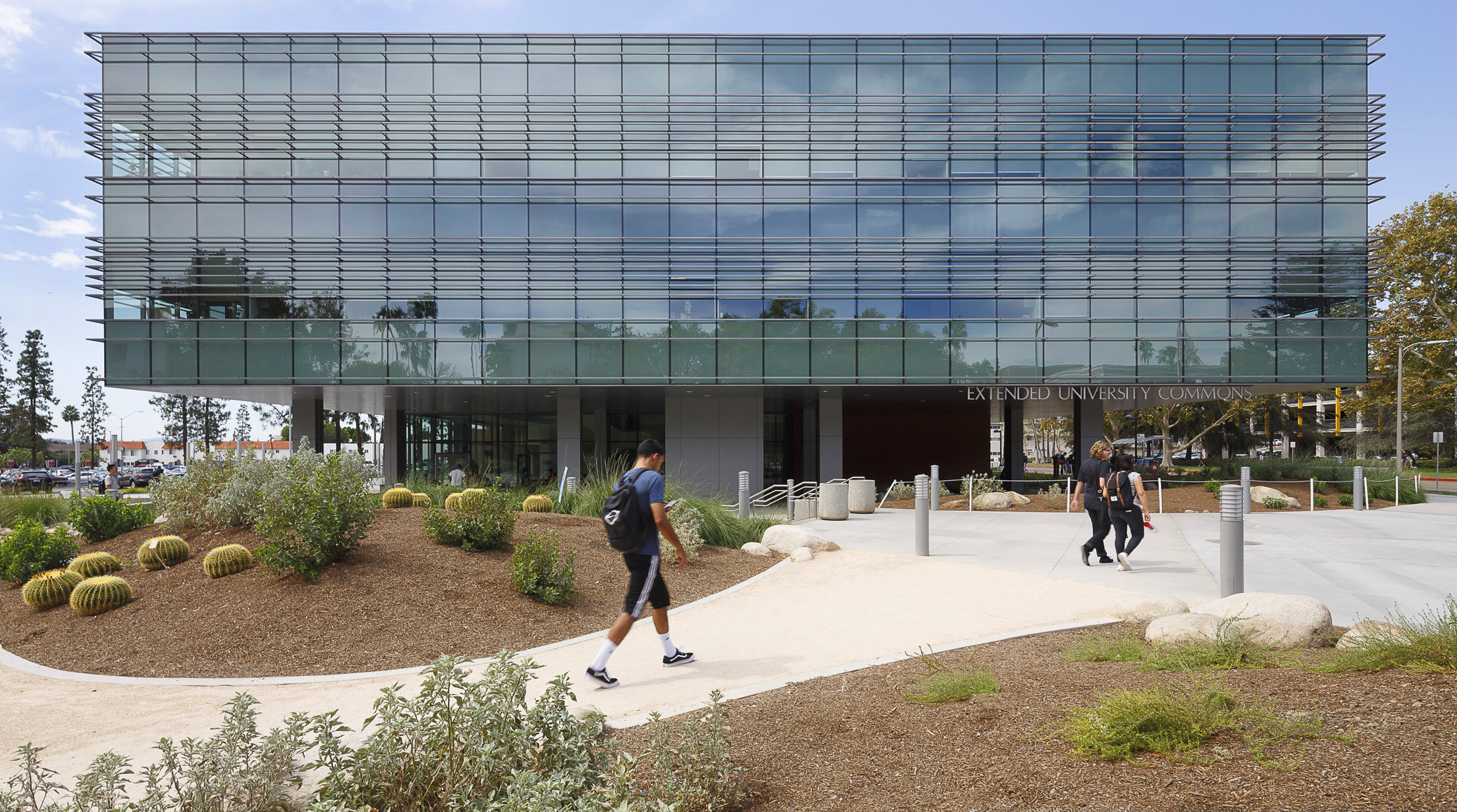 Since LPA completed the first LEED NC v2.0 project in the country in 2000, our clients have been leading proponents for integrating green practices and principles into their projects. The completion of the Extended University Commons for the Tseng College at California State University, Northridge (CSUN) marks the 100th LEED building to be completed by our integrated design team. With a more than 25-year history of sustainable design, we want to share with you some insider tips we've learned along the way.
Rating Systems: Apply the same discipline to a project that is not pursuing a green building rating as one that is. The entire A & E industry can thank the USGBC for bring sustainability to the forefront of building design and construction. While we can wish that every project pursues LEED or another sustainable rating, that is not the case. While most projects may not pursue a formal rating, that doesn't mean you forget about sustainability. Every project needs sustainable design thinking, today more than ever.
Energy Savings: Ruthlessly pursue energy conservation. Modest energy improvements across multiple design choices and systems can add up. Given the life of a building and the reality of future increases in energy cost, even small savings can be significant. Don't just look for home runs; a few singles can be just as important.
Site Gifts: Investigate the site's unique, natural gifts that can be paired with passive or active sustainable features. Prevailing breezes that promote natural ventilation, rainfall for water harvesting, diurnal effects coupled with thermal lag materials and using solar exposure to inform building arrangement are just a few of the clues that can be taken from the site to make your project more sustainable.
Renewable Energy: Incorporate renewable energy planning to your project, even if it is not initially part of the construction budget. Photovoltaics (PV) costs have decreased annually, to the point that that they are 50 percent less expensive than when we completed the net zero Environmental Nature Center in 2008. Providing electrical conduits to the roof for future solar systems with spare room in an electrical room is inexpensive during construction.
Strive for Net Zero: Design a building that can sustain itself. Much of early LEED design was about being less bad for the environment. That was a natural starting point, given where the industry was in the late '90s. With continuing advances in energy technologies, controls, components and features, today's projects should not only try to minimize its environmental footprint, but should strive to create renewable energy on site, meeting net zero energy targets.
Natural Ventilation: Including natural ventilation via operable windows provides so many benefits that they should be common practice, but it amazing how often they are overlooked. In most climate zones, operable windows can be beneficial for much of the year. Controls can be affordably designed to coordinate the opening and closing of windows with HVAC equipment. We won't consider buying a car without operable windows; the same logic needs to be applied to our buildings.
Future Proof: Design holistically with site constraints, design elements, building modules, structural and mechanical systems that support flexibility will create efficient designs that extend the overall life of a building. Simple "what-if exercises" can offer real insights with future benefits.
Be Flexible: Create teams that understand sustainable targets are just that: benchmarks to be measured against during the process. Goals and standards are great, but never let them affect the discovery process. Chasing LEED points to meet a rating level or forcing a specific sustainable feature into a project will typically cost more money and you might miss a real opportunity by focusing on the wrong solution. Let the process dictate the solutions. A better process always creates better results.
Be an example: Change the way you buy supplies and services to align with a commitment to be more sustainable in everything you do. If given a chance to build, make sure you walk the walk. In December of 2017 when LPA San Antonio relocates to our new LEED CI Gold space, all five LPA offices will be operating in LEED certified spaces.
Promote Good Design: Never leave beauty, delight, firmness or whatever you want to call it out of sustainability discussions. The most sustainable thing we can do is to create places and spaces that people love and want to maintain for long periods of time. Therefore, making places and spaces that inspire our imagination and creative problem solving is one of the most sustainable things we can do as designers.
Every day and with every project, we are proving that sustainability is an elegant design partner that focuses the process on enriching lives, benefiting our clients and all users alike. We are very excited about the future of sustainability and how our integrated practice will inform our next 100 LEED buildings and look forward to sharing those with you in the future.
Dan Heinfeld, FAIA, LEED AP BD+C and President of LPA Inc., leads the design direction of the firm and has done so for more than 30 years. As a pioneer in the sustainable building movement, Heinfeld is passionate about sustainability and its importance in the process of informed design.