How to Create a Nature-Based Learning Environment
Long before there were iPhones and iPads, children played outside and imagined. Direct interaction with nature during early brain development has been proven to promote creative and intellectual education.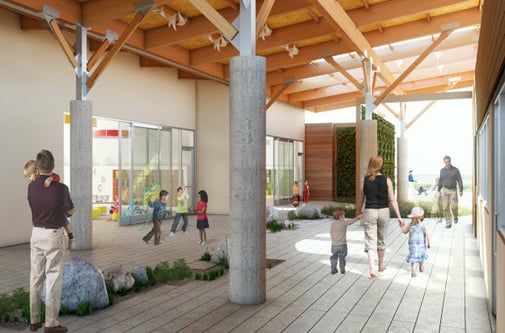 An effective way to incorporate sustainable strategies into any space is to take advantage of one of its most natural resources: the outdoors. Outdoor learning environments for preschool-aged children supports physical fitness, social and emotional development and provides a lasting enthusiasm for nature.
With a commitment to knowledge of the natural world, the Environmental Nature Center (ENC) Preschool is designed to provide education through a hands-on experience with nature. When completed, the preschool will be a LEED Platinum Net Zero building designed to complement the existing ENC facility while giving form to its program.
As an integrated design firm, we know the value each discipline brings to an informed design practice and that value is seen throughout the ENC Preschool landscape design. The landscape design of this school has two key objectives: create a plan that is rich in nature within an environment that promotes play where children can learn and explore.
Place: Establishing a Sustainable Position
The program is organized into separate support and classroom blocks connected by a covered breezeway. The breezeway promotes natural ventilation by taking advantage of the coastal climate. The buildings will harvest natural daylight through the breezeway and the north-facing insulated windows and, like the existing ENC Nature Center, active and passive sustainable approaches minimize the energy demand for the preschool making the Net Zero goal affordable.
From flexible furniture to sliding glass doors, the indoor classrooms are meant to provide a connection to the outdoors. Inside the classroom building, recycled and recyclable materials will be used. With the integration of a green wall and exposed beam structure, the buildings are designed to showcase its sustainable story. The project is also pursuing Living Building Challenge petal certification.
Play: Integrating Nature into Curriculum
This is not your typical playground space. The design of the outdoor classroom spaces consists of multiple activities that respond to natural environments. You won't find plastic play equipment or rubber surfacing at this preschool—given all equipment is under 18 inches—the outdoor items will provide opportunities for children to explore and play as they hop, crawl or climb from one to the other.
Outdoor zones were named after California National parks such as Yosemite and Sequoia. California native, drought-tolerant plant material were chosen to eliminate irrigation. The outdoor educational environment allows the children to study and interact with plants by planting and caring for their own in the garden area. Materials such as boulders, logs and tree stumps will be used for seating, and outdoor musical instruments and a stone abacus are just some of the ways children can interact and learn.
All pathways throughout the site will be constructed out of natural, permeable materials such as decomposed granite and bark mulch. The environmentally-friendly products will provide different experiences for walking, running or riding through the different outdoor rooms.
Influenced by nature, the ENC preschool will not only provide children with an ideal atmosphere for early brain development and a space for exploring the outdoors, but inherently, teach them about sustainability.
Danielle Cleveland is a project designer / landscape architect at LPA. She has experience in both K-12 school and urban environment landscape design. This article originally appeared in LPA Studies: Innovation in Reimaging.