Four Wins at the AIA Orange County Design Awards
LPA was recently honored with four awards from the American Institute of Architects (AIA) Orange County chapter's awards program held recently. While the firm is very proud to have received these awards for our clients, what makes this year's ceremony special for our firm is that it represents the 40th consecutive year the firm has been recognized by the AIAOC chapter for design excellence.
We believe this is an unpre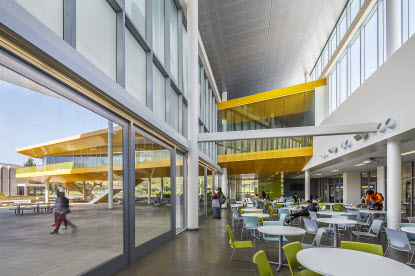 cedented achievement in our industry. These recent awards and, in fact, all of our awards throughout the years, have been the result of a collaborative process with our clients and the talented and passionate people at LPA who each and every day are committed to the simple premise that design matters.
The four awards given this year recognized three projects:
Los Angeles Valley College's Monarch Student Center won two awards. A merit award in the Commercial category and a Committee on the Environment (COTE) award given in recognition of its sustainable attributes—the only project to receive this award this year. The Monarch Center is a 41,000-square-foot, two-story building located at the heart of the college. Recognized for its sustainable design features from skylights to operable glass walls, the blending of interior and exterior spaces encourages the use of natural ventilation with exterior views throughout 90 percent of the space. Additionally, the building exceeds Title 24 standards by 30 percent and has a 30 percent water use savings.
The West Hollywood Automated Vehicle Storage and Retrieval System (AVSRS) received an award of Honor and the net zero project was noted to have a regional impact in its use of innovative new technologies by the jury. The West Hollywood parking structure is the first municipal fully-automated parking garage on the West Coast. The new parking garage will provide 200 automobile parking spaces for use by the city staff, residences and local businesses.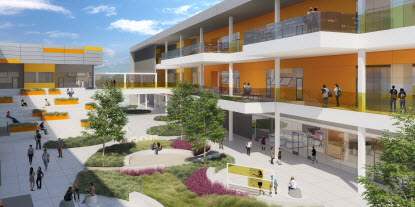 Eastvale eSTEM High School received a Citation award in the Commercial category. The project, which is currently in design, was noted by the jury to have a "strong planning process" and "quality of interior space." The academy will provide new classrooms to accommodate the student population growth and specialized learning environments to support the district's Career Technical Education (CTE) programs. The project is envisioned to be constructed in two phases with phase one starting in summer 2016 and completion in summer 2017, and the completion of phase two in summer 2018.
What I am most proud of at LPA is that we have never made awards part of the discussion, program or criteria on a project. Our firm's corporate compass is based on the knowledge that if we trust our integrated process, if we collaborate as a team and if we make decisions based on the best interest of our clients, success and awards will be a result not a cause.