Educational Design: Where We Learn Matters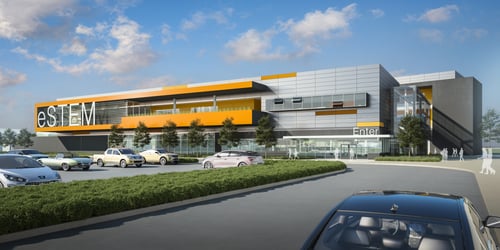 The only constant in educational design is change. To innovate, we must explore and imagine a future that engages students and empowers a culture for lifelong learning. Organizations like the Coalition for Adequate School Housing (CASH) and the American Institute of Architects California Council (AIACC) recognize the important connection between the design and programming for 21st century schools. At the recent national conference, CASH/AIACC honored LPA and our clients with awards for four K-12 schools.
The four winning projects and clients are:
Samueli Academy, a 480-student charter high school and a program of Orangewood Foundation in Santa Ana, California. In addition to 115,000 square feet of academic space, the campus features a 40,000-square-foot residential village—a vibrant neighborhood for 80 students and their guardian families, featuring patios, terraces and growing gardens.
Johnson Middle School, an Award of Excellence
winner in the Modernization/New Built category, is designed with flexible, interactive environments that support student-centered instruction. The new buildings are situated to create outdoor learning courtyards, and the campus is designed to encourage discovery and support spontaneous learning opportunities.
The Eastvale STEM Academy, in Corona, California, will provide new classrooms to support Career Technical Education (CTE) programs. The academy—designed with a the "learning occurs everywhere" concept—features exposed systems and demonstration stormwater treatment that teach students about the building's sustainable design.
In the master planning category, Galt Joint Union Elementary School District and LPA were awarded for their role in collaborating with district and community stakeholders to provide a comprehensive master plan. The plan addresses important educational needs, while accounting for future flexibility in the years to come.
LPA was awarded its first-ever CASH/AIACC 20 years ago, for the design of Mendez High School. Located in Santa Ana, California, the school is designed as a "spacesaver" facility—the first of its kind in the state of California—which identifies joint-use opportunities for the school's facilities and reduces costly relocation expenses. The 102,000-square-foot school is organized into small learning communities, facilitating cooperative learning and instruction.
The CASH/AIACC awards are extra special because projects are not only judged on design, but on how well it facilitates and implements the client's educational vision. That's what we do—we enrich lives with the spaces we create.
Since joining LPA in 1994, Principal Jim Kisel has participated in the planning, programming and design of more than 100 public, educational and civic facilities. For the past 30 years he has assisted many of these entities with their master planning, site analysis, programming, schematic and design development package submittal needs.