Educational Design Taking Lessons From Tech Firms
Several years ago, my brother worked for a high-profile tech firm in the Bay Area. When I visited him at work, I was blown away at the variety of amenities and "green space" he had access to as an employee. I commented on it, and he went on to explain that this was normal for his line of work. That got me thinking, and after a little research, I discovered the online technology industry was on the forefront of workplace design, and in a way, on education design as well.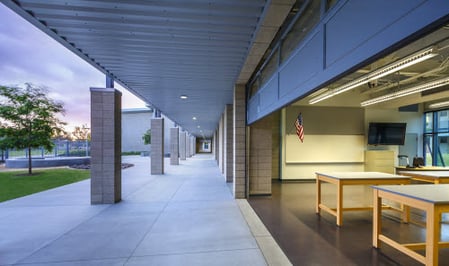 Recently, in educational design, we have seen a trend toward more flexible learning spaces. As the body of research on the various ways people learn, work and de-stress grows, so changes the way we are designing schools. More and more, we are designing schools with fun, energetic and flexible spaces like some of the working environments you find at the larger tech companies.
An emphasis has been put on the quality of and access to outdoor environments to create a balance between the indoors and out. Research suggests a direct correlation between access to and the quality of nature and mental well-being. Through our process of informed design, we use research as a tenet of our education design and incorporate easy access from classrooms to a variety of outdoor spaces intended for formal, informal and social learning.
Lately, we have seen a big shift in educational design as more schools are seeing the outdoor environment for the teaching potential it holds. The mild climate of California and other western states is especially conducive to blurring the indoor/outdoor line. It wasn't too long ago that the thought was the classroom stopped at the doorsill. Nowadays, that line has been significantly blurred. Just as on the tech giants' campuses, it is not uncommon to see large roll-up doors effectively erase building walls or outdoor small-group pods complete with power and writing surfaces.
Educators are realizing the value of outdoor environments to expand and enrich the user's experience. At my brother's firm, hammocks were strung between trees to encourage an afternoon nap. Studies show that classrooms with views to natural elements such as trees and shrubs greatly increase the occupants' cognitive ability. One study measured that a person who spends 15 minutes walking through a park-like setting increased memory and attention performance by 20 percent. In addition, access to nature can lower stress levels, improve a student's ability to focus and improve mood.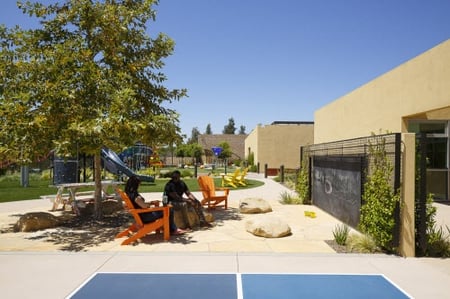 We recognize that learning happens everywhere and plan for outdoor spaces that encourage collaboration, conversation and growth. With the growing presence of Wi-Fi and on-site power, any place on a campus can become a classroom. Something as simple as cost-effective, flexible furniture can turn an existing courtyard into an English classroom. An outdoor space could also be designed to become a natural science classroom, highlighting biology, horticulture, geology, hydrology and a multitude of other natural sciences.
Much like tech firms in Silicon Valley, educators are also understanding the value of having the ability to rest and recharge. For instance, California State University Northridge (CSUN) Oasis Wellness Center recognized a need to provide students with a space where they would be able to relax, relieve stress and take a break. A growing body of evidence shows that access to quality outdoor environments helps students to deal with stress and think clearly. At CSUN, through a variety of flexible indoor and outdoor spaces, the students now have a space that promotes mindfulness and a healthy, stress-free lifestyle.
Now is a very exciting time for education facility designers. Never have we seen such a fundamental shift in the way we approach programming and designing the outdoor learning environment. We should all take a lesson from the big tech companies and think outside of the building.
Andrew Wickham, ASLA is a Landscape Designer at LPA Inc. He is a LEED accredited professional who specializes in K-12 School design.