Educational Design for the Next Generation of Innovators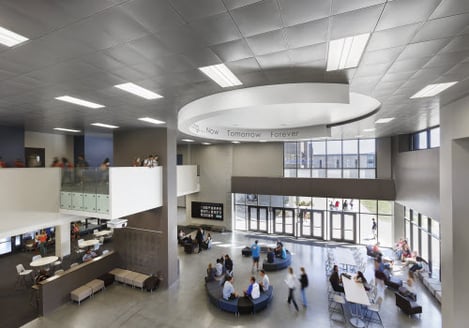 Last month, Emily Koch and I were honored to present at the CEFPI Southern Regional Conference in San Antonio. We arrived late the night before from a week-long workshop which centered on designing Learning Environments for Tomorrow (LEFT), hosted by Harvard's Graduate Schools for Education and Design. After long days of design-thinking activities and thought-provoking conversations, the CEFPI conference was quite timely and a perfect venue to continue the conversation. We were able to share not only parts of what we had learned over the last week, but also to share our own research and insights on educational design.
This regional CEFPI conference was branded 'Innovate, Sustain, and Deliver: Today's Tools for Tomorrow's Schools.' As lifelong learners ourselves, we've spent several years researching information to understand how students learn and to understand how the space we learn in influences our experiences. The quest for this curiosity is ongoing; however in this session titled "Where We Learn and Work Matters, Designing Schools for the Next Generation of Innovators," Emily and I told our story. During the presentation, we covered sections on human-centered design, the maker movement and creativity by design. Here are a few highlights from the presentation: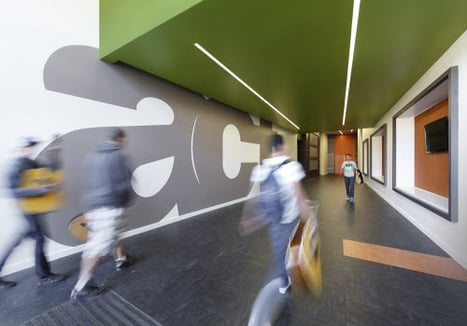 There's No Such Thing As Normal
Human-centered design is a term that many of you may be familiar with, although the term is more commonly used in product design. In creating spaces that enrich the lives of those who use them, the empathetic skills to understand various users and how they will engage in an environment can be challenging, if not overwhelming. In this portion of the presentation, Emily explained how every brain is unique and we all process information in different ways. Having understanding and awareness of how people work and learn best as individuals encourages a deeper look at the design of an environment. As Emily described, if you cast a broader net in designing space for all types of learners, you actually create a better learning environment for all users.
The Maker Movement
The world has changed from an age of information to one of innovation. Author Daniel H. Pink describes what makes us human in his book A Whole New Mind; Why Right-Brainers Will Rule the Future as these six traits:
Design: the ability to engage in design thinking and to create aesthetically beautiful objects and spaces.
Story: the ability to tell a story with context that is enriched by emotion.
Symphony: the ability to have harmony and coordinate many parts.
Empathy: the ability to understand the human-centered aspects of issues.
Play: having delight in the unexpected, the ability to have humor or feel joy.
Meaning: participating with service to a greater purpose.
To prepare the next generation of learners for the conceptual age, many are turning to project-based learning methods which overlay innovative thinking skills, media and technology skills and life or career skills, such as grit and resilience with the core subjects.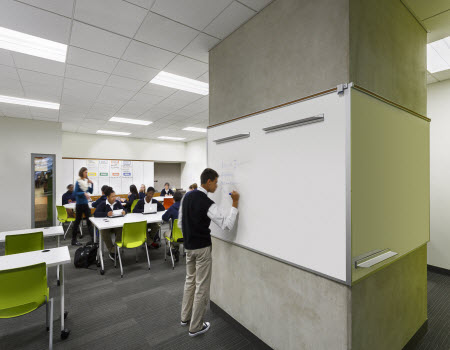 Creativity by Design
What makes a space foster creativity? Author Kursty Groves' novel, I Wish I Worked There, explores the insides of the most creative and innovative businesses. What Groves found is that they all share four things in common: a space for inspiration, a space to think, a space to share and a space to explore. This realization is something that we've taken into our learning space design, both in interior and outdoor educational design solutions. As we prepare students for the global world ahead, it is imperative to inspire students to be creative problem solvers; this creativity by design is something we can achieve by incorporating spaces that stimulate, allow for reflection or collaboration and encourage play.
Pedagogy + Place
This presentation included sharing insights from our own readings and research. However, we also shared preliminary findings from a research project that is analyzing the alignment of space design and instructional delivery. The Pedagogy-Environment Fit (PEF) project is a research partnership between the University of San Diego's Center for Education Policy and Law and San Diego State University's National Center for the Twenty-First Century Schoolhouse. Among several areas of focus the PEF project is set out to understand the extent in which certain design features enhance student engagement and experience. We shared the various research-based design methods explored during the design of the project as well as an overview of the research process and initial findings; it is amazing to see how this authentic process highlights the intentionally designed elements which support next-generation learners.
We look forward to sharing more insights with you in the future from LPAred, our research and educational design initiative.
Kate Mraw is an Associate at LPA Inc. Her K-12 school designs encourage collaboration, experimentation, and innovation. Mraw is a LEED Accredited Professional and received her Bachelor of Science in Interior Design from the University of Texas, Austin School of Architecture.