5 Design Strategies for Long-Term Care Facilities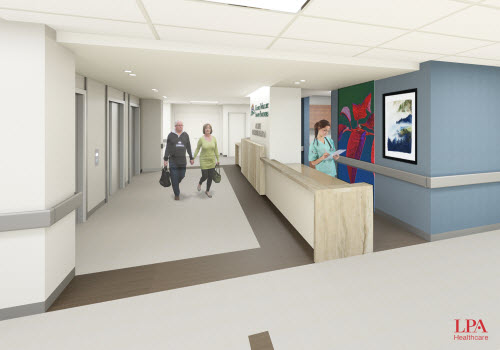 Our life expectancy has increased 40 years since 1880. Leading longer lives will create a host of challenges in our future, but as designers, we also have a remarkable opportunity to enhance the lives of older adults, which will ultimately benefit us all.
Let's focus on one aspect of design for older adults: long-term care. The phrase "long-term care" encompasses a full spectrum of residential options for the aging population, including assisted living communities, skilled nursing facilities and hospice.
Below are five design strategies which aim to enhance life and create positive, win-win outcomes for the facility/provider, staff and residents:
1. Promote independence
Design can help facilitate a greater sense of independence among this population. For example, an older adult entering a skilled nursing facility for the first time will want to still feel like a host when her family members arrive for a visit. Through creating a combination of social spaces and private retreats, residents can welcome their visiting guests to a space for any given occasion.
Social spaces are particularly important to create opportunities for residents to interact. Wayfinding can encourage residents to seek out moments to socialize more frequently, while private spaces preserve dignity and enhance respect.
Enabling decision making is another key design strategy for patients and residents in long -term care. A person's ability to choose their daily routine and activities promotes a sense of independence. Providing space and tools for personalization is also a vital component of maintaining autonomy.
2. Create a space for living
Consider the way our movements change as we age. First, our dexterity weakens, affecting how we open doors, lift handles and operate a sink. Thoughtful selection of hardware, plumbing accessories, and other important touches can aid patients in continuing to utilize their living spaces without assistance.
Secondly, our cognition slows, which impacts our processing time, memory and senses. Design opportunities which challenge us physically and mentally can aid in maintaining greater cognitive function. Mobility can be encouraged through milestone markers in corridors and outdoor walking paths.
3. Understand the stakeholders involved in each resident's care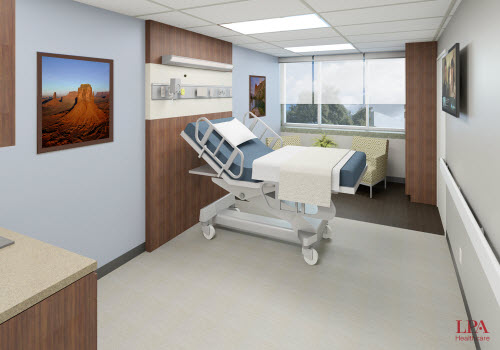 Who are the diverse group of people that visit long-term care facilities, and how can we accommodate them all? Visitors include physicians, social workers and therapists who need flexible "hoteling" desk space and areas for private conversations.
Family members can include adult children whom are the decision makers in the patient's care. Family visitors want to continue celebrating life moments with residents, such as birthdays and visitations with great-grandchildren. The long-term care facility in which their parent resides may also serve as a common meeting ground for important family conversations to take place. Creating spaces conducive to these private interactions will enhance the visitor (and often payer/consumer) experience, thereby benefitting the facility as well.
4. Exceed code minimums in resourceful, smart ways
Plan for what is required, and then consider what is reasonable, logical and respectful for the facility's inhabitants. Strategies to enhance hygiene are important in long-term care, in which the interior environment is vulnerable to illnesses and infestations. Additional showers, sinks, and clean rooms help to maintain a sterile environment. Stretching beyond the code's minimum requirements in other ways to promote convenience, privacy and patient dignity are important goals.
5. Cultivate an environment of encouragement
Create pleasant amenities which are worth the walk to see: a courtyard aviary, for example, can serve as a mentally-stimulating destination. When providing physical therapy, an aviary within the outdoor activity space can also function as a tool for practicing depth perception. Consider the spaces and amenities which encourage mobility and movement. Opportunities to stay active and social, through activities, games, classes, and music, can enhance a resident's overall quality of life.
There is vast potential for designers to help shape our future lives as older adults. While these strategies above are aimed specifically at long-term care facilities, design for the aging will impact our environments in the workplace, education, retail, recreation and beyond.
To learn more about LPA's Healthcare Design Studio, watch the video below:
Elise Drakes is a Project Manager at LPA, Inc. with eight years of healthcare architecture experience, ranging from schematic design and client visioning through construction administration.