Design for Coding Studios: How Innovative is That?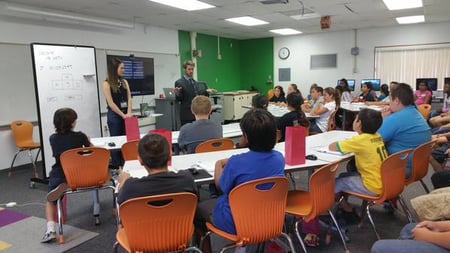 As our society becomes increasingly technology-dependent, the ability to program software and write code becomes increasingly important, and it's never too early to start. In collaboration with Dr. Julie A. Zoellin Cramer at the University of San Diego's Center for Education Policy and Law, we recently had the opportunity to "up-cycle" several unused portables for a creative classroom venture by the Cajon Valley Union School District (CVUSD): creating a new campus for students to learn coding.
If you are unfamiliar with coding, it's the ability to write computer programs in various languages—such as C++, JavaScript, Python, Ruby and SQL. The tools in our daily lives are becoming more sophisticated, computerized, networked and artificially intelligent. Products such as the vehicles and appliances of the future will need not only physical maintenance and repair, but also increasing technological support and de-bugging. (De-bugging is the methodical process of finding "bugs" or problems inside of a computer program.)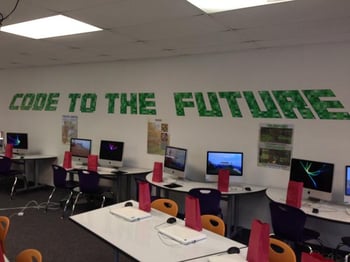 Disrupting the Traditional Lab
Traditionally, computer science has been taught in a computer lab. Due to power and data constraints, the computer tables were in fixed rows or up against the walls in a perimeter style layout. This type of furniture layout only supports one style of learning—from one computer to one person—while many actually benefit from learning with their peers or teacher, or writing space, or physical manipulatives to best learn and retain new information.
As computers have gotten smaller and more mobile, the Cajon Valley Coding Campus can support multiple learning styles. Here, students can write on the table to quickly brainstorm a solution, rotate and face each other for a quick chat while looking at a laptop and storyboard their program from beginning to end with magnets in a comfortable corner. The more advanced students can work at more powerful Mac stations that provide an opportunity to program "mods"—modifications to the popular game "Minecraft" created by Mojang of Sweden.
A subtle curve to the mod stations allows students to face each other slightly. This improves face-to-face communication skills, which is still important in a computer-programmed world. This flexible learning space is intentionally designed to encourage more interaction and collaboration between students who might typically be glued to the screen.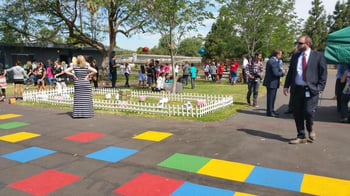 Learning Feels Like Play
Students at CVUSD Coding Campus even learn as they play outside using a gridded space to be human chess pieces. Chess is one of the best ways to learn and practice logic thinking—think "if this, then that" challenges—and predicting future scenarios. This makes it a great entrée into programming, which requires these same skills. This type of educational outdoor play benefits both the mind and the body and allows young students to move about, enabling them to think more clearly. Andrew Svehuag, founder and CEO of Code to the Future, says "When students are given creative freedom within a structured lesson, learning feels like play."
In addition to learning the logic and skills of coding, students are thus equipped to become not just media-literate digital content consumers, but content creators. Content creation combines all of the skills 21st century learners need to succeed: creativity, collaboration, critical thinking and communication. Keep your eye out for the next app, mobile game, website algorithm, or startup enterprise formed from a graduate of the CVUSD Coding Campus.
Hacking Coding Studio Design
What transformed these typical portables into coding studios was nothing out of the ordinary—simply a fresh coat of paint, new flexible furniture, various writable surfaces, and passionate teachers made all of the difference. Any school district interested in innovative classroom design could learn from these studios, whether they are considering a small renovation or a new state-of-the-art ground up project.
Although a new building would be a wonderful asset to any campus, new construction isn't always an option. For the kids at CVUSD's new code school, the good news is that a dramatic change can be "hacked" through small, smart improvements that can grow with the school over time… How innovative is that?
Photos are courtesy of Twitter.com/jazcramer and Twitter.com/CajonValleyUSD.
Emily Koch is an Interior Designer and Project Coordinator for integrated sustainable firm LPA Inc. A LEED Accredited Professional, Koch works in educational design and has transformed outdated schools into leading-edge K-12 schools across California. She received a Bachelor of Science in Interior Design from the University of Texas, Austin School of Architecture.