Celebrating 50 Years: LPA by the Decades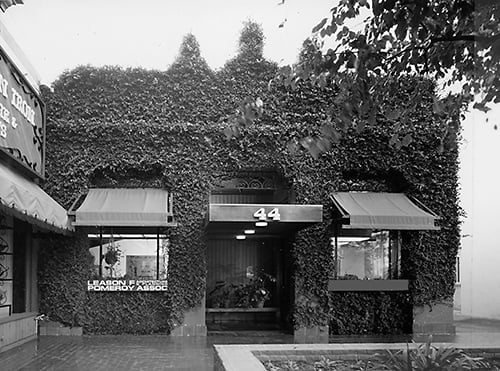 This year, LPA celebrates 50 years of design excellence. To commemorate the milestone, we're looking back at our history through the decades to see our evolution.
1965
In 1965 Leason Pomeroy opened an architectural practice. LPA Inc. was founded in Orange, California, where Pomeroy was born and raised. As with most young firms, the projects were local and small such as the Orange YMCA and renovations on buildings in and around where the office was located in Old Towne Orange.
Two projects in these early years start to set a different path for LPA and its future. Based on the local experience with car dealerships, LPA is awarded the contract for American Motors dealerships in California and Arizona. The second project was for developer Don Koll who hires LPA to do a three-phase master plan and development adjacent to the John Wayne Airport. Both of these projects gave LPA experience with larger projects and an expertise in land planning and developer work that will carry the firm into the 1970s.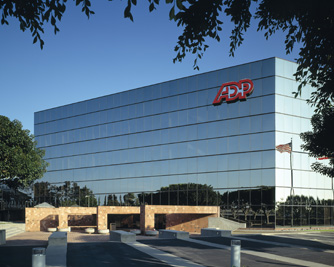 1970s
After opening an office in Orange, California and designing mainly developer projects, the company won their very first AIA Design Award for 44 Plaza Square in 1971—a renovation of a one-story building located in Old Towne Orange.
LPA experience with large land planning projects for developers led to its selection for ADP's first office in California and LPA's first corporate headquarters in La Palma, California. The Sammis Company hired LPA for its first mid-rise office building, Point West Executive in Sacramento, California.
In 1978, LPA completed their first project with Orange County's leading real estate investment company and master planner, The Irvine Company at Executive Park. This is the first of several collaborations with The Irvine Company throughout the decades and continuing today.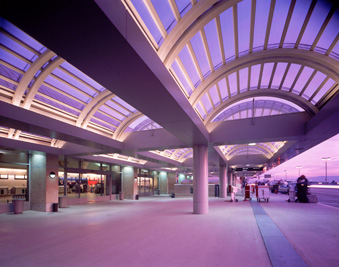 1980s
LPA rolled into the 1980s by completing their first city hall project in Yuba City—a 21,000-square-foot space that included office space for both administrative and city departments. As the demand for well-designed spaces increased in all markets, LPA introduced interior design to their services to integrate the design process while growing to 50 employees in 1985. This inclusion allowed the company to collaborate the two disciplines when needed on a project for a more cost-effective approach.
In 1986, the Business College at California State University, San Bernardino becomes the first project for LPA in the CSU system.
Another element of this diversity within the firm was LPA's selection for new terminal at John Wayne Airport in Orange County in 1987 (completed in 1990) — a $50 million, two-level terminal of approximately 337,900 square feet serving 14 gates.
To accommodate the company's growth, LPA moved to One Venture three-story office building designed by LPA in Irvine in 1989.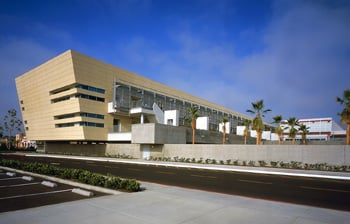 1990s
LPA entered the 1990s with the American Institute of Architects California Council (AIACC) recognizing the company with the Firm of the Year Award. As a company of 100 employees and expanding their services to landscape architecture, LPA has proven to be a leader in integrated and innovative design methods.
LPA has always been an advocate for sustainability and in 1990 the firm was selected to design the Irvine Water District headquarters—a 52,000-square-foot, two-story corporate headquarters building. While the project is now approaching its 25th anniversary many of its sustainable features could be found in a sustainable project's description today. Another milestone LPA's first K-12 school project in 1995 the Mendez Middle School which was recognized with LPA's first CASH award in 1996.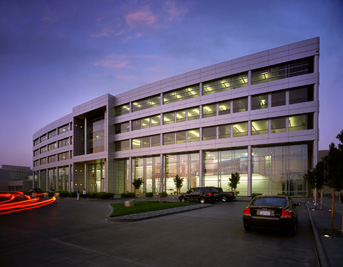 2000s
The new millennium set the stage for a surge of sustainable practices and LPA was leading the way with a collaborative process that discovers the synergies between design excellence and sustainability. The firm completed Premier Auto Group in Irvine—the first LEED NC project registered in the country in 2001. And in 2005, Toyota South Campus was the largest LEED project in the country at completion.
The innovative design solutions earned LPA its 100th AIA Design Award for Sonoma State University's recreation center a marriage of sustainability and exceptional design. In 2009, LPA was named one of the Top 100 Interior Design Rising Giants by Interior Design Magazine.
In the early 2000s the company grew to 200 employees. LPA opened a second office in Roseville, California in 2001 and a third office in San Diego, California in 2006 to accommodate an expansion in services with mechanical, electrical and civil and structural engineering services.
Today
In 2013, LPA opened an office in San Jose, California to service the expanding client base in the Bay Area completing projects such as California State University, East Bay's student recreation and wellness center—a 56,630-square-foot, two-story facility with state-of-the-art technology in areas of health, fitness and recreation.
Setting their sights out of state, in mid-2014 the firm welcomed OCO Architects, a 22-person firm located in San Antonio, as part of the LPA team.
LPA also launched their newest studio, LPA Healthcare, in 2014. The firm's extensive experience with the design of cost-effective and highly efficient campus, office buildings and tenant improvements, combined with Rick Wood's 25-year experience and his team's technical health care expertise, creates a unique offering to the marketplace.
In 2015, LPA celebrates 50 years of architectural services with a tradition of design excellence that is a testament to our people, our communities and our places.
(Click play below to view a video of our 50-year history.)
Dan Heinfeld, FAIA, LEED AP BD+C and President of LPA Inc., leads the design direction of the firm and has done so for more than 30 years. As a pioneer in the sustainable building movement Heinfeld is passionate about sustainability and its importance in the process of informed design. More than 600 major design awards attest to the firms's commitment to design excellence. LPA provides services in architecture, sustainability, planning, interior design, landscape architecture, engineering, and graphics.