Case Study: Here Come the Ducks
Pro hockey team's practice facility will anchor new community center.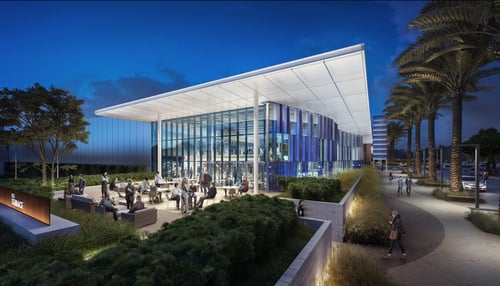 The Great Park Ice and Sports Complex in Irvine, California combines the largest community ice complex in California with a practice facility for the Anaheim Ducks of the National Hockey League (NHL). The first-of-its-kind ice sports center in the region, the 280,000-square-foot facility provides four sheets of ice and includes a variety of public spaces.
The project represents the vision of Ducks owners Henry and Susan Samueli, who specifically wanted the facility to serve as a public resource to promote ice sports and health and wellness in the region.
LPA and the 292 Design Group collaborated on the design, which includes a multi-purpose arena with seating for 2,500 spectators. Three of the ice sheets will meet NHL standards, while the fourth ice sheet will be a larger Olympic-sized rink to accommodate figure skating, ice dancing, recreational skating, and other ice sports. The design also includes support spaces for U.S. Figure Skating and a dryland training area to accommodate ice-sport athletes develop motor skills, coordination and strength.
A two-story lobby runs the length of the facility connecting all four sheets of ice. The outdoor space features an activity lawn, a café terrace and "The Beach," a sandy recreational area with beach chairs and umbrellas to enhance visitor engagement. An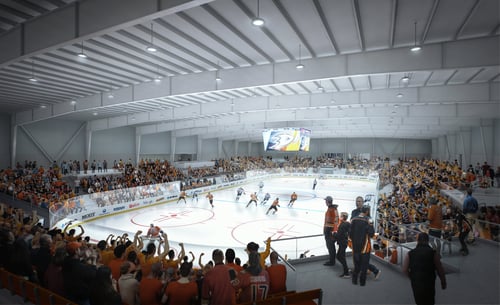 amphitheater will provide the community with a venue for casual gatherings and events.
The Duck's players and organization will have a dedicated private parking lot and entry to access support spaces for athletes, including a team lounge and locker room, training room with hot and cold hydrotherapy pools, and a tiered film room for game analysis. Also included in the Ducks area are two fitness rooms and administrative offices.
At its heart, the complex is a public facility and will be open for recreational skating, youth and adult leagues, competitive tournaments, and entertainment events. The facility is expected to be completed by the end of 2018.
This story originally appeared in the first edition of Catalyst, a quarterly publication that takes a deep dive into the new ideas, industry leaders and cutting-edge initiatives changing lives by design.