Case Study: Driving in a New Direction
Mazda Motor Corporation wanted its new North American headquarters in Irvine, California, to reflect a company-wide transformation of its brand, products and sales force. The new office needed to reinforce every element of that new direction, including a corporate environment that would inspire its young workforce and pay homage to the Japanese-car maker's legacy of design and innovation.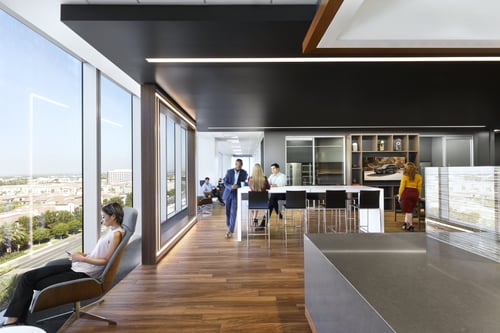 Mazda's culture is built around design and beauty. Design chief Ikuo Maeda has instilled a philosophy of "KODO: Soul of Motion," which goes beyond car design to reflect every aspect of the brand. "What sets Mazda Design apart from other brands is an obsession with ultimate form of beauty," Maeda says. "Our design process doesn't start with car design. We create objects with different forms and explore how these forms move people's hearts."
LPA's design for Mazda's headquarters, which covers five floors in a 17-story building, seeks to reflect that same spirit of design and simple beauty. The spaces are influenced by modern abstractions of traditional Japanese design principals and a desire to create simple, effective spaces that are both beautiful and functional.
"The Mazda headquarters environment is the first physical manifestation of a new direction for the Mazda brand," says Rick D'Amato, Design Director for LPA's workplace design group. "The culture of the brand is expressed in the materials, the textures, the details and form."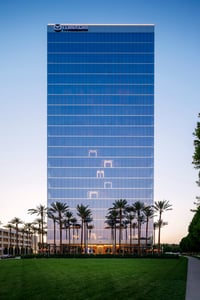 The Japanese influence is first experienced by staff and visitors in the lobby showroom, but it is most dramatically felt within the elevator lobby of each floor. Shadow patterns are projected on the lobby walls—a traditional Japanese concept called "Kage," or "shadows"—creating a distinct and branded expression for each floor.
Beyond the lobbies, each floor is defined by two neighborhood "hubs," which include open collaborative environments, break areas and an assortment of focus, huddle and meeting rooms. Each hub is connected through the lobby and anchored by floating, illuminated frames which focus attention on different aspects of the spectacular 360-degree views. The frames are illuminated both internally and externally, providing Mazda with a visible exterior brand presence within the monolithic glass tower.
The design provides different meeting areas and alternative work spaces, fitting Mazda's workplace culture. A unique free address system allows the staff to choose their daily work space, based on the project, team and individual preference.
"It is the first time that the Japanese influence is felt not only in design but in the work process as well," D'Amato says. "The headquarters creates a direct link to the Mazda product as well as the future of the company."
This story originally appeared in the latest edition of Catalyst, a quarterly publication that takes a deep dive into the new ideas, industry leaders and cutting-edge initiatives changing lives by design.