Case Study: Bridging the Gap
A modern all-in-one space for Edwards Lifesciences marks a new era for the company's workplace
The centerpiece of the campus renovation for Edwards Lifesciences in Irvine, California, is the LEED Platinum, 22,000-square-foot Starr Atrium, which serves as a bridge between two existing office buildings and provides a dramatic new entry to the corporate headquarters.
The industry-leading medical device maker wanted the atrium to be more than the typical gathering space. The atrium is a light-filled space, with floor-to-ceiling windows providing a connection to the outdoors. A bi-fold vertical door can be opened to provide natural ventilation, with lounge furniture placed around the floor for spontaneous meetings.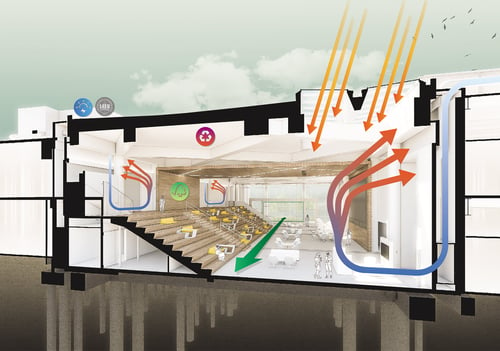 The net zero atrium is a model for sustainable spaces, with a rooftop photovoltaic array that provides more energy than the space uses. The atrium also includes a variety of conservation measures, such as a displacement ventilation system and LED lighting with controls designed to minimize the project's energy use.
To make it work, LPA's engineers designed a unique box truss structural system that spans the space and maximizes the clear height. The customized structure casts an artistic weave shadow across the interior, filtering the light streaming through the skylight that runs the length of the atrium.
Edwards wanted the atrium to serve as an area where employees could assemble for their quarterly all-hands meetings, as well as a collaborative workspace where people from different departments could make connections and socialize. Stadium stairs on one side of the hall are used as seating for large group events, including community meetings and product launches. On a day-to-day basis, the wood stairs offer a casual setting for meetings and solo work time, with red cushions available on different levels.
"Our continued success is directly related to our ability to attract talented employees," says Edwards Lifesciences CEO Mike Mussallem. "We wanted the renovation to be something that's functional and attractive, where anyone would say 'Hey, that's where I want to work, that's my kind of place.'"
This story originally appeared in the latest edition of Catalyst, a quarterly publication that takes a deep dive into the new ideas, industry leaders and cutting-edge initiatives changing lives by design.