Case Study: An Oasis in an Industrial Zone
An odd-shaped lot is transformed into a new sports and recreation park
A study by the city of Santa Clara, California revealed a shortage of recreation space for the fast-growing California community. With little land available for new construction, LPA helped the city to evaluate potential locations for facilities, focused on the city's goals. Eventually, a potential site was identified, but it was an irregular, wedge-shaped parcel in an industrial zone.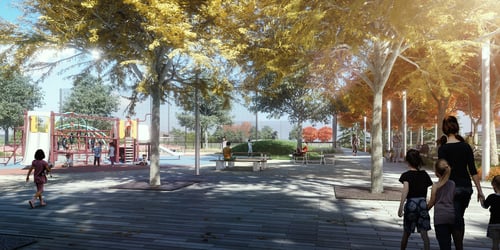 LPA started the design process with a study of the city's needs and the best way to maximize the usage of the new facility. The challenge was to arrange multiple youth sports fields on the odd-shaped site, while ensuring the complex addressed the community's current and future interests. The design also needed to integrate with the neighborhood and create a safe, energy-efficient, low-maintenance, easy-to-access environment for the community.
The ultimate design for the fields and facility, dubbed the Reed and Grant Sports Park, fits five soccer fields on the site, each a different size to accommodate different age groups. Four of the fields are synthetic and one natural turf, offering more variety.
Twenty-foot-high netting separates the grounds and shields the walkways around the goal lines bordering the fields, which provide viewing areas and direct connections to a playground and picnic area.
A 3,800-square-foot multipurpose building creates a main entry for the park, as well as space for other sports-related activities, such as wrestling, karate and exercise classes. A wide walkway connects the multipurpose building to a seating plaza suitable for a variety of local events. The community features roll up doors, that create a flexible, accessible indoor/outdoor connection.
The design also incorporates a variety of sustainability elements, which cut energy and water use and save operational costs. The roof of the multipurpose building is designed to direct stormwater to retention areas and techniques to reduce water runoff will be implemented throughout the site. The entire facility will use efficient LED sports lighting powered by photovoltaic systems on the roof. Additionally, the parking lot will include 11 electric vehicle charging stalls. The project is set to break ground summer 2018.
This story originally appeared in the latest edition of Catalyst, a quarterly publication that takes a deep dive into the new ideas, industry leaders and cutting-edge initiatives changing lives by design.