Case Study: A Tech Transformation for Silicon Valley Building
A three-story, 35-year-old office building in Santa Clara, California, was languishing in the ultra-competitive Silicon Valley market. The challenge was to recreate the vacant 48,000-square-foot building, 3250 Olcott, to appeal to modern companies, emphasizing spaces for creativity and connectivity.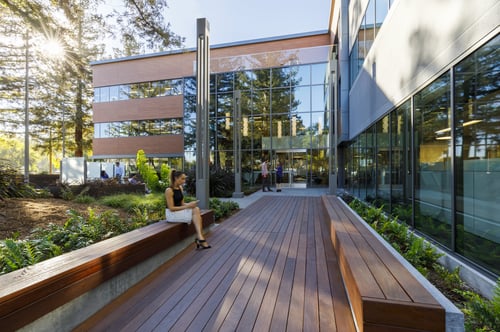 The redesign infused the building with natural light, created collaboration spaces and embraced the connection to the outdoors. The most striking feature is a new two-story, floor-to-ceiling glass lobby, a reconfiguration of the old façade.
The lobby creates a dramatic entrance, changing the tone and style of the entire building. It also creates a practical setting with an outdoor rooftop deck accessible from folding glass doors on the third floor for alternative work and collaboration zones.
To help create a connection to nature, an outdoor patio area was built around a grove of mature trees outside the lobby, giving tenants a natural space to escape the office. A fire pit, seating areas and writable surfaces are sprinkled throughout the area, allowing for open air meetings and social events.
LPA was also hired to renovate the interiors, creating a cohesion between the external and internal features. Formal and informal gathering zones are spread around the building, designed to spark collaborations and impromptu meetings. Furniture pods line the hallways next to the windows, creating private, mobile alternative work spaces and re-enforcing the link to nature. The new design also includes shared, glass-enclosed conference rooms and an elaborate kitchen and dining area—all catering to the needs and interests of the modern workforce.
The owners launched the renovation to create a flexible office building to benefit tenants for years to come. However, before the renovation was complete, Gigamon, a network security company, took notice of the transformation and leased the entire building.
This story originally appeared in the latest edition of Catalyst, a quarterly publication that takes a deep dive into the new ideas, industry leaders and cutting-edge initiatives changing lives by design.