A City's Progression in Sustainability Inspires Documentary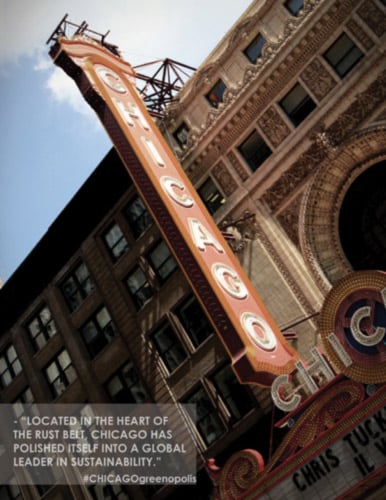 By Guest Blogger Andrew Wickham
As a landscape designer, I am greatly intrigued by Chicago. More and more, I have been reading articles about innovative and sustainable projects in the city, and more and more, I've been amazed by some of the technical masterpieces being built in the Windy City. Throughout my research, one question continued to intrigue me: Why is the heart of the Rust Belt suddenly becoming so green?
It was this question that led me on a two-year journey which has resulted in the production of the documentary, CHICAGOgreenopolis, and its subsequent acceptance into a renowned film festival: Green Unplugged.
Always encouraging professional and personal growth, LPA offers a Travel and Training Grant program funded by the company since 2008 aimed at helping research areas of their professional interest. In 2010, my co-worker and I were quick to assemble a proposal outlining our wish to visit Chicago to find an answer to why the Windy City is becoming so green.
With over 2.5 million square feet of green roofs and an increasing emphasis on sustainable practices, such as walkability, alternate forms of transportation, green energy, micro-parks and energy efficient buildings, Chicago architects and landscape architects are enacting great innovation in the battle against climate change.
Chicago Mayor Richard Daley's declaration of the city's goal to become the greenest in America shows a bit of moxie and marketing genius. Beyond a statement of intent, I think Mayor Daley's announcement did two things for Chicago: it got the world to look, and it created a competition no one knew they were in.
Until this point, green movements were led mostly from the bottom up — groups of activists urging the government toward environmental action. Cities like San Francisco, Seattle and Portland had been led by their citizens toward sustainability for years. The amazement over Daley's proclamation was that it came from him, the mayor. Daley reversed the script on everyone by initiating a green policy for Chicago.
Our research on Chicago's radical approach to sustainability held too many lessons to keep to ourselves. We felt the firm could benefit from this information and asked to prepare a presentation to share with LPA. Our intentions were simple — to put together several short videos from our experience in Chicago and weave them into the fabric of our greater presentation. What started out as an elaborate PowerPoint presentation supplemented by short videos, quickly grew into a 30-minute documentary.
Our documentary, CHICAGOgreenopolis, posits that the designer's place in Chicago's sustainability is pivotal, while recognizing the importance of policy and community support. Its acceptance into Green Unplugged, an online film festival by Culture Unplugged that focuses on environmental issues, is an ideal platform for the documentary. Since Culture Unplugged launched in 2008, over 60 million people from 231 countries have explored the documentaries hosted there. Green Unplugged gives a voice to all who are passionate about issues facing the environment and the need to create for future generations, as well as our own.
The path to a sustainable future is not a single lane, but instead a vast network of linked roads; designers, policy makers, non-profit leaders and the community each have their role to play. Chicago's government-led approach to sustainability is a unique one that has garnered the support of the city's citizens, policy leaders, and design professionals.
Sustainability is not just about reducing one's environmental footprint. It's also about building cultural resources — places for people that they are proud of and want to use. Chicagoans are aware of the change their city is undergoing, and as a result, the pride they have for their city is growing. This pride is what will help create the support for further green policy, innovation, and look-to-the-future thinking Chicago is already known for.
Andrew Wickham, ASLA is a Landscape Designer at California-based LPA Inc. He is a LEED accredited professional who specializes in K-12 School design.