Park Place: Emerging Trends in Workplace Design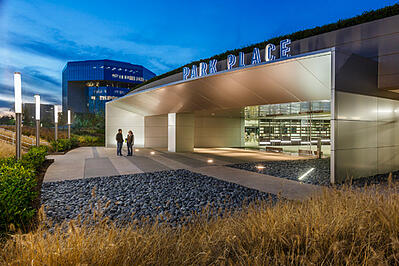 Park Place, a well-known corporate campus in Irvine, Calif., is currently going through a transformation. The site has been long known and used as a corporate facility, where some of Irvine's leading groups have held offices. At 100 acres, its sheer size makes the campus a focal point in the city, and with its new features and facilities, it is quickly becoming recognizable as the workplace of the future.
Park Place has become a multi-use facility that includes everything from retail shops to restaurants, and a health club to housing. With this tremendous evolution in offerings, Park Place has become a destination for dining as much as working.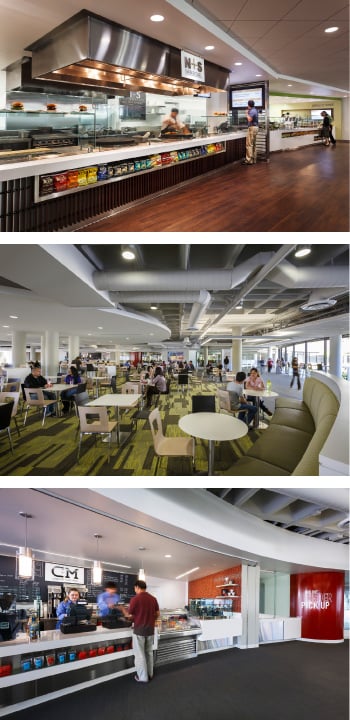 Patina Restaurant Group, LBA Realty and design firm, LPA Inc., together introduced an innovative dining experience for Park Place visitors. Market Café, centrally located among the campus's corporate offices, is 24,100-square-foot space for dining and networking.
When walking through the large, glass front doors of Market Café, you instantly feel the energy of the room. With its expansive indoor seating area and adjacent fountain courtyard, this is a place where you want to sit, eat and enjoy the environment. The dining area alone seats more than 400, but the room certainly won't feel crowded. Enveloped by two curved glass exterior walls, the room fills with natural daylight and is furnished with flexibility as its principal goal.
Upon entering the Servery, the theme "Food is Art" is immediately evident. White quartz countertops, stainless steel, glass and dark wood flooring provide a timeless canvas for Patina to present their inspired fare. Master Chef Joachim Splichal, best known for fine dining restaurants such as Patina, in the Walt Disney Concert Hall, channeled his expertise into the menu for Market Café.
Patrons choose between three food specialties—Cucina features comforting Italian food, N+S Grill serves up American cuisine and Ginger Trail features a variety of Asian fare. These food exhibition zones are uniquely branded to celebrate their individuality. In bringing the grills to the forefront in an exhibition-style cooking experience, patrons are reminded that food is art.
What makes Market Café unique is that this gourmet menu is not featured in a faraway restaurant with staggering prices. Rather, the menu is approachable, affordable and accessible to the corporate user and to visiting guests. Best of all, the food specialties are embedded within a space that invites you to sit and enjoy.
Designers at LPA Inc. were charged with the renovation and reimaging of Market Café to communicate an exhibition of food but to also emphasize sustainable design and smart business. With its many environmentally sensitive features, Park Place is LEED Gold certified by the U.S. Green Building Council (USGBC). However, sustainable design extends beyond the complex, technological systems in place at a facility; sustainability exists within human interaction, with the building and with others.
Market Café supports the emerging culture of corporations to promote healthy and innovative work environments where you can socialize and work anywhere, by providing flexible furniture, accessible audio/visual capabilities and a variety of settings for individual and groups to 'get out of the office', create and innovate.
"You can come down here and get some quiet work done," explains Associate and Interior Designer Chris Lentz. "That's really the new trend in workplace design and I think this is going to enhance this property and it's an amenity that is really unique to Orange County."
The workplace of the future caters to the professionals of the future. As we drift further away from the notion of a nine to five work week, we must also consider amenities that maintain and encourage productivity. Forward-thinking employers consider the benefits of concepts like interactive spaces, work outside of the office, and the ability to connect over a meal. With a resource like Market Café, we see a model of the workplace of the future, where creativity, flexibility and sustainable design are celebrated.