Urban Education: The story behind e3 Civic High, Part 1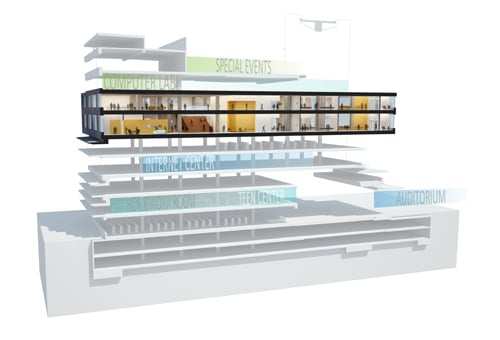 By Guest Blogger Kate Mraw
How does a student's environment impact his or her learning? It's a question that is important to many educators, researchers, designers and students alike. Research has shown that flexible room layouts can have positive impacts on the way that interactions and learning are accomplished. Beyond the classroom, what happens if we seek to change the entire school environment and experience? In this two-part feature, we will look into San Diego's e3 Civic High, a real-life experiment in urban education.
Downtown San Diego is a dynamic place, where forward-thinking and creativity are prevalent. This city provides the ideal setting for a groundbreaking practice in architecture, engineering, communication and education. Founders of the charter school sought to not only fill a need in providing the San Diego community with an accessible educational resource, but to do so in a way that would organically push the limits on the definition of a classroom. Thus, e3 Civic High was embedded within the new San Diego Central Library.
The co-location of a school within a library offers extensive collaboration opportunities, as both support lifelong learning and literacy. The relationship between community and education is strengthened, and Downtown San Diego becomes another classroom.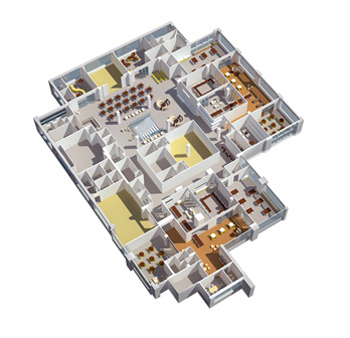 The school is intentionally set within the urban environment. Research by Julie Zoellin Cramer, with the University of San Diego School of Leadership and Education Sciences, finds that currently more than 50% of the students in Downtown San Diego commute to other high schools in surrounding areas. Therefore, e3 Civic High, which is open to all, creates a sustainable environment within walking distance for future students. Serving 500 students in 9th-12th grades, the curriculum design will engage students through internships, community services and college courses at local college and universities. Embracing a flexible school day, internship opportunities and hands-on learning, the design for e3 Civic High—which stands for Engage, Educate and Empower—demonstrates the value of creating personalized learning spaces.
Our challenge at LPA was to design a school setting that emphasized personalized learning while developing a creative campus approach, within the sixth and seventh floors of the new Downtown Public Library. Learning happens everywhere and the resulting design encourages communication and social responsibility through connections to the urban context.
In designing the school, a series of workshops were facilitated surrounding curriculum concepts, building tours, and qualitative charrettes. Given the unique location, collaboration with stakeholders was key; participants included:
San Diego Unified School District (SDUSD) Officials
Charter School Leadership
San Diego Library Foundation Leadership
The City of San Diego
The Executive Director & Future Teachers
Students from neighboring Charter and Public School
Through a relationship between these stakeholders, e3 Civic High successfully ties education into the urban culture. The design process includes extensive research in technology and furniture solutions that enhance 21st Century learning opportunities within the space.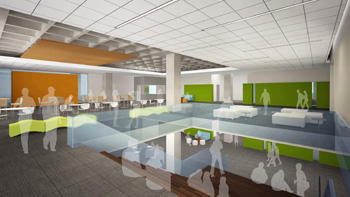 For example, linking students around elements like an "Interactive Wall," which we'll discuss further in next week's post, the organization of educational space is curriculum-driven and allows students to design their surroundings to fit their needs. Pull-out pockets and display opportunities take advantage of otherwise passing-only space, classrooms (called studios at e3) don't resemble the studio next door, and shared learning spaces are transparent.
At e3 Civic High, learning not only takes place within the facilities, but also about the facilities. As students walk on campus, each sustainable strategy will be described to them with signage and interactive displays throughout the campus. The school is designed to and currently tracking LEED Gold certification through the U.S. Green Building Council. Students will have the opportunity to learn what this means, not only for them, but for their home and the environment.
The concept for e3 Civic High was not to just think outside the box, but actually to ignore the box. Embracing an urban education means students need a home base, somewhere to gather inspiration, share with peers and edit or publish their findings. The diagram represents a flattened world without hierarchy that allows for learning to happen anywhere. The context of the school within an existing LEED Silver building sets a high bar for the downtown charter high school. The integration of facilities offsets specific infrastructure that normally would have to be built on a suburban site. The design methodology uses highly recycled and low maintenance materials, highly efficient building systems and open areas having multiple uses, which eliminate excessive program.
Learn more about the project in our monthly magazine. Be sure to stay tuned for next week's post, in which we'll discuss the LEED design goals, challenges and features, as well as the administration's emphasis on sustainable architecture and engineering.
Kate Mraw is an Associate and Interior Designer at California-based LPA Inc. Her K-12 educational spaces encourage collaboration, experimentation, and inspiration for those that use them. Mraw is a LEED Accredited Professional. She received her Bachelor of Science in Interior Design from the University of Texas, Austin School of Architecture.