LPA architect's Eichler home celebrated by O.C. community
LPA's own Ozzie and Heather Tapia, their daughter Isabel and their stylish Eichler home were recently highlighted in the Orange County Register. Nearly one year ago, the home drew the eye of the couple. With its open layout, glass walls and effortless modernism, the 2,100-square-foot residence not only reflects the family's taste, but also communicates their lifestyle.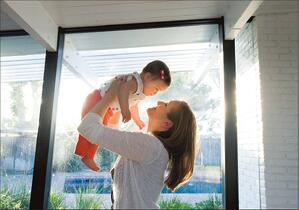 In the feature, the Tapia's describe the home as a "perfect fit." As building designers, Ozzie an architect and Heather an interior designer, the California modern style was instantly appealing to the couple. Through furnishings and natural lighting, Ozzie and Heather make the house their own while allowing the layout and structure to speak for itself. We sat down with Ozzie to learn a bit more about his and the family's experience with their new home and neighborhood. We hope you enjoy his exclusive Q&A, below.
Ozzie Tapia, LEED AP BD+C
Q. Terrific article, Ozzie. How did you know an Eichler was right for you and your family?
A. Heather and I wanted something that was reflective of who we are and our principles. The trouble was this: modern isn't a style, it's a way of thinking and being. You can't just slap modern onto the walls after the house is built. A modern home involves everything about the house and the lifestyle within. This includes how the house engages the land, where the windows are located, the relationship between rooms, and so on. This is why an Eichler was right for us.
Q. What do you like best about living in an Eichler? What is Heather's favorite aspect? And Isa's?
A. I like its simplicity and honesty to the materials used—and its strong connection to the exterior. I love that whether the three of us are together in one space or we're doing our thing in different spaces, we remain visually connected and this reinforces the sense of family. Heather loves the flow of the open floor plan, which allows her to keep an eye on Isa at all times!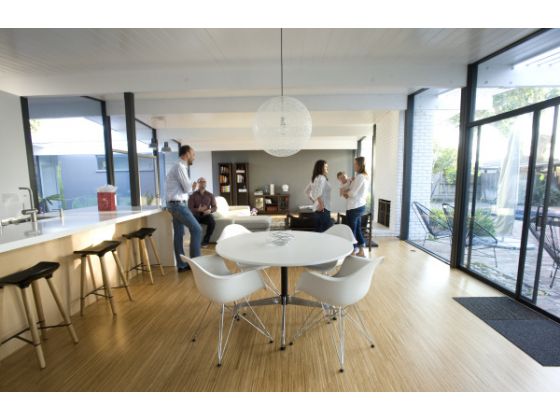 Also, she loves waking up to a light-filled bedroom. Isa loves to point at birds flying by (she just discovered how to point), and watching trees "dance" in the wind in the backyard from the living room's floor to ceiling glazing. I'll add that our cats absolutely love chasing the sun around the house to find a warm spot to lie on.
Q. What condition was your Eichler in when you first moved in, and where is it now?
A. We purchased the home from original—and only—owners, so the house had accumulated a layer of 'history' adequate of a family living there for nearly 50 years! We've had the chance to update the kitchen and living spaces and continue little by little to 'peel' the layers away.
Q. Was there anything the reporter wasn't able to cover in the article, about living in a SoCal Eichler, that you'd like to highlight/mention?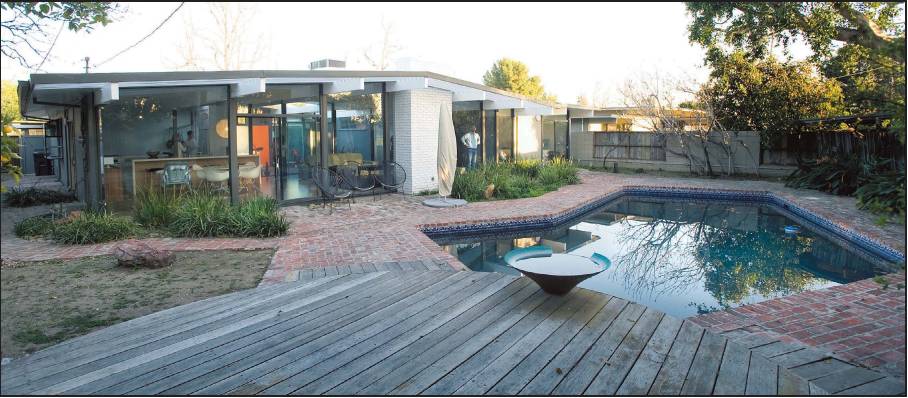 A. Although pictures show a lot, they don't capture what your other senses experience—the feeling of a nice cross breeze from the atrium to the backyard or the warm sensation when the sun hits your skin. Another great aspect of living in an Eichler neighborhood is the people, the neighbors themselves. There is a real sense of camaraderie, pride and togetherness that make it truly special.
Q. What have you learned through your Eichler experience, and how has it helped you become a better designer?
A. It has reinforced basic design principles that we put into practice every day. From the idea of doing more with less to the fact that sustainable design is simply good design—when the ideas are strong they translate into timeless structures, structures that in truth last a lifetime.
Q. Are there any ideas from your Eichler home that you've implemented in any of the educational facilities you've designed?
A. Yes, these aren't revolutionary concepts, they're rather basic ideas.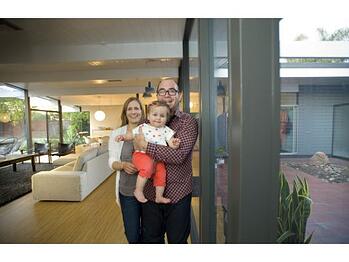 The key is to execute them well. For example, open plan concepts that allow for flexibility, change and evolution (like a family), put in place and maximize passive systems like daylighting via properly placed glazing and skylights and natural cross ventilation via operable sliders or windows; and, of course, maintain a physical and visual connection to the exterior, which we as humans naturally seek.
If you're interested in learning more about Eichlers, the Tapia's are not the only LPA designers to own these highly sought-after homes. Be sure to check out these other examples of Orange County Eichler homes.
Images by H. LORREN AU JR., and published courtesy of the Orange County Register.

Ozzie and Heather Tapia are building designers at California-based LPA Inc., Ozzie an architect for Higher Education Facilities and Heather a Certified Interior Designer (CID) for K-12 Schools. Ozzie Tapia is a LEED Accredited Professional BD+C and active member of the U.S. Green Building Council. Heather Tapia is a LEED Accredited Professional ID+C. Together, they have a one-year-old daughter, Isabel.