Stunning University Architecture Inspires Short Film
Tue, Jan 22, 2013 Rochelle Veturis Coles Sustainable Design, Higher Education Facilities, Glenn Carels, Recreation Centers, Living Rec Centers, FSC Certified Products, California State University Northridge Student Rec, Campus Recreation Centers, Displacement Ventilation, Erik Ring, Integrated Design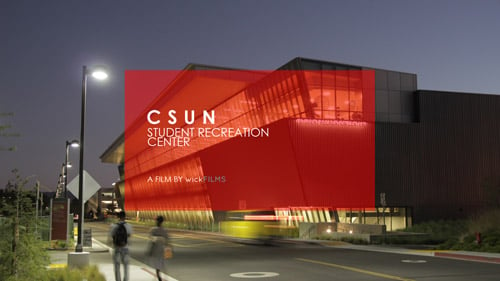 The Student Recreation Center, at Cal State Northridge, has gotten people's attention with its eye-catching architecture since its opening in 2012. You've seen it featured often on this blog. Designed to incorporate a broad set of programs, for thousands of students, on a tight and narrow site, the center has received a long list of accolades.
You can view the film, here: http://youtu.be/-K1QDoOs0l8.
Recognition includes:
American Institute of Architects (AIA) Orange County—Award of Merit
AIA San Diego—Citation and COTE awards
AIA San Fernando Valley—Award of Merit and Citation Award
Athletic Business Journal—Facility of Merit Winner
Pacific Coast Builders Conference Gold Nugget Award—Grand Award for Greenest Sustainable Commercial Project

To celebrate the success of the facility, a short film or mini-documentary, has been commissioned. The film covers the center's every nuance. It shares the story of how the building took its unique form—and how integrated teams of design professionals (architects, engineers, interior designers, and landscape architects) played a key role in the final outcome.
"When we first started the project, we wanted the building to be in a different place, but we didn't have a large enough footprint to achieve what we wanted … the other challenge, from a design perspective, was the length and size of this building—it's longer than a football field," recounts CSU Northridge Student Union Executive Director Debra Hammond. "So, if you look at that, how do you design it in such a way that it is still aesthetically pleasing and functional? I think 'integrated design' and LPA were able to achieve that for us."
Measuring 138,000 square feet, the center houses two outdoor pools, basketball, volleyball and badminton courts, a comprehensive weight-training and fitness zone, jogging track, and a 40-foot rock climbing wall—the tallest offered by any school in the CSU system.
Produced by wickFILMS, the mini-doc was put together by former LPA employees Andrew Wickham and Lance Hunter. "What impressed me most about the building was the level of detail and thought that went into it. It was obvious that every inch inside and out had been thought of—even the solar panels on the roof were tidily lined up," said Wickham. "It seemed to me to be finished more to the level of a performance hall rather than a recreation center."
In addition to the rooftop photovoltaic array mentioned by Andrew, the facility offers a bevy of sustainable design features. Features which include: displacement ventilation, solar control fins and screens, use of recycled and low-emitting materials, water-efficient California native landscaping, low-flow plumbing fixtures, rainwater harvesting, use of Forest Stewardship Council (FSC) certified wood products, and natural daylight for 90% of the usable spaces.
Part of the school's mission to create a "model" sustainable campus, the student recreation center is designed and constructed to achieve Leadership in Energy and Environmental Design (LEED) Gold-level certification.
The Cal State Northridge Student Recreation Center is the first of many new LPA projects that demonstrate the powerful results of using integrated, sustainability-minded teams; and the firm is eager to spread the word.
For more information, or to sign up to take a tour of the Student Recreation Center at California State University Northridge, please visit src.csun.edu.
California State University, Northridge is a regionally focused, nationally recognized university serving more than 34,000 full- and part-time students in the San Fernando Valley and surrounding areas. Founded in 1958, Cal State Northridge is among the largest universities in the nation and is ranked among the top universities for bachelor's degrees awarded to minority students. It has nine colleges and more than 2,000 faculty members who teach courses leading to bachelor's degrees in 69 disciplines, master's degrees in 58 fields and doctorates in education and physical therapy, as well as 28 teaching credential programs.