Architecture and Design Highlights 2012
Tue, Dec 18, 2012 Rochelle Veturis Coles Tonya Pawli, Denise Mendelssohn, Diamond Bar Library, Sunnylands Center Garden, YMCA Long Beach, Rich Bienvenu, Landscape Architecture, Jeremy Hart, Engineering, Edwards Lifesciences, Sustainable Design, Steve Flanagan, Dan Heinfeld, Building Information Modeling, Civic Architecture, Building Reuse, Glenn Carels, Architecture, Year End Architecture Highlights, Master Planning, Integrated Design
When I started pooling our designers for their picks of this year's top architecture and design highlights—as the responses came rolling in, for me, Christmas came early. Not only has our company had an especially exciting year but as individuals there have been a lot of great trips—for research, work, and play—a lot of great projects—and a lot of great moments with our clients. At this time of year especially, we remember that without our wonderful clients we don't get to do what we love to do, "benefit and enhance people's lives through great design," as said beautifully last week, by LPA Design Principal Glenn Carels.
Dear readers, thank you for spending another year with us. We hope you enjoy the highlights we've compiled for you below.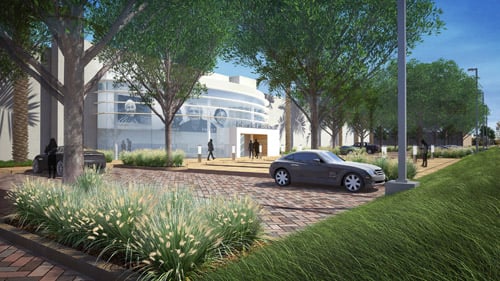 1. Even Better Projects through Integrated Design
"When we brought in-house engineering services into our company, more than six years ago, our belief was that it would make us a better design firm—and that given all the demands on our practice with Building Information Modeling (BIM), sustainability and code requirements, it would be the right thing to do for our clients. If it was not perceived as valuable to our clients we would know quickly," recounts LPA President Dan Heinfeld.
"I am happy to report that one of the real bright spots in 2012 is the number of projects where clients have taken advantage of LPA's in-house engineering and landscape design services," continues Heinfeld. "Many of these projects have opted for these services without traditional architectural design services—like the seismic renovations for the Long Beach Unified School District (LBUSD) or the landscape renovation for Edwards Lifesciences at their Irvine, Calif. campus."
"Having architects and engineers working together, in the same building, on a day-to-day basis, in collaboration, has fundamentally changed LPA's practice," finishes Heinfeld. "It has created an environment where holistic solutions bring real value to our clients. And what is really exciting to see is that collaboration is happening regardless of the project size or task.
In lieu of the silos created by separate companies—and consultants—and disciplines, our practice is focused on an integrated team process that informs all aspects of a project. Performance-based design delivers better designed projects and better coordinated engineering solutions for clients. It really is that simple; our projects are using less energy, less water and are enriching lives through better design."
2. Reuse Rocks in Diamond Bar, Calif.
"As it is both environmentally and economically sustainable, LPA continues to design more and more reuse of and improvements to existing buildings," begins LPA Architect and Project Manager Denise Mendelssohn. "In 2012, we saw the complete transformation of the ground floor of an uninspired and dated, speculative office building into the imaginative Diamond Bar (County of Los Angeles) Library."
LPA's design of the 18,000-square-foot library pushed the limits of the existing building to create open and well-lit spaces, dedicated children and teen areas and visually appealing ceiling elements. LPA also designed an exterior entrance canopy and 1,300-square-foot reading garden complete with shade trellis, water feature, seating, and planting to further create a community-minded space. Take a virtual tour of the library, in this video from Grand Opening Weekend.
3. Landscape Architecture that Awakens the Senses
"My standout landscape design moment from 2012 was a visit to the Sunnylands Center & Garden in Rancho Mirage, Calif. The new visitor center and gardens for the 200-acre desert retreat of Walter and Leonore Annenberg are a wonderful composition with a sustainable approach to an adjacent 15-acre desert botanical garden," said LPA Landscape Designer Rich Bienvenu. "The attention to detail and the idea of a garden weaving a sensory tapestry of textures, fragrance, blooms, color, and function all are fully realized." Bienvenu highly recommends a visit to the site for anyone who wants to see a great modern garden that will "overpower you." It's worth the effort, he says.
4. Master Planning for Net-zero Energy & Water Use
"For the last 50 years, the YMCA of Greater Long Beach has owned and operated a camp in the San Bernardino Mountains, near the City of Big Bear, called Camp Oakes," says LPA Architect and Project Designer Jeremy Hart. "This past year, we began working with the YMCA to help establish a vision of the camp for the next 50 years. Through visioning and programing workshops we created an updated master plan for the camp that has a commitment to sustainability."
"The first phase of new cabins is envisioned to be net-zero in energy and water consumption," adds Hart. "Additionally, all waste water will be kept onsite, which means these cabins have virtually no footprint on the surrounding Big Bear community and for the children of Long Beach, these cabins will be educational tools on the human impact on our environment."
5. Attracting Students with Revamped Designs
"It is always amazing to see how the smallest adjustments can make a world of a difference," says LPA Higher Education Project Designer Tonya Pawli. "This year, Palomar College was smart in renovating an existing property to create a sleek, new satellite campus. By re-imaging the façade, the aesthetic of the Palomar College Escondido Education Center, a former retail shopping center, is transformed into a better-scaled environment more appropriate for a small, college campus."
Repurposing a building, as mentioned in #2, also makes a large impact. For instance, the Gold Student Center at Pitzer College in Claremont, Calif., was reprogrammed this year to be a Student, Health and Wellness Center. "By simply removing walls and creating large open spaces, the program revitalization offers the opportunity for facade improvements that make the building a natural magnet for students on campus," finishes Pawli.
6. The Engineering Truth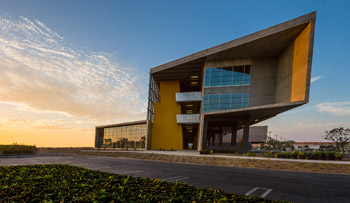 "Decades ago LPA added services normally considered as specialty services, such as interior design and landscape design as part of our typical basic services. We believed that good design had to address a cohesive environment, both indoor and outdoor," shares LPA Design Principal Steve Flanagan. "Over the past several years LPA has grown the services we provide to our clients through engineering. We did this so we could provide more sustainable holistic solutions and we believe this to be an amenity that we could offer our clients that our competitors could not."
"What we've learned during this short time is that, in today's world, integrated sustainable design is not an amenity, it is a necessity and prerequisite in providing purpose driven design," continues Flanagan. "Today's clients and more importantly end users, demand user-friendly sustainable environments."
People prefer organic, they want natural, demand renewable and expect efficiency. People are more knowledgeable and informed than ever before and the only way to meet or exceed their expectations is through the truth. "There is truth in engineering and we realize that engineering has always driven design—but now we embrace it for the benefit of our environments, built and natural," finishes Flanagan. "Can you handle the truth?"
Sunnyland images by Dillon Diers — The Office of James Burnett, copyright The Annenberg Foundation Trust at Sunnylands. Camp Oakes image courtesy YMCA.net. All other images and renderings courtesy of LPA Inc.