Perks of an Architecture Intern: The Learning Curve
By Guest Blogger Felice Fam, Professional Studio Intern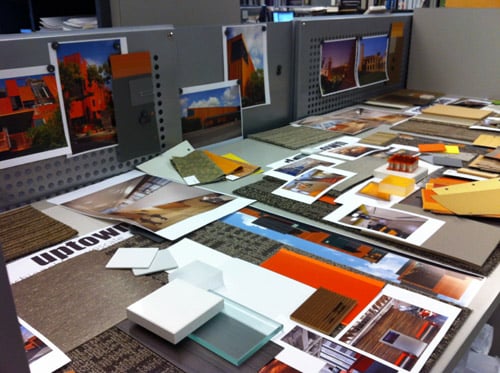 It's been nearly two months since I started working at LPA and I feel like I've already learned so much. I was quite nervous at the start of the internship because I didn't know how to use popular industry programs like AutoCAD and Revit—Building Information Modeling (BIM) software for architects and engineers—but my other skills in the Adobe CS—multimedia design software—programs, have proven useful. Despite being unfamiliar with the programs, I was still put on projects where I had to use them. This forced me to learn at a fast pace and now I can say that I am capable and proficient, both in terms of drawing and drafting. I was surprised to find that one can have several people working on the same files in Revit. I particularly liked this because it means we can get work done faster.
As for learning AutoCAD, I got a chance to put together a small bid package of drawings for a set of stairs. The controls and the colors were a bit confusing at first, but my background in Rhinoceros (Rhino) 3D software made it easier to learn due to the way commands can be typed in rather than selected through the toolbar.
Then I got the chance to work on some material boards for a corporate project, which was a nice break from the computer work. Material boards are used so that clients can get a visual of the materials that will be used in their space (sample, pictured). I've put together these kinds of boards in school, but they were always informal, so it was good to learn how professional material presentations are compiled.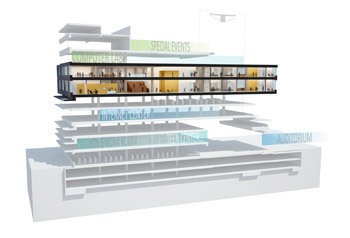 Occasionally, we get the chance to go out and visit job sites. About a month ago we got to go on a bid-walk of San Diego's Downtown Charter High School—recently named E3 Civic High. We met in a room with a large group of contractors then walked to the site, which is right across street from the LPA San Diego office. We were then taken up in a construction lift to the 6th and 7th floors of the building where the school will be built. The group followed along as the contractors toured the floors and took pictures of the different spaces and openings. Its current condition is a bare concrete structure with waffle-slab ceilings—reinforced concrete slab cast with a 'waffle' pattern.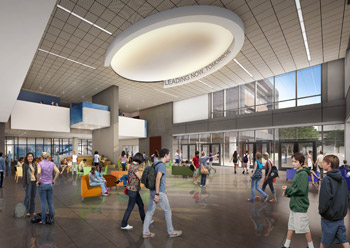 In a couple of weeks, we also are going to take a trip to check out San Marcos High School, which is currently under construction. I've already seen some pictures of the construction, but it will be much cooler to witness it in person.
I've also learned to do a lot of construction documentation/administration work that they definitely don't teach in school. For example, I learned the terms FCDs, CCDs, RFIs and how they get approved and placed into existing sets of documents. Another job that I worked on was laying out a template for suite rentals. We were offered an opportunity to become building managers of a high rise here in downtown San Diego. As the first step, I redesigned the sheets with the suite plans to be uniform and easy to read; now we are waiting for their approval before moving forward. Being an intern is pretty interesting because we get put on all kinds of jobs, wherever people need us. We get to see all of the different types of projects that are going on at the firm, at any given time.
So far, I really enjoy working at LPA because everyone is always willing to answer questions and help out if needed. The office atmosphere is great because people are friendly and easy going. For my first internship, I'd say that LPA has been a great choice. They've provided me with a lot of opportunities to learn, get hands on experience, and serve clients.
For more information about the LPA-Cal Poly San Luis Obispo Professional Studio Program, e-mail dgilmore[at]lpainc[dot]com.