The Value of Building Reuse
I'm a firm believer that sustainability is less about investing in the latest, salvation-providing craze in technology and more about revising habitual thought processes. Being green doesn't have to be flashy or overt. Instead, it's better when adopted as a regular, integrated custom within everyday life. So in that same vein, I take particular interest in building reuse—both in its adaptive reuse form as well as just a general recycling and upgrade of building purposes. I find it worthwhile to take and improve architecture that is already a part of the built environment, bringing it in line with a more efficient and ecologically friendly direction, without relying on a brand new building constructed from scratch.
It's not hard to see the value of reusing a building. Saved are the costs of erecting the main building structure, civil grading work, and most of the main utilities. Design efforts can then be focused on improving building performance, aesthetics, and usage. And whether the building reuse ends up being for the same programmatic purpose or for an entirely different type of occupancy (i.e. "adaptive reuse"), there is an economy gained by not having to tear down a building and/or build a new one.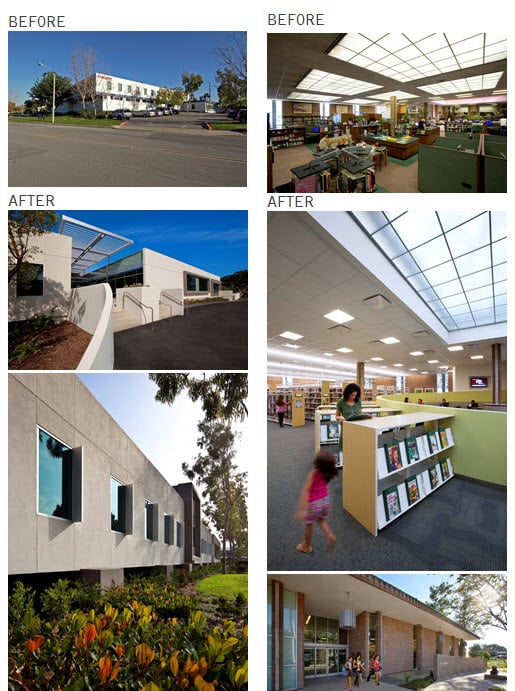 This practice is not limited to any particular building type either. In schools, building reuse occurs all of the time in the form of modernizations. As I've written before, school modernizations allow for a rebirth in school image, upgrade of building systems and educational technology, and re-imagining of the learning program—but at the savings of not having to go through the cost of constructing a new building. This either allows limited funds to be allocated most effectively—toward the students—or allows more funds than originally planned to reach the same goal.

Commercial properties also can be given new life via building reuse. In the corporate market, this sort of work is standard—it's simply called tenant improvement. Re-purposing a space for a new tenant allows the same "freshening up" advantages outlined earlier.
In civic architecture, the same modernization principles and benefits can apply to libraries as well. But there might also be more dramatic gestures in the form of adaptive reuse, wherein a building formerly used for one purpose is repackaged into one for another. For example, San Francisco's Ferry Building was transformed from an old turn of the century transportation hub into a mixed use shopping and office complex that has brought consumer and pedestrian activity back to a long-abandoned part of the city's waterfront. This re-activation of urban space not only strengthens the urban fabric but also benefits the economic sustainability of the area.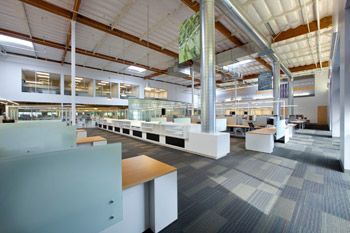 There are countless successful examples of building reuse, especially within urban environments, where space is at more of a premium. And as I've advocated before, sustainability and efficiency can be especially effective within the density of an urban area. Furthermore, strategies taking advantage of features of an older building, such as exposed structural members and original finishes, can avert the need for new ceiling, wall, or floor finishes, eliminating the embodied energy of those items from the project scope.

Granted, there are significant challenges associated with reusing a building. In-depth studies of the as-built condition are required. Challenges in seismic, fire, and accessibility code are bound to arise. Existing infrastructure must be assessed to determine if it can serve future needs. Indeed, there are certain cases where upon final study it simply is not feasible or wise to preserve the existing building. However, there are also innumerable instances where reuse is a prudent direction and the constricting existing conditions can spur creative and iconic solutions that a blank slate might otherwise overlook. Ultimately, a building shouldn't be discounted just because it's old. There can be great value and new, greener life found within.
Albert Lam is a Project Coordinator at California-based LPA Inc. He is a LEED accredited professional who specializes in the design and implementation of K-12 schools.