Sustainable Planning and Design in K-12 Schools: Part 5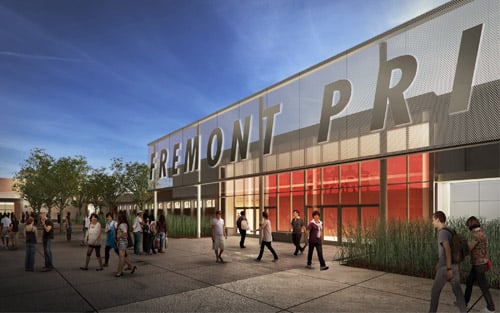 In the fifth and final post of this series, we are going to look at some of the exterior elements that enhance the long-term viability and function of your school buildings. A green, K-12 facility does not simply sprout from the ground and rise up to the sky. It connects to the ground, and the sky, and the weather, and the surrounding uses with a mix of essentials that enhance its sustainability. Today, we'll take a look at façade design, thermal lag and the diurnal differential—I promise I'll explain that in a minute, and roofing options that serve a multipurpose strategy.
Building orientation will directly affect building design. In warmer climates, a building with a northern orientation, for example, can have a more open façade to bring in natural daylight, which reduces artificial lighting and air conditioning use and costs. The southern façade is given exterior shading devices to minimize solar heat gain, which reduces air conditioning requirements. Strategies can include architectural elements such as overhangs and exterior sunshades, as well as landscape architecture like green screens that both shade and insulate walls.

A western façade, which gets all of the afternoon sun, acts as a heat island. For buildings in warm climates, shade the western façade with landscape architecture such as trees or green screens, or with a canopy or arcade, or with sunshades. Windows and doors should be kept to a minimum—or eliminated entirely—on a western façade to avoid interior solar heat gain.
In desert regions like the American Southwest and southern California, the project team can create a less costly passive design—thermal lag—that makes use of the diurnal differential (a swing in temperatures of 25 degrees or more between day and night) to help cool a school building. Design strategies can range from the use of traditional adobe to solar walls made from perforated metal with a 12-inch air space between the wall and the building structure. Solar walls function the same way as the thick mass of an adobe wall. The air space between the wall and the building structure preheats air for the heating system in the winter, saving energy. In the summer, the solar wall reduces interior heat gain by venting hot air up and away from the building, keeping the interior cooler, which reduces air conditioning use.
A conventional roof is just one big heat island. But it doesn't have to be. A light-colored Energy Star roof, for example, reflects solar heat away from the building, keeping roof and building interior temperatures significantly cooler.
A valuable multipurpose strategy—especially for city and suburban school projects with constrained sites and limited open space opportunities—is a green (landscaped) roof planted with hardy, drought-tolerant shrubs, flowers, grasses, and ground cover. A green roof has many benefits, all of which lower project costs and make the building more sustainable.
Whether the building has an Energy Star or a green roof, it should also have a rooftop rainwater collection system to support the school's landscape irrigation and plumbing systems and to reduce utility-provided water consumption.
Thank you for sticking around for all five parts of this Sustainable Planning and Design series. Questions? I'd be happy to answer them—or find someone who can—in follow-up posts. Simply e-mail dgilmore[at]lpainc[dot]com.
Dave Gilmore has more than 30 years of experience in the architectural design industry. A Principal at LPA Inc., Gilmore has left his mark on more than 200 K-12 schools. He has additional expertise in urban planning, commercial, retail, institutional, mixed-use and public architectural design. Dave is a LEED accredited professional (AP), and an active member of the American Institute of Architects (AIA) and the Coalition for Adequate School Housing (C.A.S.H.).