Orange County's Best Architecture and Art Walk Entries
It's been another exciting week in sustainable design news; the American Institute of Architects (AIA) held their annual Design Awards in Orange County. LPA took home five awards, keeping a 36-year winning streak alive and taking home honors such as the Savings by Design Award and the 25-year Award—a special honor given to projects that have withstood the test of time.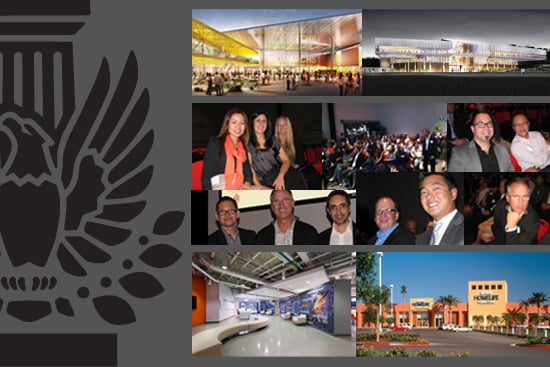 "Time is the most difficult jury," said LPA President Dan Heinfeld. "The 25-year Award recognizes and honors this. To be relevant and still considered a fresh solution after 25 years is remarkable. We are honored to share this award with Legorreta Architects, our design partner, and The Irvine Company, our client."
The 25-year Award was given for The Marketplace in Tustin, Calif. For a complete list of LPA, 2012 AIA Orange County (AIAOC), award wins check out today's online press release: Who Designs the Coolest Architecture in Orange County? Local Architects Give their Picks.
On display during the pre-event festivities were pieces of art from this year's AIAOC annual Art Walk. LPA architect Damon Dusterhoft entered and won an award for his "mixed media" piece titled Three Architects. Damon, as you may remember, is not only an incredible building designer, but he's adept at sketching on cocktail napkins and also lives in a stylish Eichler. This Renaissance man is always an interesting interview. We hope you enjoy his exclusive Q&A, below.
Damon Dusterhoft, AIA, LEED AP BD+C
Q. Damon, it's been a while since we last chatted with you. You had just been featured in Architectural Record for their Annual Cocktail Napkin Sketch Contest. Now, here you are getting recognized for your entry in the AIAOC Art Walk. Tell us about your entry, and what inspired you.
A. As you know I enjoy drawing and I have been thinking about how to apply an architectural style to an independent drawing or piece. Of course starting with an architectural theme was natural and then I decided to add a bit of humor. I wasn't sure that people would relate to who they were without the architect's names. I showed them to my Mom and she liked the drawings, but could not appreciate the humor so I am thinking of trying the style out on some subjects with a broader appeal. I guess I haven't trained my Mom very well!
Q. Have you entered the Art Walk before? Why did you decide to enter this year?
A. No, this is my first entry. As I said I have been playing around with a few ideas for drawing subjects and thought this might be an interesting way to get some feedback on this idea. I would love to hear your thoughts!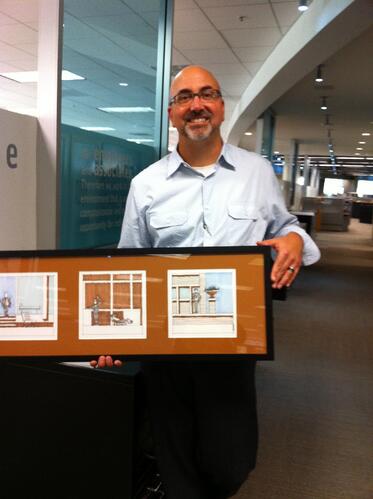 Q. What other pieces stood out to you in this year's Walk?
A. I enjoyed several of the photography pieces, but more than that, I appreciated the fact that many of us in the design community are using other art media to work out our creativity. These are all in high contrast to doing architecture because they can be done much quicker; usually by one individual and in one room.
Q. With all of your daily responsibilities as an architect, husband, and father, how do you make time to stay inspired, and create pieces that are worthy of entrance into these kinds of competitions (i.e., the Art Walk, Cocktail Napkin Sketch Contest)?
A. Mostly I am just spending time between other personal activities. These drawings were done as three separate plates including research, practice, and final drawing in about three hours each. They are small and I can start and stop as needed. The inspiration is just leaking out of all of us; we are all gifted and need only take time to express our individual giftings. I think it's interesting to see the breadth and variety of our talents as people, including how these talents get applied. I find that incredibly rich and interesting.
Q. Will you be entering the Cocktail Napkin Sketch Contest this year? What will you do the same? What will you do differently?
A. I did submit more napkin sketches this year. I was drawn in by Santiago Calatrava's Memorial at Ground Zero and then I took off on a few of his bridges. Lastly, I tried one part of the Disney Concert Hall mostly to see if I could draw it. It came out interesting so it was submitted. If you want to know the truth, regarding the napkins, I draw a couple dozen and then put it to a vote of my family and co-workers. They are the ones that make the final selections for the Napkin Contest.
Q. Final thoughts?
A. It was really fun to get out there with these art pieces and see how people react to them. I look forward to trying a few more sketches next year. I hope that more of you will share your creativity with all of us at next year's Orange County Art Walk.
Damon Dusterhoft is an Associate and Project Director at California-based LPA Inc. During his 30-year career, he's worked on a range of building types which include corporate office facilities, retail projects, and a variety of recreation facilities.