Landscape Architecture Spotlight: Parklets, small spots of green lots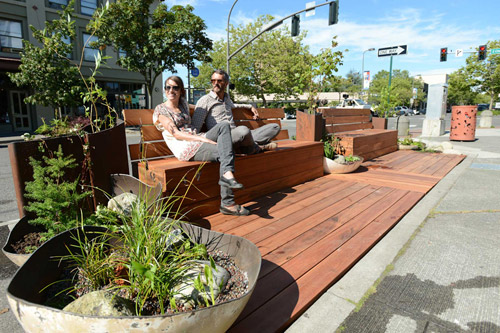 On a plane ride on a recent vacation, during the part of the flight where use of electronic devices was prohibited, I found myself perusing the airline magazine for articles of interest. Lo and behold, my eyes stumbled upon a little feature about "parklets," small urban micro parks installed off of sidewalks that enhance the streetscape, allow passersby to relax and enjoy the environment around them, and activate the pedestrian scene. Originated in (where else?) San Francisco, these cozy little public green spaces have since spread to other cities such as Philadelphia, Vancouver, and New York. They've been approved in pedestrian friendly cities such as Chicago as well as traditionally less walking-enthused cities like Los Angeles, which approved a six month pilot program in August, not to mention smaller cities in between.

A parklet is typically created by blocking off several unused parallel parking spaces on a street and extending a platform off the sidewalk. The platform usually features a seating area and can also incorporate planters, a small lawn, sculptures, fountains, or other urban furnishings that invite people to linger or rest. Typically located in front of a restaurant or boutique, it serves as a way to activate streetlight and engage a greater pedestrian presence in an area that might otherwise be lacking in one. A parklet makes for a great outdoor dining extension of a cafe, or a miniature park. And the results from early studies have been promising—areas where parklets have sprung up do seem to have seen increased activity, satisfaction, and character. Parklets are a relatively inexpensive and simple way of creating pockets of green space or communal interaction within the city. And they also provide unique design opportunities—witness the fruits of a temporary display of parklets across L.A. a few weeks ago.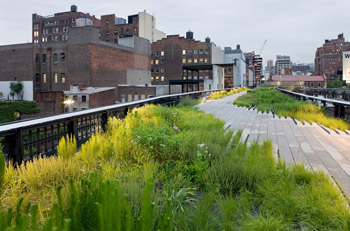 Parklets are not the end-all solution to carving out green urban spaces, of course, but they can serve as catalysts. If these small gestures are successful, they can lead larger packets of land being turned to small parks or gardens. Imagine an abandoned parking lot reborn as a place for families to stop and relax for a while. Or perhaps the roof of a mid-rise building being converted into a communal garden for local residents. Even unique urban features can be transformed into wonderful ecological facilities, as evidenced by projects like the High Line in New York (pictured right).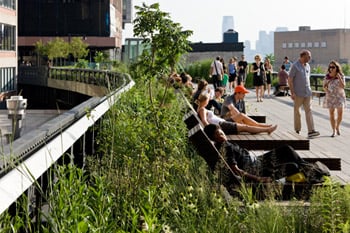 The host of benefits of having activated urban green spaces has been long documented—reduced heat island effect, improved storm water management, enhanced local air quality, and increased physical and psychological comfort are but a few. So perhaps this current trend of parklets can help ignite greater appreciation for and effort toward creating more such spaces. A little could very well go quite a long way.
Albert Lam is a Project Coordinator at California-based LPA Inc. He is a LEED accredited professional who specializes in the design and implementation of K-12 schools. Images courtesy: Jason Byal of Sustainable Connections and Iwan Baan © 2009.