Why Athletic Business Magazine "Likes" Our Architecture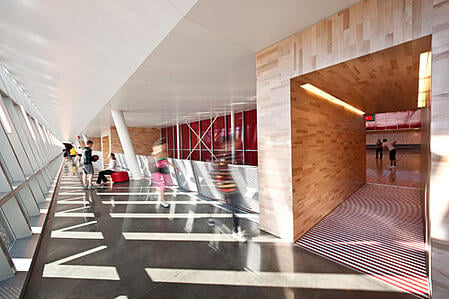 This month's Athletic Business magazine is hot off the press and the Student Recreation Center at Cal State Northridge got a terrific spotlight—in the Design Details section of the magazine, which focuses on examples and opportunities for athletic facility operators to benefit from design solutions that are thoughtful and well-executed. Previous topics involve lighter-weight skylights, environmental graphics and murals, and generous concourses.
For the Rec Center at CSU Northridge—a project featured often on our blog as a result of its innovative and different design approach, functionality, and overall striking visual presentation—the focus became its wood flooring. An element used in interior walls, ceiling, and entry portal faces, the standout product serves a dual purpose: 1) to extend the gym's aesthetic into the outer concourse, and 2) to subtly assist people looking for the building's basketball courts.
"Mitered edges and squared-off corners bring a smooth, interlocking look to the engineered, prefinished hardwood flooring," writes Athletic Business Editor Andy Cohen. "Underfoot, a ScrapesGrate walk-off grille helps keep dirt from being tracked onto the sports surface."
MITERED EDGES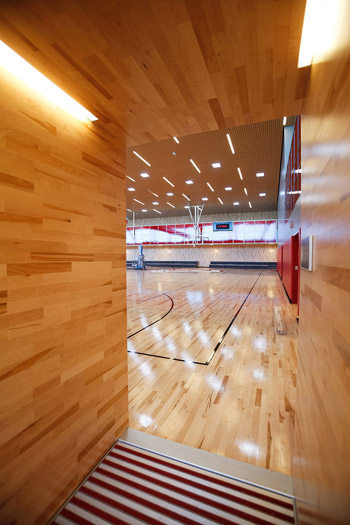 If you're wondering what "mitered edges" are, you're not alone. A term also used in quilting, sewing, and woodwork circles; it refers to the joining of two faces at an outside corner. Other LPA designed Higher Education facilities that feature mitered edges include: the Palomar College Multidisciplinary Building in Palomar, Calif., and the American Career College in Ontario, Calif.
HIGH PERFORMANCE
According to the project's Interior Designer, Winston Bao, when it came to flooring systems, the University evaluated many options, first-hand. The high performance sprung wood floor selected is among the most sustainable in the industry. Our clients appreciated the versatility, high quality, and eco-friendliness of this sports flooring system.
FSC CERTIFIED
Not only are the wood elements at this rec center architecturally stunning, smooth, and made of the highest performing materials—these materials are also certified by the Forest Stewardship Council (FSC). Read more about the FSC, who they are, what they do, and why it's a good idea to use their products in: 5 Reasons to Use FSC Certified Products.
Our designers prefer to use FSC certified products because the natural resources used as building materials are managed, grown and harvested in a sustainable and responsible manner.
EASILY MAINTAINED AND DURABLE
In addition to the wood flooring elements so beautifully covered by Athletic Business, Bao's other favorite design details include: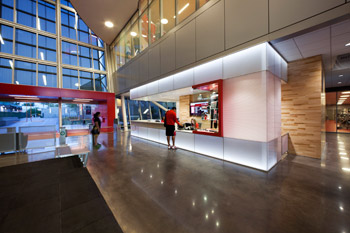 1. The stained and polished concrete floors in the public circulation spaces; this flooring is easily maintained and capable of handling high foot-traffic throughout the facility.
2. The high-impact recycled content 3Form red resin panels that enclose the courts and jogging track, as well as the white frosted panels used at the check-in desk.
Easy maintenance and durability are key to any sustainable facility. If people love their building they will take care of it—and this is the goal for each LPA project. We seek to create buildings that are visually timeless, successful in their function, and stand the test of time while aging gracefully.
This timeless design approach has fared well for the Student Recreation Center at Cal State Northridge. The American Institute of Architects (AIA) in San Diego recently gave the project two prestigious design awards: 1) a Citation award for distinctive design, and 2) a Committee on the Environment (COTE) award—for land use, site ecology, light, air, energy flow, bioclimatic design, materials and construction. This building continues to garner awards. It is clear that users are embracing this thoughtful, student-centric approach that is light on the environment and a showstopper on campus.
Winston Bao is an Associate and Interior Designer at California-based LPA Inc. He is a LEED Accredited Professional who has made sustainable design the focus of his career.