Integrating the Practice of Waste Recovery
Wed, Aug 29, 2012 Albert Lam Green Living, Composting, California Science Center, Recology, Waste Recovery, Albert Lam, Photovoltaics, Integrated Design, Sustainable Lifestyle
A few weeks ago, I went up to San Francisco for their Outside Lands festival, a three-day celebration of rock and alternative music, graphic arts, and quality dining, situated in Golden Gate Park. I had an incredible time watching amazing bands play, viewing intriguing art on display, and munching on scrumptious food all day. And yet, I couldn't help but notice something relating back to my design profession and its sustainable interests.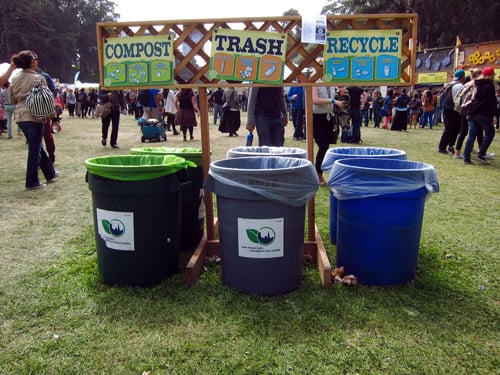 Scattered along throughout the festival grounds, located on average several hundred feet apart, were waste disposal stations—only these weren't just made up of trash receptacles and recyclables, as I was used to seeing. Instead, they also included a third bin: compost. The stations came with helpful graphics that enlightened guests on what waste items went in which bin. Plastic bottles and aluminum cans went into the recycle bin, naturally. But items like food, all beverage cups, and all dishware, utensils, and paper towels could go into compost, because all such items (at least those that came from the festival food stands and trucks) were made from organic materials and biodegradable. Trash, then, was left to waste items from outside of the festival—glow sticks, candy wrappers, chip bags, and other assorted "non-native" articles. In addition, positioned next to almost every location was a helpful volunteer available to assist guests who still could not figure out which elements of their waste went where.
This was atypical from the common waste management practices I observe around Southern California. We lack the compost option—but perhaps we shouldn't, because most items considered as common trash could in fact be composted! In fact, Outside Lands posted that 77% of the previous year's waste had been diverted from landfills by guests who followed the guides and sent their biodegradable waste to compost or recycled their plastics and metals.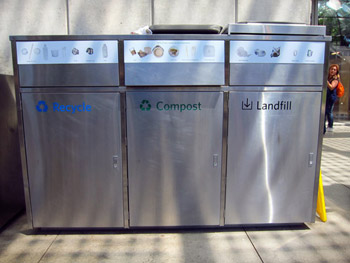 San Francisco, being a hotbed of environmental progressivism, seems to have a nice program established for this sort of separation of waste and has done a great job of integrating this into common practice. When I visited the California Science Center (a great example of sustainability in more ways than just the topic of this article), I noticed similar three-category waste disposal stations. And while walking along the streets of San Francisco, I spied streetside waste collection bins for trash, recyclables, and compost.
I've always said that the best sustainable practices don't necessarily require profound leaps of technology or drastic changes of policy, but should incorporate subtle but distinct changes in habit that target a more efficient way of living. Compost collection is a great example of such practice. Imagine the amount of waste that could be diverted from landfills if many other cities or regions adopted this idea of "recology," or the "science and practice of resource recovery." In this manner, composting doesn't need to be an active habit at home—though it can be if you wish—it can just be taking that simple extra step of sorting out waste to one more category before sending it to municipal services.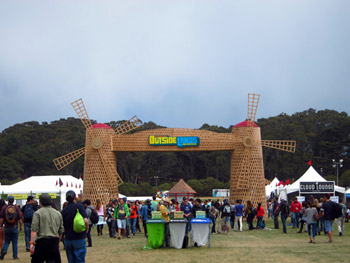 Outside Lands, being an offshoot of San Francisco's ecologically sensitive culture, had many other exhibits and practices geared toward greater sustainability. They featured an entire solar powered stage run off photovoltaics. They hosted exhibits on local and home agriculture and set up booths showcasing new green technologies. But the waste collection was one area that struck me as so wonderfully simple, yet so potentially powerful.
Such programs are definitely proliferating in cities all around, but here's hoping that they continue proliferating even more.
Albert Lam is a Project Coordinator at California-based LPA Inc. He is a LEED accredited professional who specializes in the design and implementation of K-12 schools.