Historic Architecture: Preserving History While Addressing Realities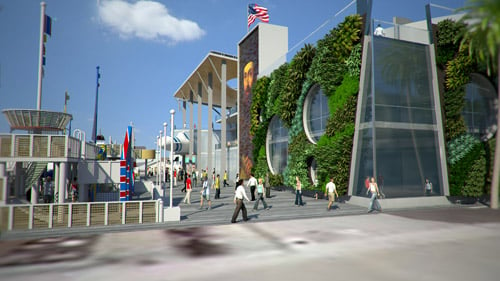 The Orange County Register ran an article recently about ExplorOcean and the progress of the exhibit in Newport Beach, Calif. What you may not know is that the design of this facility was put together by a team from LPA, led by Senior Designer Rick D'Amato—also featured in our last post about commercial interior design. Commissioned by the Newport Harbor Nautical Museum, in the historic Balboa Fun Zone, ExplorOcean is a one-of-a-kind educational experience slated for completion in 2018.
"If people just knew what was coming they would be more supportive," said ExplorOcean President Rita Stenlund, in the Register's article.
The architects, engineers, interior designers, and landscape architects of LPA have an arsenal of experience when it comes to historic areas. Just three years ago, they successfully completed the restoration and reconstruction of a second Newport Beach architectural treasure—the historic bell tower at Newport Harbor High School.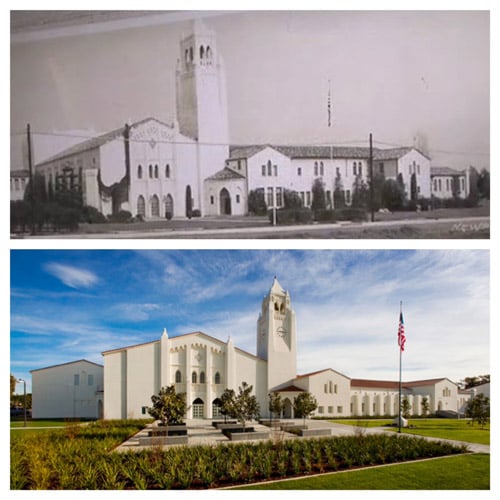 Resurrecting Newport's 77-year-old Bell Tower
When the original tower had to be leveled because of seismic issues the residents of the 100-year-old community were at a loss. In a place where history is treasured and memories of long summer days playing near the ocean, enjoying a Balboa Bar with friends, and taking trips on the Balboa Island Ferry are shared, it was important that the reconstruction of the classic Robins Hall Bell Tower came out well.
Designers had the challenge of reinventing a structure from the 1930s while preserving elements, like murals, commissioned during the New Deal. There also was a need to reorganize the existing interior layout of the building to improve the educational experience for students, faculty, and other staff.
"It took four years, four trips to Sacramento, three separate appeals, two denials, two re-crafted proposals, four tours of the school, more than 200 pounds of documents shipped to Sacramento, two Capitol hearings and no small amount of expert help to garner the necessary funds," said Newport-Mesa Unified Assistant Supt. Paul Reed.
Today, the reenergized landmark features a 99-foot tower that houses science classrooms, a performing arts theater, a library, a mini-museum known as Heritage Hall, and areas for food, student services and administration.
On a video documenting the demolition and reconstruction of the bell tower, a former student wrote, "As a Newport Harbor student (Class of 2010), I am proud to see this new building. I only wish that I could have been able to enjoy it a little longer than my last year here. Thanks to all of the people that helped to make this project possible. We students love it."
Others have said the new tower looks better than the original—and to that, we are happy to report the new tower is truer to the original architectural plans, drawn up before 1930, than the original. In the end, everything worked out for Newport Harbor High and its neighbors.
ExplorOcean Brings New Life to the Balboa Fun Zone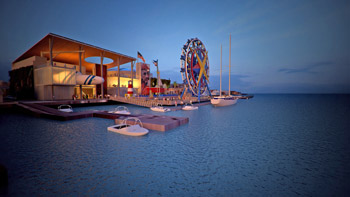 As with the bell tower, it's exciting to imagine what the finished ExplorOcean museum and educational exhibit will look like. For a final assignment, a recent crop of LPA interns designed their version of the building's architecture. While different from the actual design, it is a fitting approach to celebrating the history and modern aspects of ocean exploration—with sustainable design features similar to those incorporated by D'Amato's team (e.g., a living wall and solar electric roof and overhang).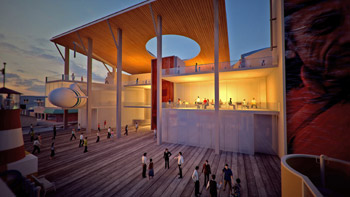 "The nautically inspired design does not rely on themes or replication, but rather abstractions inspired by ocean exploration," says Senior Designer Rick D'Amato. "The building is designed to fit comfortably along the water's edge while also becoming a new icon for the Balboa Peninsula."
People can look forward to exhibits and displays, interactive and four-dimensional theaters, simulators, a full service restaurant, café and gift shop, all themed around ocean exploration and navigation—and all appropriately within the size and scope of the Balboa Fun Zone.
To learn more about ExplorOcean, and the campaign to fund it, please visit ExplorOcean.org.
Rick D'Amato is a Senior Designer and Principal at California-based LPA Inc. For more than 20 years D'Amato has designed award winning spaces for corporate office facilities, retail projects, schools, city halls, libraries and community centers. He is an active member of the American Institute of Architects, the U.S. Green Building Council, the California Library Association, American Public Library Association and Public Library Association.