Civic Center Architecture: A Case Study in Revitalization
In the East Bay region of the San Francisco Bay Area, is the charming city of Brentwood. Founded by John Marsh, an East Contra Costa County pioneer, the city was incorporated in 1948. Fast forward 60 years and you'll find the city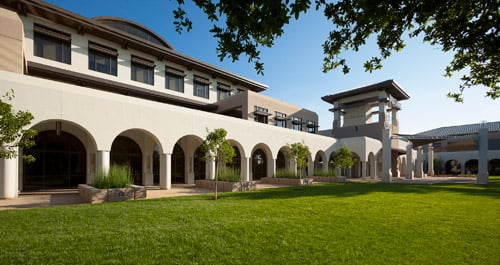 celebrating its new civic center, which includes a 2.7-acre city park, a 60,000-square-foot city hall, a 32,000-square-foot community center, and a 280-stall parking garage.
After watching the footage from opening day, we decided to delve a little deeper into what makes this civic center tick, what it's inspired by, why its park is such a prominent feature, and whose idea it was to make it that way? Managing Principal Jim Wirick sat down with us for a brief Q&A on the new Brentwood Civic, "the Bay Area's most aggressive downtown revitalization project."
Jim Wirick, AIA, LEED AP BD+C
Q. What are some of the amenities offered at the Brentwood Civic Center?
A. The community room is a big hit—it is booked solid for functions through early 2013. Families enjoy the park, which features benches and seating areas, an outdoor stage, water play areas for kids, picnic tables, barbecues, and a variety of community art. The Contra Costa Times is most impressed with the high tech permit center—open 45 hours per week for faster processing, and the multiple arches and large windows—which use less electricity and therefore save operating costs.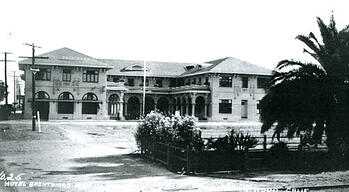 Q. Where did inspiration for the center's design come from?
A. There was an old hotel that burned down in 1903, and was rebuilt seven years later. Appropriately named The Brentwood Hotel, it was influenced by Irving Gill and his modern look at early Californian architecture. We found that the community had a collective nostalgia for the old, lost building. LPA took what was familiar—part of their past—and made it new.
Q. Why is the landscape architecture especially important at this site?
A: The city was constantly promoting this project as the City Park with the Civic Center, in that order. The park always got top billing. It has been there for years and is really the heart of the town. LPA was directed to keep the size of the park and protect every single square foot of space. So the park was renovated and improved, and makes a beautiful front door to the city hall and community center.
Q. What kinds of sustainable features are found at the Brentwood Civic Center?

A. We are in line for LEED Gold certification from the U.S. Green Building Council. In order to achieve this, we need to meet all the prerequisites one would normally find in a rating of this kind. The parking structure's upper level adds shade for cars with photovoltaic panels. Additionally the city hall and community center have vegetated roofs, adding a surprise for the occupants to look out on, in lieu of alternative roofing materials. Water runoff from the green roofs is filtered through planters with beautiful landscape at the threshold of the buildings, and the park.
Q. What can other cities learn from this project?
A: Being fiscally conservative can allow a city to take advantage of a favorable marketplace. The City of Brentwood, essentially, paid cash for the project having saved through the "boom times" in order to buy new infrastructure at an opportune time.
Q. What's a little known fact about this community jewel?
A: The artwork requires a closer look. LPA worked with local artists to tell the storied past of Brentwood, its people, and its history. Some of the work is absolutely fantastic!
Q. Anything else you were dying to share?
A: Just to remind us all, you can't do a good project without a great client. The city challenged us, changed directions, listened to our professional opinion, worked with us, laughed with us, and celebrated with us—we were all rewarded with a project that all can be proud of. I'd go through it again in a heartbeat.
Jim Wirick is a Principal at California-based LPA Inc. He brings more than 25 years of experience to his work in Community Architecture. He is a LEED accredited professional, an active member of the American Institute of Architects, and architecture lecturer for various school and civic groups throughout the state of California.