Malibu Library Design Gets A-list Acclaim
It's not every day A-list celebs attend the grand openings of our libraries. Recently, in Malibu, hundreds came out—including Mayor Laura Zahn Rosenthal, Pierce Brosnan and his wife Keely, and Dick Van Dyke—to celebrate the opening of a very special library remodel.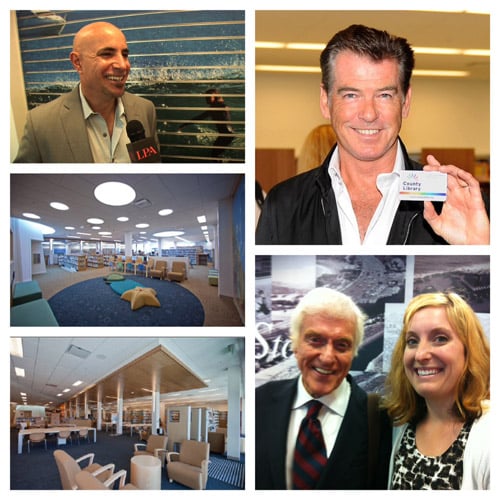 A dynamic metamorphosis of what was once a dark, dated, and inefficient space into what is now a light, bright, and sustainable environment that reflects the history and unique nature of this beachfront community.
Malibu is famous for its warm, sandy beaches and for the many Hollywood movie stars who call the city home. Its scenic beauty is legendary, and serves as the backdrop for countless movies, television shows, and music videos (e.g., Gidget, Charlie's Angels, Planet of the Apes, The Mod Squad, The Big Lebowski, Two and a Half Men, and Iron Man, to name a few).
The existing Malibu library experienced only minor modifications in its 50-year existence. While not an inspiring space, it overlooked an amazing, new city park, about 500 feet from the coast. The City of Malibu and the Los Angeles County public library system sought to transform this structure into an exciting, functional, and sustainable civic statement.
NEW AND IMPROVED
How does one take the same space, and make it feel three times larger, lighter and brighter? Hollow out the existing library building shell, and reinterpret the space to accommodate a modern, high tech facility. That's how.
With only one glazed opening—at the far south end of the structure, several round clerestory structures were added to allow natural light to filter deep into the space. Fixed windows were removed and replaced with glass bi-fold doors that open and connect the interior with the new, 3,500-square-foot library garden. The garden features a small presentation stage, a reading orchard, and can be used as a venue for functions and special events. Inspired by the Malibu Coast, the garden's design incorporates an abstracted wind sail, water metaphors, and undulating shapes and forms.
The library is on track to receive LEED certification from the U.S. Green Building Council. Sustainable design elements include extensive reuse of interior, non-structural components and materials—inspired by a "do less" attitude for the renovation. Healthy indoor air quality measures were taken both during and after construction. Efficient, indirect and direct lighting fixtures use less power and daylighting controls optimize energy performance. Low-flow and dual-flush plumbing fixtures reduce the building's water consumption by 35 percent. The library's landscape palette is comprised of drought-tolerant, California natives; a more efficient irrigation system is also in place.
The outside of the library is clad in large-scale, sustainable, pressed panels detailed in varying shades of blue to simulate the colors of the sea. A dramatic wave inside the library is made from recycled milk-bottle acrylic panels—recycled materials exceed 20 percent of everything used and more than 20 percent of these materials were manufactured within a 500-mile radius of the library.
So tell us, does the Malibu Library now meet the criteria for successful library design?
Leave us your feedback in the comments section of the video. Thank you for reading this post, we look forward to your comments.
Rick D'Amato is a Senior Designer and Principal at California-based LPA Inc. For more than 20 years D'Amato's designed award winning spaces for corporate office facilities, retail projects, schools, city halls, libraries and community centers. He is an active member of the American Institute of Architects, the U.S. Green Building Council, the California Library Association, American Public Library Association and Public Library Association.