High School Design for At-risk and Foster Teens
Last week, we shared with you our ambitious mission: to create sustainable places and spaces that truly enrich the lives of those who use them. As we strive to make this mission a reality through more supportive, thoughtful, and informed design solutions it's exciting to see this play out, in a real world example. As learning becomes more active, it is our job, as K-12 school designers, to discover how classroom environments can better support learning activities. In the following example, you'll see how engaging learning environments can not only produce successful learners, but change lives as well.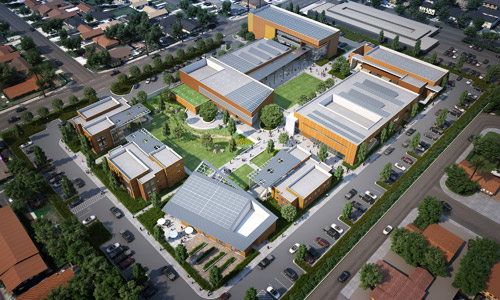 THE ACADEMY
The Academy is a 320-student charter high that LPA has designed for the Orangewood Children's Foundation. Their mission is to provide innovative services for abused and neglected children, teens, young adults, and at-risk families to end the cycle of child abuse, one life at a time. The 115,000-square-foot academic downtown is paired with a 40,000-square-foot residential village, where 80 students will board with guardian families.
Why the need for such a high school? In Orange County, there are more than 35,000 reports of suspected child abuse, neglect or abandonment each year. Since 1981, the Orangewood Children's Foundation has reached more than 74,000 foster and at-risk youth with innovative and effective programs and services. Their experience demonstrates that by the time a foster child starts high school they have had as many as 10 placements in foster homes and attended as many as 15 different schools. Students often suffer with a lack of stability, consistency, and belonging, all critical factors in creating life-long success.
In order to experience success, these young people need to have a stable living environment and excellent educational opportunities during their high school years.
Orange County's foster youth need the opportunity to establish permanent relationships where they can remain connected for the rest of their lives with either their natural family or a group of caring adults. The Orangewood Children's Foundation has undertaken development of The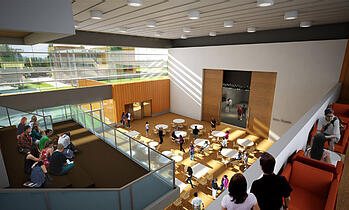 Academy, a charter high school that will provide foster teens and at-risk youth with a solid foundation for life, instilling in them the skills and confidence needed to live healthy, productive lives that ultimately break the cycle of abuse.
Symbolically, The Academy is a microcosm of the world that these children will encounter and need to find success in. One of their tools for success will be education, and this will be an important step in solidifying their status as life-long learners. Since many of the children residing on campus will have little – to no – mobility, the place where they "live and learn" must create a variety of spaces and imagery that can inspire and help them become productive citizens. Urban Village components encompassed at The Academy include:
Neighborhoods: As in a village, they will be different and unique and can be identifiable to their "owners." "Neighborhood parks" will add to the variety, as will landscape.
A Bridge: The residential village is separated by a riparian area spanned by a bridge that connects the neighborhoods to the academic campus, which becomes the student's downtown, where they will spend their learning day. The bridge spans the major storm water retention on site and is a native area that changes with the seasons and recognizes the dry and wet aspects of a bio-system.
Downtown: The place where fun activities occur. Student union, library, fitness, and recreation are intertwined with studios, labs, and collaborative learning commons. The downtown imagery is completed by a central square. This is a rich and exciting environment that will change with the climate, providing opportunities for natural ventilation and great outdoor space where learning activities can occur.
In part three of our Informed School Design post, learn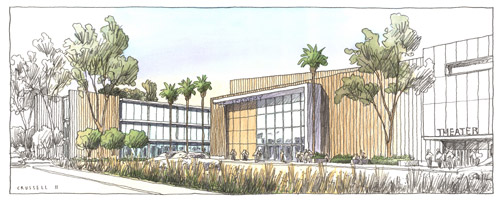 about the interior design techniques we used to help engage the students at The Academy.
To learn more about the Orangewood Children's Foundation, visit OrangewoodFoundation.org.
Wendy Rogers is a Design Principal at California-based LPA Inc. Her specialty is the integration of design and curriculum within educational spaces, for K-12 schools. Her work has been recognized by the American Institute of Architects, the Coalition for Adequate School Housing, the Pacific Coast Builders Conference, the Society of American Registered Architects, the California Parks and Recreation Society, and the Green California Schools Summit, to name a few. She's a LEED accredited professional, active member of the U.S. Green Building Council Green Schools Committee, and the co-author of "Green School Primer: Lessons in Sustainability."