Research Based Design for K-12 Schools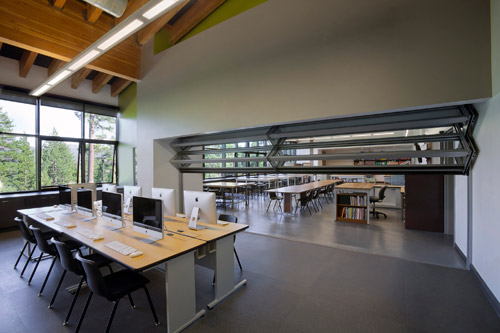 By LPA Bloggers Suzanne Schechtman and Jill Kramer
It's written on our business cards, inscribed on the front doors of our offices, and, most importantly, ingrained in the thought process that goes into every project we deliver: our goal at LPA is to create sustainable places and spaces that truly enrich the lives of those who use them.
Without a doubt, it's an ambitious mission that challenges us to consider and constantly reassess different ways to refine our process and ultimately enrich lives through design. But when we strip this idea down to its core, it's not about design; it's about people. As a result, one of the ways we strive to achieve our goal is by endeavoring to better understand who it is that we're designing for, because you can't improve lives without knowing more about them.
We're doing this more and more through research, as early in the process as possible. We're looking at different ways to build upon resources we have here at LPA and explore areas we're less familiar with, to educate our project teams and ultimately create more supportive, thoughtful, and informed design solutions. (In the latter sections of this three-part blog post, we'll discuss a current design project in which we applied what we've uncovered through research.)
Learning is becoming more active, and students are taking charge of their education as teachers move to the sidelines—facilitators of the learning experience. Schools are considering how to better support the differentiated learning preferences of their students.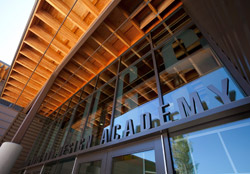 Ultimately, it's about providing opportunity and choice in the learning environment. It's about figuring out how a classroom environment can better support learning activities. We're seeing more progressive classroom models that rethink the entire learning experience, increasing connections between students for a more vibrant, engaging experience. There are furniture manufacturers we're interacting with who have invested time and energy into better understanding the dynamics of the classroom so that they can play a role in defining how furniture can better support these more project-based and interactive types of learning.
Furniture solutions can have a profound impact on how instructors teach and students learn. Providing furniture that is mobile provides a more interactive and flexible learning environment, enabling quick transitions between activities; mobile, swivel seating also encourages increased interaction and group discussions.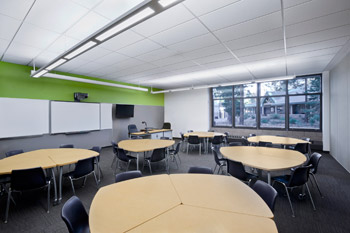 Other furniture solutions include tables with "plug and play" power, which provides flexibility that allows the space to serve as either a technologically-rich, one-to-one computing environment, or as a general classroom. Additional items to incorporate in informed classroom design include: mobile storage, mobile whiteboards, and technology boards along the walls, to provide users not only visual access but physical access.
Intrigued by what you've read so far? Be sure to catch part two of our Informed Classroom Design series, for a real world example of the themes introduced above.
Suzanne Schechtman is an Educational Planner at California-based LPA Inc. She's involved in all phases of LPA's renowned master planning process, from needs assessment and visioning to conceptual master planning and community outreach. Her social science background enables her to bring a special focus to educational facilities and how they impact the students, teachers, staff, and other individuals who use them. Suzanne received her psychology degree from Washington University in St. Louis, and her M.S. in Applied Research, Human-Environment Relations from Cornell University.
Jill Kramer, IIDA, LEED AP ID+C, has more than 14 years of experience in the contract furniture industry specifying more than $40 million. Her experience includes working for and with furniture dealerships, design firms and end users in furniture specification, procurement, ergonomics, needs assessment and full project management. She oversees Furniture Management Services at California-based LPA Inc., where she is also a Project Manager.